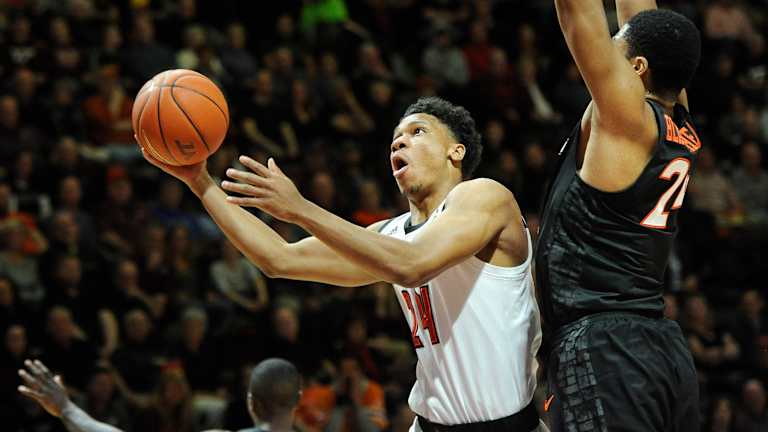 Offense different, but better in Mack's second year
Louisville can space the floor, spread the ball to dynamic playmakers
A pair of fifth-year seniors think Louisville men's basketball's offense will be different, albeit, better this season in coach Chris Mack's second year.
Dwayne Sutton averaged 10.0 points and 6.9 rebounds a year ago in a doing-everything role for the Cardinals. Sutton, a graduate of DuPont Manual High School in Louisville, seemingly played and guarded just about every position on the floor last season as a 6-foot-5 forward.
Ryan McMahon was second on the team in made three-pointers last season, averaging 7.2 points and shooting 35.3 percent from behind the arc.
With the return of Jordan Nwora, who averaged 17.0 points, and Steven Enoch, along with six freshmen, Louisville's offense has more talent around the floor this season, which will change the way the Cardinals score.
"I don't think we are going to be using as many ball screens as we used last year," McMahon said. "Last year we had CC [Christen Cunningham], who when our offense broke down, we used a lot of on ball screens with him and Steve [Enoch] or Malik [Williams]. This year I think we are going to use a lot more off-ball screens, getting shooters like Jordan and me, and other guys on the team open."
Sutton said the team is taking care of the ball better. The Cardinals averaged 12.1 turnovers per game last season.
Sutton still plans to drive to the basket to help find open shots for teammates, but also has more confidence in his perimeter shooting ability this season. With a better perimeter shooting team, driving lanes should open up easier for Sutton.
"We are realizing our strengths and weaknesses," Sutton said. "We figured out how to play with each other more."
The intrigue of a "small-ball" lineup that includes Sutton at the five-spot doesn't bother the Louisville native. Sutton believes he can play at the five, but doesn't expect it to be longer than a few minutes.
Whether he plays the five or not, Sutton represents the most versatile player on Louisville's roster.
"Coach Mack wants me to learn a lot of different positions this year, mix around things, I feel like with this year under my belt, I can do that a lot better than I would have been able to do last year," Sutton said. "I feel like the coaching staff has trust in me to do that. I think I will do that this year."
McMahon thinks Louisville has more NBA talent on its roster than a year ago, but some of the offensive principles are always going to remain the same.
"We are still going to play fast and we are still going to play hard," McMahon said.