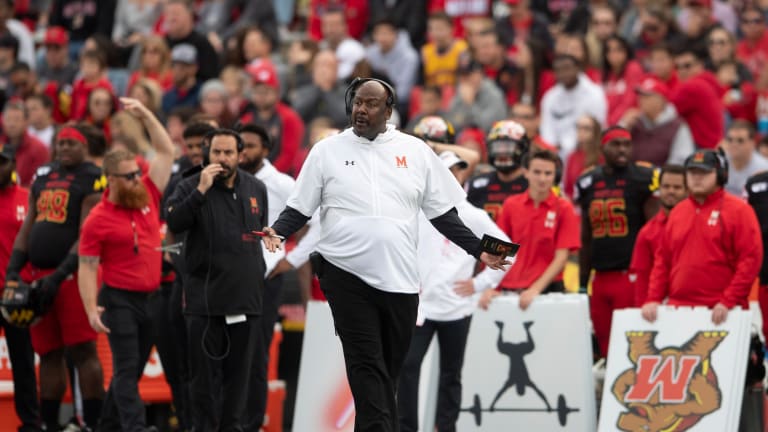 Maryland remains in contention to recruit four-star DT Taizse Johnson
Terrapins have a chance to add a local four-star recruit for their 2021 class
Mike Locksley and the Maryland Terrapins added five-star wide receiver Rakim Jarrett after he flipped from LSU. Now, it seems the Terps are in contention to add another St. John's (D.C) product for their 2021 recruiting class in Taizse Johnson.
Johnson is a 6-foot-1 290-pound defensive tackle from Washington, DC. He is currently rated the No. 2 high school prospect from DC, No. 13 defensive tackle and No. 195 overall player in the nation in the 2021 class by 247Sports. 
He has narrowed down his options to Maryland, Alabama, Florida, Ohio State, South Carolina, and Texas A&M. He received offers from other big football programs such as LSU and Georgia.
If he does decide to stay home and commit to Maryland, he would rejoin his former teammate in Jarrett as a Terp in 2021. The addition of Johnson would continue to highlight to successes Locksley has had in recruiting local players.
Here is an evaluation of Johnson by National Recruiting Analyst Brian Dohn of 247Sports:
"Thick build, but concern about frame length. Three-tech and nose guard capabilities. Can play in 3-4 or 4-3 defense. Plays with low center of gravity. Fast get-off and keeps pad level low. Quick feet getting upfield and redirects well. Strong in lower body. Can collapse pocket. Possesses suddenness and closing speed. Physical at point of attack. Has to make sure minimal weight gain moving forward. Relies heavily on speed and power. Technique must develop. Continued upper body strength development is needed. Multi-year starter at Top 20 program. Day 3 NFL draft pick."