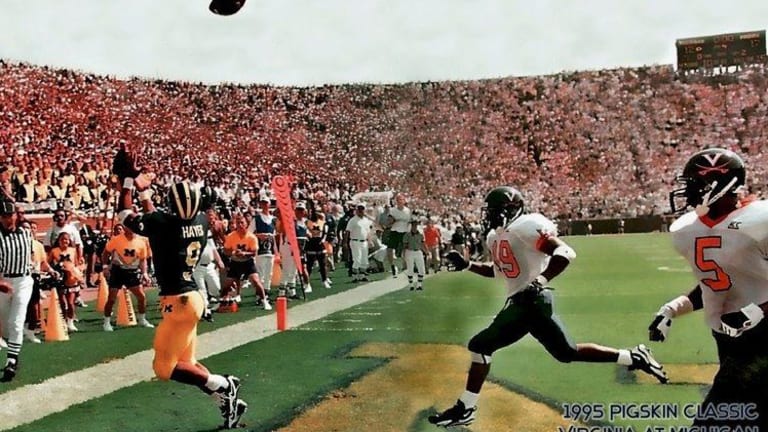 Listen: Mercury Hayes Talks 1995 Michigan Win Over Virginia
This week's #GameOfMyLife featured former U-M wide receiver Mercury Hayes, who caught the game-winning touchdown pass as time expired in an 18-17 win over Virginia.
Out of Houston, Hayes arrived in the fall of 1992 alongside another great Michigan receiver, Amani Toomer. In this interview, Hayes talks about the chemistry he had with Toomer during their four seasons together. 
Hayes caught 124 balls for 2,144 yards and 12 touchdowns in his career, no game greater than his seven-reception, 179-yard, two-TD effort in the victory against Virginia in head coach Lloyd Carr's debut game (as an interim before getting the permanent job at the end of the 1995 season). 
During the interview, which takes place every Friday morning at 10:30am on Ann Arbor's WTKA, Hayes discusses how he got his first name, his 'cowboy' ways, success early in his career, his game-winning touchdown catch (and the subsequent pileup that almost suffocated him) and more. 
You can listen to past #GameOfMyLife interviews, here.