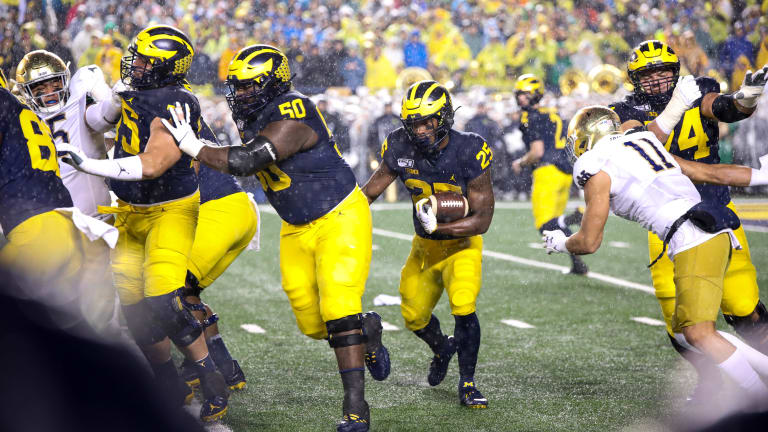 Charbonnet And Haskins Are A Formidable 1-2 For Michigan Football
Over the past three weeks, Michigan has seen an emergence from two ball carriers, Zach Charbonnet and Hassan Haskins, pulling away from the field and now that they have separated, they are taking a stab at history.
Beginning with the Illinois game in Week 6, when redshirt freshman Hassan Haskins earned a then-career high 12 carries, it started becoming abundantly clear the Michigan coaches had zeroed in on two running backs; true freshman Zach Charbonnet has been there from the get-go, with 41 carries and 190 yards in U-M's first two games. 
Over the past three contests, Charbonnet has carried the ball 48 times and Haskins has 45 attempts while the other tailback contenders vying to win the job coming into the 2019 season - redshirt freshman Christian Turner (five carries), senior Tru Wilson (16) and redshirt freshman Ben VanSumeren (one) - have combined for just 22 attempts over that stretch. 
It hasn't been smooth sailing for either Haskins or Charbonnet up until this point, but the primary touches do appear to be theirs going forward. 
The 6-1, 220-pound Haskins had a breakout game at Illinois with 125 yards and a touchdown on 12 carries (10.4-yard average). But he was slowed considerably by the nation's second-ranked rush defense, averaging just 2.2 yards per attempt on 13 rushes at Penn State. 
His no gain on 3rd-and-1 at the PSU 47-yard line early in the first quarter proved critical when the Wolverines settled for a punt and found themselves down 7-0 (and then 14-0 and then 21-0) a short while later. 
Haskins, though, rebounded with the best effort of his young career, going off for 149 yards on 20 carries in last Saturday's 45-14 win over No. 8 Notre Dame en route to a 303-yard rushing effort overall by the Maize and Blue. 
"The one difference in our running game has been Haskins," former quarterback Devin Gardner said Monday on his weekly radio appearance on WTKA. "He's given us a spark that we haven't seen. He's powerful. He runs hard. He finishes his runs like we haven't seen since De'Veon Smith [2013-16]. 
"I think we need all of our running backs to run with that type of intensity, that type of tenacity. He's fighting for every single yard. He's not saving anything. He's fighting for his football life as a [second-year player]. Didn't get a lot of reps early in the season but I think they found their niche with him.
"He's given us a different dimension and had we not had him in that football game we would not have been successful." 
Haskins even had the chance to redeem himself, his number called by the coaches on a 3rd-and-1 at the Michigan 49-yard line late in the first quarter. This time, Haskins got hit backwards but kept his feet moving and picked up three yards for a first down. 
"The way he plays, the way he runs the football, you can tell he's the kind of guy that wasn't going to let that happen again," Gardner said. "You can tell he was very disappointed in himself. He had another opportunity [against Notre Dame] and he got a yard, when he probably shouldn't have. You love to see that." 
In his last three contests, the Eureka, Mo., native has a team-best 302 yards rushing, including 6.7 yards per carry. 
In that same time frame, the identically-sized 6-1, 220-pound Charbonnet had 271 yards and scored five touchdowns, averaging 5.6 yards per carry. He was steady in all three, with at least 70 yards against Illinois, Penn State and Notre Dame, and was key to Michigan's comeback attempt in State College - U-M ultimately fell short 28-21 - with 12-yard touchdown runs in both the second and third quarters. 
Charbonnet's production dipped in Weeks 3 and 4 when he had seven total carries for 28 yards in a loss at Wisconsin Sept. 21 and a blowout win over Rutgers a week later. Though Michigan has simply said the coaches were "managing his carries" because 33 in Week 2 against Army were too many, it is believed the physical accumulation took a toll on Charbonnet (who had a knee scoped in the spring). 
Thus, the two first-time rushers have had ups and downs. What they have done together, though, and what they might be capable the rest of the season should excite Michigan and its fans. 
The two have combined for 897 yards this season, the second-most ever accumulated by a pair of freshman teammates (true or redshirt) in Michigan football history. The top spot belongs to Mike Hart and Max Martin (both true freshmen) in 2004, who totaled 1,587 yards, most of those belonging to Hart (1,455). 
Averaging 112.1 yards rushing per game, the current duo is on pace for 1,457 yards this season. However, Charbonnet and Haskins have averaged 190.3 yards the past three games, which, if sustained, would put them north of 1,800 yards for the year.
On his own, Charbonnet is on the verge of a true freshman rushing record, his nine scores tying Hart and Tyrone Wheatley, who each had nine in 2004 and 1991, respectively. 
The rookie out of Camarillo, Calif., is also tracking to leapfrog Ricky Powers into second place all time for true freshman rushing production (see chart).  
| Freshman | Year | Rushing Yards | Yards Per Carry | Yards Per Game | TDs |
| --- | --- | --- | --- | --- | --- |
| Mike Hart | 2004 | 1,455 | 5.2 | 121.2 | 9 |
| Ricky Powers | 1990 | 748 | 5.2 | 68.0 | 4 |
| Chris Evans | 2016 | 614 | 7.0 | 47.2 | 4 |
| Jamie Morris | 1984 | 573 | 4.9 | 47.8 | 2 |
| Anthony Thomas | 1997 | 549 | 4.0 | 45.8 | 5 |
| Tyrone Wheatley | 1991 | 548 | 6.4 | 54.8 | 9 |
| Zach Charbonnet | 2019 | 531 | 4.9 | 66.4 | 9 |
If he stays healthy, and maintains his rate of 66.4 yards rushing per game, Charbonnet would finish his season with 863 yards, besting Powers by more than 100. He won't touch Hart's mark but he'll leave a legacy. 
There is still work to be done for both ball carriers, but the future looks bright for the rest of 2019, and 2020 and, perhaps, 2021 and 2022.