Baseball Huskers Reap Major Big Ten Honors
Spencer Schwellenbach becomes the first Nebraska baseball player to be named Big Ten Player of the Year.
Spencer Schwellenbach becomes the first Nebraska baseball player to be named Big Ten Player of the Year.
Nebraska took home three major honors Sunday and placed four players on the all-conference first team as the Big Ten released its baseball awards for the 2021 season.
Junior infielder/pitcher Spencer Schwellenbach (pictured above) became the first Husker to be named Big Ten baseball Player of the Year, while Max Anderson was named Freshman of the Year and Will Bolt earned the Coach of the Year award.
Schwellenbach is Husker baseball's first conference player of the year since 2005, when Alex Gordon won the Big 12 honor for a second consecutive season. Schwellenbach has been Nebraska's No. 3 hitter all season, started every game at shortstop and has served as the team's closer.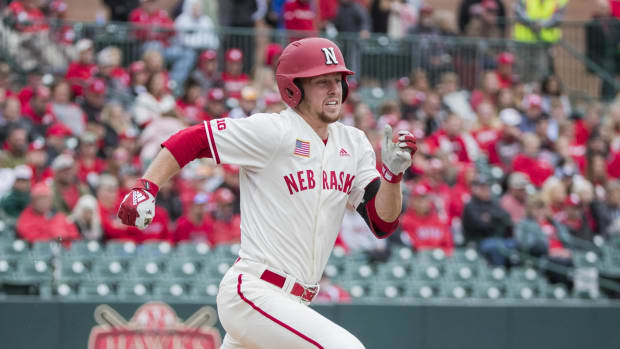 Anderson ranks second on the team and eighth in the Big Ten with a .337 batting average and is tied with teammate Jaxon Hallmark for the league lead in hits with 60. Anderson is the fifth player in program history to be named a conference freshman of the year and the first since Chad Luensman in 2016.
Bolt was named coach of the year in his first Big Ten season after the 2020 season was cut short by COVID-19. The Huskers won their first Big Ten regular-season title under Bolt's leadership and secured the league's automatic bid to the NCAA Tournament. Nebraska posted a 31-12 conference record after not being picked in the top six of the preseason coaches' poll. Bolt is Nebraska's second baseball coach to be named Big Ten Coach of the Year, joining Darin Erstad (2017).
In addition to the three major award winners, Nebraska had four first-team All-Big Ten honorees, its most in a single season since joining the conference.
Schwellenbach was the relief pitcher on the All-Big Ten first team and was joined by teammates Luke Roskam (catcher), Jaxon Hallmark (outfielder) and Cade Povich (starting pitcher). Anderson was selected as the second-team third baseman and earned a spot  on the all-freshman team with Brice Matthews as an at-large pick. Joe Acker was Nebraska's Sportsmanship Award Honoree.
The Big Ten honorees for 2021
Player of the Year: Spencer Schwellenbach, Nebraska
Pitcher of the Year: Trenton Wallace, Iowa
Freshman of the Year: Max Anderson, Nebraska
Coach of the Year: Will Bolt, Nebraska

All-Big Ten First Team
C – Luke Roskam, Nebraska
1B – Anthony Calarco, Northwestern
2B – Ted Burton, Michigan
SS – Benjamin Cowles, Maryland
3B – Jackson Raper, Illinois
OF – Grant Richardson, Indiana
OF – Ben Norman, Iowa
OF – Jaxon Hallmark, Nebraska
SP – Trenton Wallace, Iowa
SP – Steven Hajjar, Michigan
SP – Cade Povich, Nebraska
RP – Spencer Schwellenbach, Nebraska
DH – Justin Janas, Illinois
At-Large – Shawn Goosenberg, Northwestern

All-Big Ten Second Team
C – Griffin Mazur, Michigan
1B – Conner Pohl, Ohio State
2B – Zack Raabe, Minnesota
SS – Benjamin Sems, Michigan
3B – Max Anderson, Nebraska
OF – Chris Alleyne, Maryland
OF – Tito Flores, Michigan
OF – Kade Kern, Ohio State
SP – Gabe Bierman, Indiana
SP – McCade Brown, Indiana
SP – Cameron Weston, Michigan
RP – Ryan Ramsey, Maryland
DH – Matt Wood, Penn State
At-Large – Michael Trautwein, Northwestern

All-Big Ten Third Team
C – Ryan Hampe, Illinois
1B – Jimmy Obertop, Michigan
2B – Izaya Fullard, Iowa
SS – Branden Comia, Illinois
3B – Chris Brito, Rutgers
OF – Zaid Walker, Michigan State
OF – Ben Nisle, Purdue
OF – Miles Simington, Purdue
SP – Andrew Hoffmann, Illinois
SP – Garrett Burhenn, Ohio State
SP – Seth Lonsway, Ohio State
RP – Willie Weiss, Michigan
RP – TJ Brock, Ohio State
DH – Mike Bolton, Purdue
At-Large – Cole Barr, Indiana

All-Big Ten Freshman Team
C – Luke Shliger, Maryland
2B – Paul Toetz, Indiana
SS – Mitch Jebb, Michigan State
3B – Max Anderson, Nebraska
OF – Morgan Colopy, Indiana
OF – Kade Kern, Ohio State
OF – Ryan Lasko, Rutgers
SP – Riley Gowens, Illinois
SP – Jason Savacool, Maryland
SP – Nick Powers, Michigan State
RP – John Modugno, Indiana
DH – Ethan O'Donnell, Northwestern
At-Large – Matthew Shaw, Maryland
At-Large – Brice Matthews, Nebraska
Social media artwork