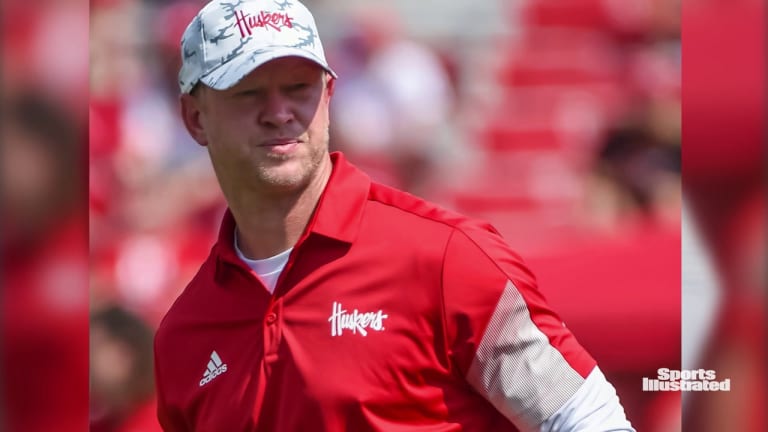 Feit: Is Frost's Vision Taking Shape?
There were signs that it's happening in the Huskers' far-from-perfect win over Buffalo
Remember those "Magic Eye" posters?
Magic Eye was a huge phenomenon in the 1990s.* Magic Eye were prints of repeating patterns that were colorful, yet abstract. At first glance, they look like a nothing. However, if you focused and looked at the picture in just the right way, a 3D image would appear.
*Yes, when it comes to Husker football, even the analogies reference the '90s.
Here's my confession: I could never see those Magic Eye images. I would follow the very specific directions (put the picture up to your nose, focus into the distance, slowly move back, and wait for the 3D image to reveal itself) but it never worked for me. I would always get frustrated and move on to something else.
Saturday's 28-3 win over Buffalo should be rendered as a Magic Eye poster. On the surface, there wasn't a lot to look at. Take away four big plays, and Nebraska  gained only 255 yards. There were missed field goals, touchdowns negated by penalties, and the obligatory punt-return fiasco.
But if you look at picture just right, you can start to see a bigger image start to take shape. The offense had a good plan and worked it to success. Adrian Martinez is playing at a very high level. The defense made plays all day long. The special teams…. Um…. Have I mentioned how they're really good at getting touchbacks on kickoffs this year?
We're already a quarter of the way through Year 4 for coach Scott Frost. People who were hoping or expecting to see the whole picture by now are ready to move on. They will tell you that if you haven't seen it by now, you never will. Maybe they're right.
Maybe it is just me squinting and looking into the distance, but I can see the vision taking shape. It doesn't appear as dynamic as it was promised to be in 2018, but it is something. I just don't know when (or if) it will be complete - or what happens if I'm distracted by "Boomer Sooner" playing 49 times this weekend.
Things I believe
Scott Frost had a good offensive game plan… and stuck to it. The plan was pretty simple: 1) Blast away at the heart of Buffalo's line with the running backs, 2) immediately line up for the next play so the Bulls couldn't substitute, c) count on Adrian Martinez to move the chains or make a big play, and d) repeat until Buffalo's will was broken.
It was a simple plan, but it was also very smart. Frost knew the ridiculous heat (95 degrees at kickoff, with a turf temperature over 120) would impact Buffalo more than it would the Huskers. I'm guessing Buffalo has not played or practiced in a hotter environment. Nebraska held summer workouts on the Memorial Stadium turf and played a Week 0 scorcher at Illinois. With his oversized roster at his disposal, Frost essentially told Buffalo, "Yeah, it's hot. Let's see how long you can hang."
But here's the thing: that plan only works if Frost and Offensive Coordinator Matt Lubick truly commit to it. If they panic when it was still 0-0 in the second quarter and try to throw on every down with
different receiver groupings, Buffalo can substitute and potentially hold up longer. Instead, Nebraska stayed the course.
It wasn't easy. Through the midway point of the 3rd quarter, Nebraska ran 17 first down plays (not counting the two minute drill at the end of the first half). Of those 17 plays, a running back ran it 12 times. The results - just 19 yards, (a 1.5 average) and a 2 yard touchdown - are not good. Obviously, the execution could have (should have) been much better. The offensive line struggled. There were some runs where the backs lacked vision. But Nebraska stuck to their plan, even when it was difficult.
Late in the 3rd quarter, it started to pay off. Nebraska kept giving it the running backs on 1st down. And after a parade of Buffalo players had been helped to the sidelines, Gabe Ervin Jr. popped off first down carries of 11, 21, 1, and 11 (with the 1 yarder being a touchdown). The score was 21-3, and Buffalo looked like they would rather be anywhere else.
Frost has faced criticism (from myself and others) for game plans that didn't exploit obvious advantages (Minnesota, 2020) or were scrapped at the first sign of trouble (Illinois, 2021). It wasn't pretty, but I applaud the "whatever it takes to win" approach.
Adrian Martinez will never be described as a "game manager" quarterback. His core DNA is that of somebody who wants to make plays; wants to make things happen. As such, Martinez operates on what I call a "creative/crazy continuum". He does things with the ball that - when they work - are clever and creative. These are the plays where you can see a Patrick Mahomes influence. But when those things don't work - the "crazy" side of the spectrum - it ends in punts, turnovers, or calls for his backup.
Against Buffalo, Martinez had his creative side going strong. He scrambled for first downs, turned a near sack into an electric 771 yard gain, made disaster defying option pitches, threw a side arm pass to this running back, and completed an improvised chest pass to a wide open Chris Hickman.
For better or for worse, Adrian Martinez is a boom or bust guy. Saturday was a "boom" day. When he's operating on the creative side of the continuum, he's an electric talent that you'll tell your grandkids about. The key is finding that line where it crosses over into crazy and stopping there.
Nebraska fans are awesome. I love the passion of Husker fans, especially those who fill the seats at the stadium. We got to see the full gambit of Husker fan passions on Saturday.
Husker fans love their country. It was twenty years since the September 11 attacks, and Nebraska spent a lot of the day honoring first responders and military members. Any time a man or woman in uniform took a step, there were hundreds of fans standing and applauding. I'm not sure I've ever heard as many "USA!" chants.
Husker fans are sarcastic. One of the loudest cheers of the day occurred when Cam Taylor-Britt successfully fair caught a punt.
Husker fans care. With less than a minute to go (and Nebraska up 25 points), an apparent touchdown was called back on a very close call. The fans booed the refs mercilessly for the remainder of the game. Was it over the top? Yes, but I'll take that passion over apathy.
Husker fans are tough and/or a little crazy. In case you didn't hear, it was stupid hot on Saturday. Anybody who stuck it out until the end - especially those who never got relief from the shade - deserve credit. Put some aloe on your sunburn and have an ice cold beverage, you earned it.
Things I don't know
Why did Nebraska move back to the east sideline? Remember last year when Nebraska took up residence on the west sideline during their home games? At the time, Frost said it was due to opposing coaches stealing signs from the press box. From everything I saw and read, it was positive move for the Huskers. I assumed it would become a permanent move.
But in both the Fordham and Buffalo games, Nebraska was in their traditional spot on the east side. It seems likely they'll remain there for the rest of the season. But why?
Maybe the whole "sign stealing" thing was overblown, but I still see advantages to be gained from going to the west sideline. You can choose to look at it as Nebraska taking seizing a home field advantage, or making things tougher on their opponent, but the facts are clear:
The team on the west does not have to squint into the sun during afternoon games.
On hot days, there is a 10-20 degree difference between sun and shade.
Noise. The west stadium crowd is traditionally more reserved. The students and marching band are on the east side. Where would you want to hold a position group huddle?
The west side is closer to the locker rooms.
As you might have heard, it was a little warm on Saturday. For the first time in my memory, Nebraska set up tents over the benches, so the players could get some shade. It ended up looking like a tailgate party. I kept looking to see if the backups were playing cornhole and holding red plastic cups.
What does Nebraska's health look like for Oklahoma and the remaining conference season? On Saturday, the list of players who didn't play (Omar Manning, Oliver Martin, Travis Vokolek, Casey Rogers, and others) was nearly matched by the players who appeared to suffer injuries during the game (Austin Allen, Zavier Betts, and Cam Taylor-Britt, Chris Hickman, as well as Caleb Tannor and Matt Sichterman who seemed to cramp up in the heat).
You'll notice that most of those names are in the tight end or wide receiver groups. While that opens up opportunities for unheralded guys like Brody Belt, Nate Boerkircher, and Chancellor Brewington, it also limits what Nebraska is likely capable of doing on offense.
For now, I'm a big fan of building depth and getting young guys on the field. But when the big boy games start, I'm hoping Nebraska can have their talented starters healthy and available.
What will happen against Oklahoma? I suspect we're going to see this game described as a "measuring stick" for Frost's program. On paper, OU is faster, more talented, and deeper than Nebraska. I don't think it is out of line to say that the Sooners will be better coached, too. But how big is that gap? Is it closer than some of Nebraska's recent games against a different playoff contender in Ohio State? If nothing else, the OU game can serve as a baseline to gauge Nebraska's progress between now and November.
Also, expect the national media (and possibly some local ones) to take a shot at Frost / Nebraska for trying to back out of this game in March. I'm guessing Pat Forde has already drafted a snappy one-liner and is ready to click send if (or when) Oklahoma gets out to a three score lead. You and I may not like it, but I guarantee it will happen. Honestly, it will be deserved. That fiasco remains one of the most embarrassing, shameful, tone-deaf things Nebraska has done in a long time.
Can Nebraska win? Yep, it is definitely possible. If, for one magical day, all three phases come together to play a clean-ish game, anything can happen. The defense would have to play at an extremely high level. The offense would need to have more big plays than big mistakes. A punt returner who can "tear 'em loose from their shoes" - or successfully execute a fair catch - wouldn't hurt.
5 things I loved
Luke Reimer. A near pick-six. A spectacular open field tackle on fourth down. Oh, and 15 other tackles as well. Have a day, Luke Reimer.
Adrian Martinez. Save some of that 2AM magic for conference season.
Linebacker corps. Reimer, Nick Henrich, Garrett Nelson, JoJo Domann, Chris Kolarevic, Garrett Snodgrass, Caleb Tannor, Eteva Mauga-Clements, and others: I saw you making plays on Saturday. Run defense, pass rush, coverage - you name it, the inside and outside backers excelled at it.
Gabe Ervin Jr. We got to see more of why Ervin is the first true freshman to start at running back. Tough running, a nice burst to the second level, and a willing participant in pass protection.
OmaHuskers. Much has been said about Nebraska's struggles in getting talented kids from Omaha to Lincoln, and into successful roles. So, I hope the prospects in the metro are seeing what Chris Hickman, Zavier Betts, Nick Henrich, and others from Douglas and Sarpy county are doing in Lincoln. There is a lot of homegrown talent that needs to a reason to stay home.
Honorable mention: Damion Daniels, Ty Robinson, Brendan Franke, Samori Toure, Damian Jackson, Jay Moore's son throwing the bones
5 areas for improvement
Field goals. I have no desire to pile on Connor Culp, so I'll say this: I hope he and his coaches can figure out whatever is going on and get it fixed. A viable kicker will be critical to Nebraska's quest for a bowl game.
3rd Down Defense. As well as the Blackshirts played, Buffalo converted 11 of their 22 third downs. A 50% rate is a recipe for disaster against better teams, especially when six of those conversions were on 3rd and long (7 or more yards). NU must be able to get off the field when they have the chance.
Sacks. Sorry, fans of free Big Macs, Nebraska was credited with seven quarterback hurries, but zero sacks. Pressure is good, but sacks are better.
Offensive line. I know that Buffalo has been rather stout against the run in recent seasons. I also know they were packing the box to stop the run. But I believe the offensive line is capable of more than what they showed on Saturday.
Scott Frost. What was up with the long-sleeve shirt under the polo on a 95 degree day? Is there that much ice water in your veins? Were you out of SPF 45? Are you waiting until later in the season to unveil your full sleeve tattoo?