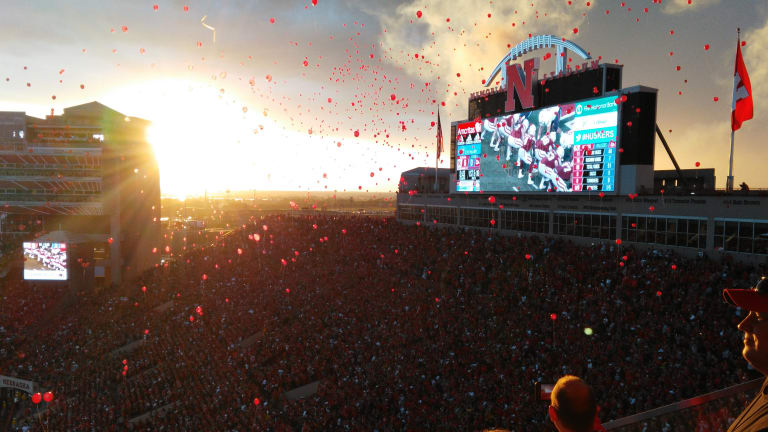 Feit: It's Time to Let the Sellout Streak Die
There's no dignity in continuing to prop it up artificially
I care about the Memorial Stadium sellout streak.
You may not, and that's fine. I'm not here to convince you. You can tell me the streak is as artificial as the "turf" in the stadium. You can tell me donors / boosters / alumni / a secret Husker illuminati society have been buying up unused tickets since Bob Devaney was the A.D. You can question if it is really a "sellout" if 10,000 of those tickets go unused.* I hear you. You may be right.
But I still care about the Streak.
*A quick semantics sidebar: there is a difference between a "sellout" and a capacity crowd. A sellout simply means that every ticket made available to the public was sold. Technically - and likely through a variety of means - this has happened for every home game since 1962.
Ideally, you want everybody with a ticket to show up for the game, but for a thousand different reasons that never, ever happens. Remember, it is a "sellout streak", not a "butts in seats streak". You wouldn't think this explanation is necessary, but you'd be surprised how many people - including former A.D. Bill Moos - are confused by these separate concepts.
To me, the Streak is about the passion of Nebraska fans, constant and unwavering. It speaks to the overall success of the program, through good times and bad. It matters that the Streak is the last remaining link to the Devaney/Osborne glory days. When so many of the program's measures of success have been lost, I do not want to casually disregard the last one.
I care about the Streak.
Or at least I did.
***
The Nebraska football sellout streak is over.
I take zero joy in typing that sentence, and I apologize to those who do not enjoy reading it.
But the reality is the Streak - once a symbol of loyalty created and maintained by a devoted fan base - is now like a beloved 18-year-old family pet: deaf, blind, and unable to move without being carried.
We think we are honoring the Streak by continuing to prop it up, but the real dignity would be in letting it go peacefully.
***
There are almost as many reasons for the end of the Streak as there are seats in the stadium. But here are a few of the biggest, in no particular order:
Nebraska hasn't won a conference title in over 20 years, and a division title in almost a decade. Remember way back when Nebraska started "gravitating towards mediocrity"? Over the last five years, "mediocre" would be an improvement. That hurts demand.
In that time, stadium expansion projects in the north and east added over 12,000 seats, boosting capacity over 85,000. Even if NU was still a perennial top-25 team, the supply is too great.
With secondary marketplaces like StubHub, there is rarely a reason to buy full-priced tickets from the ticket office. You can usually find good seats for pennies on the dollar.
Every game is televised. A new 60" 4K TV costs less than the price of a single season ticket. Use the per seat "donations" toward the purchase of new recliner.
The in-stadium experience - bleachers designed for body types of the 1950s, with a full spectrum of Nebraska weather - can be a challenge for many fans.
Other factors (traffic, parking, food, and beverages to name a few) can easily turn a three-hour game into an all-day event with a hefty price tag.
Honestly, it is amazing that the Streak survived as long as it did.
***
One of the things I feel strongly about is the concept that two things can be true at the same time. That sentiment is applicable to my feelings on the Red Carpet Experience - a new program designed to get "underserved youth" from across the state into the stadium….and use up unsold tickets.
Let me be perfectly clear: I love the concept of the Red Carpet Experience.
I absolutely cherish my memories of going to Husker games as a kid. Once a year, my dad would get a pair of tickets from somebody in town. We'd drive to Lincoln and watch Nebraska beat up on Utah State or Iowa State. Those few games played a monumental role in shaping my fandom for the Cornhuskers. I don't think I would be as passionate as I am today if I did not go to the occasional game as a kid.
I love the idea that a new generation of Husker fans are being born because a booster or corporate sponsor is buying and donating hundreds of unsold tickets. As mentioned above, it is not cheap to go to a Nebraska football game. The Red Carpet Experience is a tremendous program, and I'm really happy to see that it is going to expand to other Huskers sports.
Period.
Unfortunately, the Red Carpet Experience has really changed the way I think about the sellout streak. Sure, we all suspected there were times over the years* when corporate sponsors and boosters were called in to buy up extra tickets at the 11th hour.
*I have heard from a reliable source that boosters were called in to buy up tickets as far back as the 1992 game against Middle Tennessee State (consecutive sellout #185). I can only imagine how many times it has happened since the east stadium expansion opened in 2013.
But the Red Carpet Experience has placed the world's largest asterisk on the Streak.
Before, there was some plausible deniability that could happen. Diehard defenders of the Streak (such as myself) could say "there probably weren't that many tickets left, and fans decided to snatch them up", even if that "fan" was a booster looking to get in good with the Athletic Department. The tickets were sold, and Nebraska didn't have to resort to gimmicks like Groupon discounts (Kansas and Kansas State) or giving away tickets with a the purchase of a Coke (Michigan) that cheapen the notion of the sellout.
Now, that curtain has been pulled back. Over 2,400 tickets against Fordham. Another 1,000 for Buffalo. Heck, during the 2021 Michigan game - a highly anticipated game against a blueblood conference power ranked in the Top 10 - it was announced that 500 people were there via the Red Carpet Experience. While I'm thrilled that those kids were able to see a great game in an amazing atmosphere, I was also saddened that there was not enough demand to sell those tickets.
Yes, all of those games were - via the criteria I set out above - sold out. But a hot dog doesn't taste nearly as good once you watch it being manufactured.
The Streak may survive 2021 in technicality, but it is dead in spirit.
***
On Saturday, the Memorial Stadium sellout streak will reach 380 games when divisional foe Purdue comes to town. Once again, it took some extra help to get it done. Ten days before the game, the University announced a buy one, get one free offer ("Big Red BOGO Spooktacular").
I don't know how many people took advantage of the offer. I do know that after taxes and fees, the buy one, get one offer would bring prices in line with the going rate for a pair of tickets on StubHub.
The Purdue game was also a part of separate three game "mini plan" promotion where fans could buy a partial season ticket to selected home games.
Once upon a time, "Nebraska football ticket sales manager" would have been the easiest job in the state. Now, it is a weekly struggle to sell all 85,458 tickets.
***
So, what do we do about the Sellout Streak?
After the Purdue game, I feel confident that the two remaining home games (Ohio State and Iowa) will be legitimately sold out. That will take the Streak to 382 games.
Beyond that?
Currently, Nebraska's first two home games in 2022 are against North Dakota and Georgia Southern before old rival Oklahoma comes to town. The Big Ten home schedule (Indiana, Minnesota, Purdue, and Illinois) is uninspiring. Throw in uncertainty about who will coach Nebraska in 2022 - and how popular that decision will be with season ticket holders and fans.
I hope the Red Carpet Experience will continue in 2022, but I don't think it will be enough to maintain the Streak for another year. At some point, the boosters and corporate sponsors are going to realize that their money would be better spent elsewhere - say, a NIL deal for a 5-star recruit.
Short of some drastic measures by the Athletic Department (such as removing 10,000 seats or slashing ticket prices) I don't see demand consistently catching up to supply anytime soon - even if Nebraska gets back into the Top 25.
After a lifetime of loving, revering, and defending the Streak, I am ready to officially let it go.
We had an amazing run. One that will never be approached in college football. That should be enough. Artificially inflating it with gimmicks, tax write-offs, and deep discounts cheapens the legacy of what it once was, and what it meant to Nebraska fans.
It is time to let the Streak die.