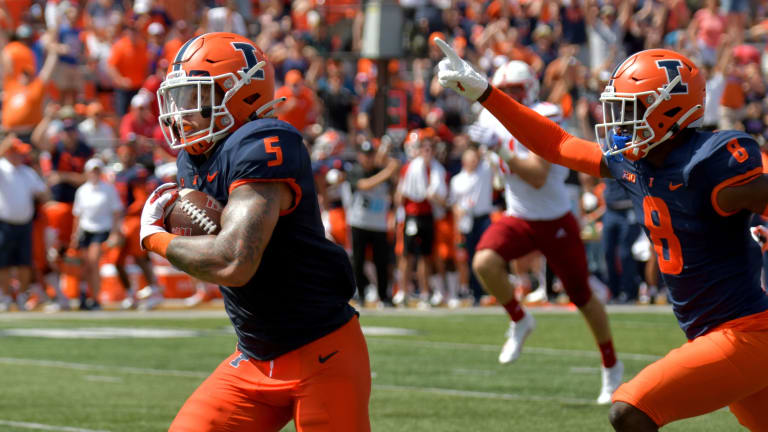 I'm Not Mad, I'm Disappointed
Huskers' loss at Illinois deflates already low expectations
Parenting is tough.
When you have kids - especially multiple, young children - your life is a full-time job of trying to avoid disaster.
You constantly find yourself saying things you would never think to say like "Don't put crayons in the salsa!", "Your brother is not a hat", or "Quarters don't go in the DVD player."*
*All things I've said to my own kids, by the way.
Parenting is trying to figure out a way to soothe a crying baby going 65 mph on the interstate, how to change a blowout diaper in a restaurant bathroom, or two different trips to the emergency room that started with a game of tag.*
*Again, all real experiences.
As a parent, you quickly find out how imperfect you are. Parenting is a humbling experience that can easily make you look foolish and unprepared.
There are some days when it feels like nothing is getting better - a parental version of Groundhog Day. You try to teach your kids, set a good example for them, and show them the difference between right and wrong … only to watch in horror as they immediately and gleefully opt for wrong.
I suspect this is where Scott Frost is at right now. I'm sure he, or a member of his staff, told their punt returners (including the junior co-captain) to not field a punt at 1 yard line, running away from the desired end zone. I'm positive the fourth-year quarterback has been coached on footwork, fundamentals, and ball security. I believe conversations have been had about the fine line between "physical" and "penalty". All of the stupid, soul-crushing mistakes have been discussed and talked about. The players want to succeed and play well for their coach and team. Everybody wants to win.
But here we are. As my son learned at camp this summer: "Fourth verse, same as a first!"
Can they turn it around? To complete the parenting analogy, I've seen my kids go from bratty little monsters to polite, well-behaved angels in the course of a van ride. It can be done.
But my feelings on this program haven't changed. I'll need to see it - repeatedly - before I believe it is lasting. Even then, I'll probably always have doubts.
In the meantime, my reaction to what I saw on Saturday in the game against Illinois can be summed up with another thing I've said to my kids: I'm not mad, I'm disappointed.
Things I believe
"Don't overreact - good or bad - to the first game of the season". I'm pretty sure I've said a variation of this each of the 10 years that I've been writing for HuskerMax. I still believe this is sound advice. Things rarely are as great - or as awful - as they seem after Game One.
But I'm finding it harder to live that tenet this year than in years past. On Saturday, I saw the same mistakes, in the same places, often by the same players, as 2020, 2019, etc. I'm not going to make any doom-and-gloom prognostications, or call for anybody's job, but I'm ready to lower my already low expectations.
Bret Bielema out-coached Scott Frost. Give Bielema credit, he had a great game plan for a ridiculously hot afternoon. Pound the ball at Nebraska - repeatedly. Mix in some play action passes to catch NU cheating. Could you sum up Nebraska's game plan in two sentences?
Had Illinois gone into halftime down 10-14 points, I suspect Bielema would not have been worried. His game plan was designed to pay off in the second half. Maybe he was counting on Nebraska shooting itself in the foot too, but I doubt he expected 16 points gift wrapped in NU errors (more if you count the missed PAT and/or overthrowing an easy touchdown).
Nebraska didn't quit. Admit it: when the score got up to 30-9, you felt like Nebraska was going to get blown out by Illinois - again. I know I thought it. But Nebraska kept scrapping and doing just enough to stay in the game.
Before you start typing that nasty comment - I agree. The time for moral victories is long since done. "Playing hard" is a bare minimum expectation for Game 1 of Year 4. But I'll ask again: when it got to 30-9, did you think Nebraska would have a chance to send the game to overtime? Whether or not that means anything for the rest of the season remains to be seen.
Things I don't know
How big is the gap between Martinez and his backup? From a statistical standpoint Adrian Martinez had a respectable day: 343 yards of offense, 2 touchdowns, zero interceptions. But those numbers don't tell the whole story, which includes his lost fumble, five sacks, and 50% completion rate, including some glaring overthrows and a near interception in crunch time.
There was a point in the 3rd quarter where I started to wonder if Nebraska might bring in one of the backups (either redshirt freshman Logan Smothers or true freshman Heinrich Haarberg) to give the team a spark. This was the point where Martinez went untouched for a 75 yard touchdown to give Nebraska a glimmer of hope. Any chance of seeing a backup ended with that run.
Would it have mattered? Is either backup capable of leading this offense - or completing passes - better than Martinez? We don't know. Hopefully, things go according to plan against Fordham and Nebraska jumps out to a commanding lead early on. Because I'd really like to see what kids can do now before they're calling upon in an emergency situation.
Late in the game, when it was obvious that Nebraska was going to be passing, why was Nebraska still doing play-action fakes? Does anybody think that Nebraska - down 14 points and facing a 3rd & 17 - was going to run between the tackles? What about the last play of the game when Nebraska needed an absolute miracle? Maybe there is a legit football reason for the play fakes, but it looks like wasted motion and poor situational awareness.
Where do we go from here? The Fordham game is going to be more noteworthy for what happens off the field (the potential end of the sellout streak, and continued fallout from the Illinois loss) than on it.
Best-case scenario: Nebraska hangs 50, nobody gets hurt, and some key backups get some live reps. Worst case? Remember in 2014 when Bo Pelini needed a Superman effort from Ameer Abdullah to beat McNeese State of the FCS? Fordham may not be as good as McNeese, but there is no Ameer on this roster.
5 things I loved
Brendan Franke. Yeah, it says something that the kickoff specialist is in the top spot, but I give you two reasons why: a) Franke had four touchbacks in six opportunities. For comparison, Nebraska had 12 touchbacks in the 2020 season. b) I'm a sucker for Huskers from my alma mater (Gretna).
Nose tackles. The big boys (Deontre Thomas and Damion Daniels) played well. They occupied blockers, generated some pressure, and made some splash plays.
Garrett Nelson. My man plays with his hair on fire, which is a level of passion and intensity that seems to be in short supply.
Samori Toure. He didn't get a lot of opportunities (3 catches for 37 yards), but I liked what I saw.
Caleb Tannor. Yes, he accounted for 30 yards of penalties on one play, which negated an interception, and led to an Illinois touchdown. Yet for most of his career, Tannor has been a "looks good coming off the bus" guy, and a relative non-factor on the field - another example of the 4 star guy who never progresses or develops. So it was nice to see some pressure and a near sack. Maybe I'm overreacting to a single play. Maybe there wasn't much else worth celebrating.
5 areas for improvement
Cam Taylor-Britt. He gets the top spot for two reasons: a) his mistake was inexcusable, especially from a co-captain, b) it started the "here we go again" ball rolling, that Nebraska is incapable of stopping. Yes, other critical mistakes would have been make throughout the course of the game, but this set a negative tone for the day. I also did not care for his postgame jawing with Illinois players. Handle business on the field, then have something to say.
Adrian Martinez. There was good. There was bad. There was ugly. And it wasn't in that order. If Nebraska is going to rely heaving on its quarterback - which seems to be the case - Nebraska needs better quarterback play.
Offensive line. I'm willing to hear that Illinois gave Nebraska an unexpected defensive look, which caused confusion. I'm also agreeable to the opinion that some of the five sacks Martinez took were due to a) receivers not getting open and/or b) Martinez not making a fast enough decision. But the line play still needs to be better.
Milk carton guys. There were several highly touted guys - veterans and newcomers - who were either missing or made minimal impact on the field. Too soon to tell if that is a one game thing, or a cause for concern.
Fox Sports. Two complaints: a) If Caleb Tannor gets flagged for taunting, it would sure be nice if you had a replay that shows it - or sought an explanation on what happened. b) I know you're trying to hype up your slate of nonconference games, but do we really need Nebraska depicted as an old red tractor driving down the highway? That seems a little too lazy, a little too cliché. Or maybe it hurts to see Nebraska portrayed that way when Oregon is represented by multiple neon colored Lamborghinis.