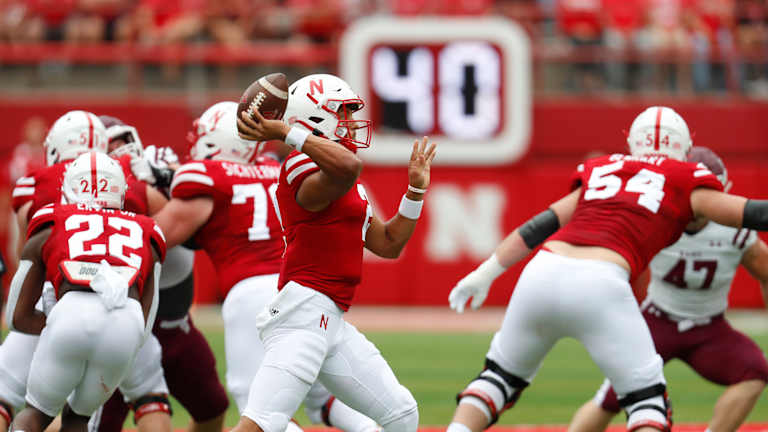 Feit: Apply Asterisks If You Wish, But It Was Mostly Good Against Fordham
Nebraska's romp against FCS foe checked the main boxes
Once upon a time, a game against a lower tier opponent - be it FCS, or the "I-AA" of yesteryear - was as close to a buying a win as a big school could get. The big school's athletic director would call up the Sisters of the Poor or the Directional State College of Hair Design. They would hop on the next bus out of town, eager to take a 63-3 beating. The check from the big school would be in the bank before the uniforms were washed.
But in 2006, "Division I-AA" became "FCS". In 2007, the Mountaineers of Appalachian State went into Michigan's Big House and shocked the world. Since then, the arrangement has changed. FCS teams will still show up and cash your check, but they also want to win - or at least make you earn that W.
Games against FCS schools have become high risk, low reward. No matter how good your team is, fans don't give FCS teams any respect. A win is expected. Anything less than a blowout raises questions.
Ranked teams risk injuries and becoming a laughingstock. For the teams scratching and clawing to be relevant, a win over an FCS school can be the difference between a bowl game and a coaching search. But if an FCS team can go on the road and upset a top 20 team (like Montana did at Washington on Saturday), the chances of a poor showing - or worse, a loss - are higher than you might think. In Week 1, six FCS teams beat FBS schools. Two others lost by a single score.
A week ago, I wrote this about the Fordham game: "Best case scenario: Nebraska hangs 50, nobody gets hurt, and some key backups get some live reps." Check, check, and check. Yes, there are some things we can - and will - nitpick, but this is about as good as Nebraska could have hoped for.
Get in, get out, go on.
(A quick aside before we go on: I'm going to say some positive things about what I saw. If you want to apply a "Sure, but it was Fordham" asterisk to any or all of it, I will certainly understand. Even if I don't say it every time, know that I understand who Nebraska's opponent was).
Things I believe
Special teams were much improved. From serious to snarky, here is a quick list of Nebraska's progress in special teams:
Nebraska had nine kickoffs end in touchbacks on Saturday, bringing their two-game total to 13. NU had 12 touchbacks total in eight games in 2020.
Marquel Dismuke blocked a field goal.
All seven PATs were successfully made.
Daniel Cerni's two punts averaged 40 yards.
Nebraska almost managed to get Fordham's two kickoffs returned to the 25-yard line (22 and 21).
No safeties were given up on punt return.
Obviously, there is still work to be done in the third phase, but I did see progress.
Emptying the bench is a great thing. The fourth quarter looked like a Red-White scrimmage, as Frost and his coordinators were able to (mostly) empty the bench.
Three quarterbacks (Adrian Martinez, Logan Smothers, and Matt Masker) took snaps. Sixteen (!) different Huskers touched the ball on offense. On defense, 25 Huskers recorded tackles. Dozens more saw the field, many for the first time.
Don't discount the value in seeing what a backup can do on Saturdays. One of the underrated ways that Osborne's teams built depth was blowing out lesser opponents and letting the reserves play most of the second half. With current blowouts few and far between, I was glad to see some guys get their chance to shine.
It was nice to be back in the stadium. I don't know about you, but I prefer living, breathing fans to cardboard cutouts. It was tough knowing that home games occurred in 2020, but I was unable to attend. I missed the game day rituals: random people shouting, "GO BIG RED" as you walk, the majestic strains of "March Grandioso", the excitement of seeing the field.
The energy was a little subdued (it was an 11 a.m. kickoff against an FCS team), but the fans mostly picked up where they left off in 2019. We struggled to clap to the beat of "Hail Varsity", the opposing team received a nice ovation, and red balloons were sent to the fields of Gage County.
I can't wait to do it again this weekend.
Things I don't know
What happens in practice that we don't see? Without calling out any particular player(s), there are some places on the depth chart where I wonder if the best guy is the one getting the bulk of the snaps. You probably can guess one player / position I'm talking about, but there are at least three that come to my mind.
Frost and his assistants are consistent in their messaging: the starters are the ones who get it done in practice while bringing the desired attitude and work ethic. That is a noble ideal, but I'm not always seeing that translate into production on the field. It becomes more curious when I can see guys dripping with athletic potential standing on the sidelines.
Shouldn't the job of a coach be to motivate and develop the talent in the room, tapping into their raw potential? I'm not suggesting a system where poor effort is rewarded. But if the issue is playbook knowledge, a coach should still be able to find ways to get talent on the field.
Is Nebraska a running team? Don't look now, but Nebraska has rushed for more than 300 yards in two of their last three games. Who knows what would have happened in Champaign if the Illini had come out in the defensive fronts Nebraska expected? (Or, if NU would have made the necessary adjust….never mind, we're not going down that road.)
As I and others have said before, the pieces are there. The offensive line has their best player at center, leading a raw group of talented guys. There is a stable of capable running backs. Martinez is a mobile quarterback with some surprising option chops. Good tight ends and enough receivers to keep a defense honest.
If Nebraska is serious about running the damn ball, look for another focused effort against Buffalo.
Does the progress continue or was this an FCS fluke? We all understand the situation. This was a "prove it" season for Frost and Nebraska long before they laid an egg at Illinois. Can they demonstrate improvement? Can that improvement be sustained? We can acknowledge growth and progress in Game 2, but still need to see it repeated - or improved upon - against Buffalo, Oklahoma, and the remainder of the Big Ten schedule.
Nebraska has the potential to beat anybody (seriously, anybody) remaining on their schedule. They also have a track record of self-sabotage that means there are zero guaranteed wins left. I'll be curious to see if Nebraska can continue to make positive steps forward.
5 things I loved
Samori Toure. He proved his FCS All-American credentials were legit with 133 yards on eight catches, plus three carries for 35 yards and a touchdown. Toure is excelling in the role vacated by Wan'Dale Robinson. It's too soon to go any further with that comparison, but I like where we're headed.
Ryan Greenhagan. I do not recall ever putting an opposing player on this list. I also do not recall any player recording thirty-one (31!) tackles in a single game. That was absolutely ridiculous.
Offensive Line. Any time Nebraska can rush for more than 300 yards, the boys up front will have a spot here. We can apply an FCS asterisk if you wish, but they ultimately did what was expected: dominate the line of scrimmage. I'd have them higher, but Mr. Greenhagan did record 31 tackles.
Jaquez Yant. A human wrecking ball of a runner in the long tradition of Nebraska power backs. The breakout star of the spring is currently buried on the depth chart, but I loved watching him run late in the game. I want to see what he can do on 3rd and 2 against a Big Ten defense.
Eteva Mauga-Clements. The reserve linebacker flashed in his fourth quarter reps. I really liked his nose for the ball and ability to make a sure tackle. I suspect this won't the last time I put his name here.
Honorable Mention: Deontai Williams, Adrian Martinez, JoJo Domann, Quinton Newsome, Markese Stepp, Luke Reimer, Omar Manning, anybody making his NU debut.
5 areas for improvement
Punt Return. I get the desire to be a playmaker (and/or put things on tape for the NFL). But when fans are longing for Santino Panico 2.0, it must get better.
Kickoff Return. A few years ago, the NCAA changed the rule to place any fair catch of a kickoff at the 25-yard line. Since then, it drives me nuts to see a Husker player field a kick at the goal line, come sprinting out, and get tackled at the 21. Field position matters, momentum matters, and NU is prone to penalties on kick returns that take a decision from bad to worse.
Slow start. There was a bit of a pucker factor in the stands after Fordham marched down the field to tie the game at seven in the second quarter. Nebraska had punted on two of their three possessions, and the Blackshirts were allowing big plays. The Huskers turned it around, but they can't afford slow starts against better competition.
Get Martinez out sooner. We have officially reached "nit-pick" stage. I would have preferred to get Adrian Martinez out of the game of the game a series or two before his exit with 3:07 left in the third quarter. Yes, it was nice to see Martinez lead one final scoring drive, especially ending with one of the prettiest option pitches I've seen in years. But I'd trade it all for another series for Logan Smothers (or Heinrich Haarberg) and fewer hits on the franchise QB.
NU Concessions. In my new perch in the 600 level, only two of four concession stands were open for business Saturday. That led to some ridiculously long lines at halftime.