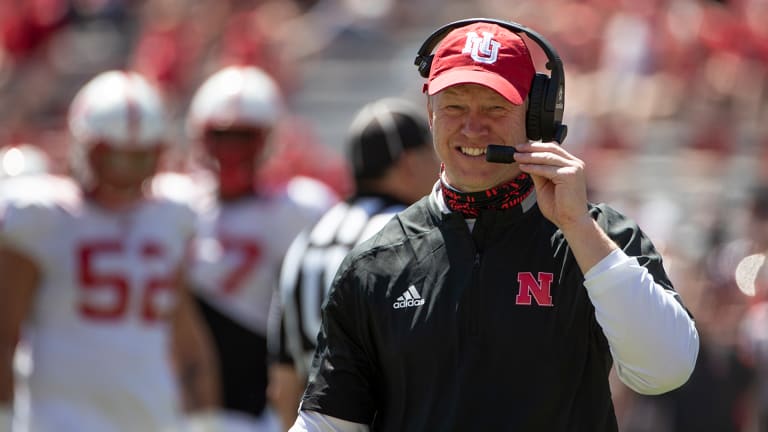 Husker Dan: A Frosty Forecast for the Huskers?
Nebraska has a decent chance to play in its first bowl game since 2016.
Nebraska has a decent chance to play in its first bowl game since 2016.
In a few short weeks, the 2021 Nebraska football season will begin.
And on September 4th during the Huskers' home opener, Big Red fans will finally get to see their team play in person in front of a packed Memorial Stadium. Not since 2019 (thanks to COVID) has that been possible. I can't wait to experience all the pageantry that comes with a Husker home football game!
The Husker sellout streak may end this fall, but fans are still going to be sky high in anticipation of Year 4 of the Scott Frost Era.
21 things you need to know
So how are the Huskers going to perform this year? Before we see what might be in store for the Big Red this fall, let's look the 21 Things You Need To Know about the Husker football program:
1.) Out of about 130 Division I programs, NU has the 10th toughest schedule. (NU plays two Top Four teams: Oklahoma and Ohio State.)
2.) It's the second toughest schedule in the 14-member Big Ten Conference.
3.) In his 5 years as a head coach, Scott Frost has had only one winning season.
4.) Of the 153 players on this year's Husker roster, 99 are either freshmen or redshirt freshmen.
5.) In the first three years of the Scott Frost era, the Huskers have a combined record of 12-20.
6.) They have had three consecutive losing seasons (four, if you count Mike Riley's last year).
7.) The Huskers haven't been to a bowl game since 2016.
8.) The Huskers have a three-year starter (Adrian Martinez) returning at QB this fall. But as a starter, he's won only nine games. In his freshman year in 2018, he led the nation in fumbles, was 10th in 2019 and tied for second in 2020.
9.) The QBs backing up Martinez this fall have zero game experience.
10.) Last year the Huskers ranked 122nd nationally in turnover margin.
11.) The Husker special teams are among the worst in D-I.
12.) Husker field position over the last three years has been among the worst in college football
13.) Penalties and mental mistakes have limited the Husker win total.
14.) Going into the Year 4 of the SFE, there still is no clear-cut choice at running back. (And there is very little experience at that spot.)
15.) Same with the receiving corps. JUCO transfer Omar Manning and Samori Toure (who transferred from the University of Montana), might be the go-to guys this fall.
16.) The Huskers' offensive points per game dropped from 30 in '18 to just 23 ppg in '20.
17.) The Huskers have a reasonably good O-line that has a lot of depth.
18.) The D-line should be better this fall.
19.) The linebacker room should be good.
20.) The secondary has a chance to be really good
21.) The schedule, despite being among the most difficult in the country, offers an opportunity for the Huskers to beat some ranked teams and climb out of the morass the program has been in.
What to expect
Here are my takes on the '21 Husker football season. (The code is: (W)= Winnable game (L)= Probable loss and (T)=a Toss-up game.)
August (All times are CST)
28th (noon) @Illinois (W) 2-6 Last Year
The past few games between these two teams have been very hard hitting and I'm not expecting things to change with first-year Illini head coach Bret Bielema at the helm. This is a winnable game if Nebraska doesn't shoot itself in the foot.
September
4th (11 a.m.) Fordham (W) 2-1
If this is a close game, the season might be a very long one for the Huskers.
11th (2:30 p.m.) Buffalo (W) 6-1
The Bulls' program improved under former Husker assistant  Lance Leipold (2015-2020), but this fall, he will be in his first year as the head coach at Kansas. But even without Lance, the Bulls will bring a good running game to Memorial Stadium. Last year the Bulls averaged 43.4 points per game, including 6.71 rushing yards per attempt. Their total offense was 3,349 yards at a 7.33 per play average. But what do the Bulls have this year? Nebraska needs to take care of business and must not overlook the Bulls.
18th (11 a.m.) @Oklahoma (L) 9-2
This will not be a repeat of the 1971 classic Game of the Century -- a close game won by the Huskers. This year, OU will be led by QB Spencer Rattler, who should have a great day offensively as he tries to pad his Heisman resume. This game could get really ugly for Nebraska.
25th (TBA) @Michigan State (W) 2-5
Michigan State fired their longtime head coach, Mark Dantonio, after the '19 season and hired former Colorado Buffalo head coach Mel Tucker. (His CU team beat NU in Boulder in 2019.) Last year the Spartans' had only two wins, but they were over Michigan (2-4) and Northwestern (7-2)
October
2nd (6:30 p.m.) Northwestern (T) 7-2
Last year the Wildcats played for the conference title, losing to Ohio State 22-10. And the Wildcats also beat Iowa (6-2) and Nebraska (3-5) in '20. This year, Northwestern returns the fewest starters (8) of any B1G team That fact may favor the Huskers. But until the Huskers prove they can beat teams like Northwestern on a regular basis, this one is going to be another toss-up.
9th (TBA) Michigan (T) 2-4
The last time these two teams met was 2018 at Ann Arbor and the result was a 55-10 drubbing of the Cornhuskers. This time the game is in Lincoln and the Wolverines return 17 starters this fall. This is another toss-up.
16th (TBA) @Minnesota (L) 3-5
Last year with several Gopher players out with COVID, Minnesota still managed to beat Nebraska in Lincoln 24-17. And Scott Frost may have upset the Gophers during the B1G Media Days last week when he said that he (Frost) was not a coach who used slogans to motivate his team. "If I have to get slogans to get my team ready to play, then I probably have the wrong kind of players," Frost said. Seems pretty benign to me. But maybe not to Minnesota head football coach, PJ Fleck. The Gophers should beat NU again.
23rd BYE WEEK
Good week off after playing Minnesota.
30th (TBA) Purdue (W) 2-4
Last year Nebraska beat the Boilermakers 37-27, but Purdue did manage to beat Iowa and Illinois. Purdue is picked 2nd from last in the B1G West this year. This could be another win for the Huskers. If all goes well, NU could have 4 wins for the year after this game. NU would need only two more wins to become bowl eligible.
November
6th (TBA) Ohio State (L) 7-1
The Buckeyes have a few spots to fill this year, but they usually don't miss a beat. They just reload. This could be another ugly loss for Nebraska.
13th BYE WEEK
Huskers will have an extra week to prepare for their final two games of the regular season.
20th (TBA) @Wisconsin (L) 3-5
The Badgers are the odds-on favorite to win the B1G West crown. Can the Huskers pull out the upset at Camp Randall Stadium? Probably not.
26th (12:30 p.m.) Iowa (T) 6-2 ("The Sod Couple")
By the end of last year, the Hawkeyes were one of the best teams in the conference. Iowa has had its way with Nebraska over the past three seasons. But the three wins have been by a total of just 12 points. If the Huskers can find ways not to beat themselves, they just might be able to win this game. Not since 2014 has Nebraska emerged from the game with a win. Maybe this November Nebraska can stop the losing skid and bring the Heroes trophy back to Lincoln where it belongs.
If my game predictions are correct, Nebraska has 5 (W) winnable games, 3 (L) probable losses and 4 (T) toss-up games. If the Huskers can take care of the games it should win and maybe win a couple on the Toss-up list, Nebraska might find itself playing in its first bowl game in five years.