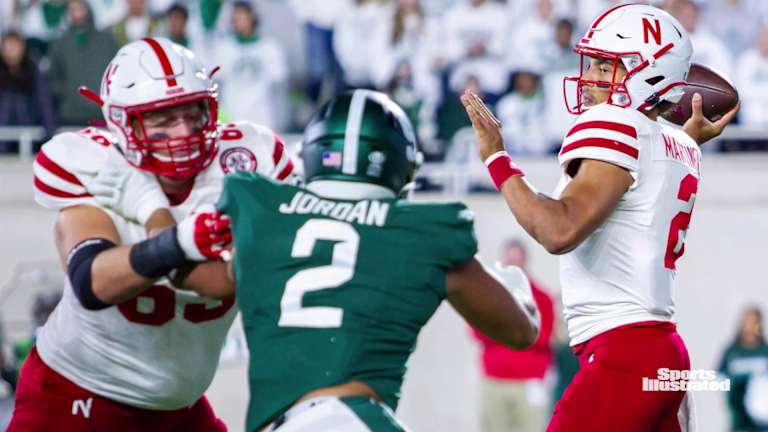 Husker Dan: Heartbreak Hotel
Snatching defeat from the jaws of victory
After Saturday night's 23-20 OT loss to Michigan State in East Lansing, Sparty's Woodshed looked more like the Heartbreak Hotel for Husker fans.
The gut-wrenching defeat left all of Huskerland confused, dazed and angry. Maybe the anger stems from the fact that the Huskers found a new way to lose yet another close football game.
After a year and a third, NU continues to self-destruct. Raise your hand if you felt confident with 4 minutes to go in the game with the Huskers on top 20-13 that Nebraska was finally going to beat a ranked team on the road.
I didn't think so. I told Mrs. Husker Dan there was way too much time left to feel secure about anything with the Huskers. Sure enough (sadly), I was right. The punt coverage team was all running to the right and what did our punter do? Yup. He punted to the left where there were no Husker defenders in sight. And just like that with 3:42 to go, Sparty's Jaylen Reed took the Husker punt 62 yards to the house to tie the game.
The sad part about the tie? The Husker Blackshirts dominated the second half, allowing no first downs, no points and 14 total yards of offense for the Spartans.
So what should Husker fans do the rest of the season? Should they bail out on the Huskers? Regardless of how well the Blackshirts play, special teams might continue to disappoint. Should Nebraska fans throw in the towel and stop cheering for the Scarlet and Cream?
People can do whatever they want, but now is not the time to stop being a Husker fan.
Husker faithful need to see the good in the Husker football program. Yes, special teams are still a disaster, but that's just who Nebraska is. It's not a perfect program but it is trying to get better. And if you haven't noticed, Eric Chinander's defense is now playing like the Blackshirts of old.
Look what has happened over the past two games at Oklahoma last week and Saturday night at Michigan State. Against MSU, Nebraska played maybe its best defensive game since a 10-3 win over Oklahoma at Memorial Stadium in Lincoln in 2009.
But the Huskers don't have the players they had back then like Ndamukong Suh, Baker Steinkuhler or Jared Crick. But look at the performance of current Husker defensive players like Luke Reimer, Nick Henrich, Garrett Nelson, JoJo Domann, Marquel Dismuke, Ben Stille, Ty Robinson, Quinton Newsome and Deontai Williams. These players have raised their game to levels many thought they'd never reach.
Adrian Martinez is clearly playing the best ball of his Husker career. Plus the Husker receiving corps has drastically improved this year with the performance of Samori Toure, Zavier Betts, Omar Manning, Austin Allen, Travis Vokalek and Levi Falck.
All future opponents on Nebraska's schedule this year need to be ready for a Husker D that is starting to play with their hair on fire.
I get it that the defense still has flaws, Martinez still makes mistakes, the O-line can't seem to protect him and Nebraska's running game is still inconsistent. But the D-line, 'backers and secondary are all starting to gel.

If Nebraska can stop beating itself (I have no idea when or even if that will happen), hang on. The Huskers may not have a winning season or even become bowl eligible, but from here on out, the Huskers are going to be in every game.
Now is not the time to give up on the Huskers. Now is the time for all the fans to come together. And let's kick some butt while we're at it.

I'll leave you with this quote from the movie "Animal House" where John Belushi says,
Nothing is over until we say it is! Was it over when the Germans bombed Pearl Harbor? Hell no!