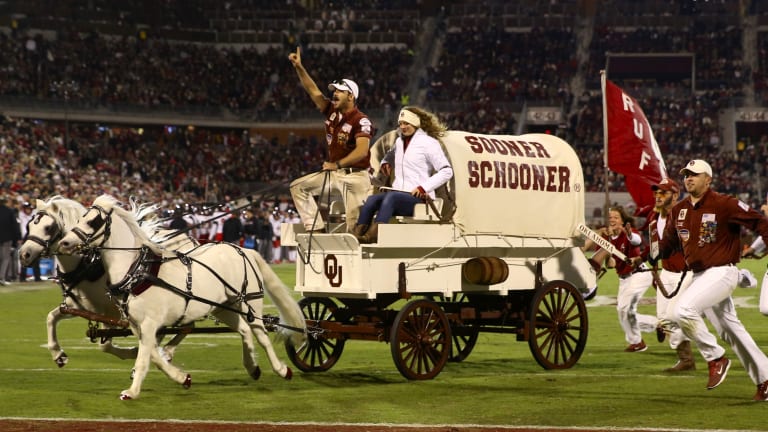 Husker Dan: Picking Up the Pieces
Bulls review and Sooners preview
Bulls review and Sooners preview
Saturday's win over the Buffalo Bulls was played in front of 86,000 Husker fans who were eager to see their team win its second game in a row and to go 2-1 for the season.
The Mighty Husker Fans
Those who showed up Saturday afternoon were part of the 377th consecutive sellout streak dating back to the Kennedy administration. The fans had to contend with triple-digit temps (130 degrees on the field). The heat was stifling, but Husker fans were up to the task.
Who says the sellout streak isn't important to Husker fans? That's crazy. Husker fans are the best. Through the years, they sit in temperatures ranging from Death Valley's oppressive heat to the blistering cold of Siberia Through rain, sleet, hail, snow and wind strong enough to jar dental fillings loose, Husker fans seem to keep on keepin' on.
And to all of you who braved the ghastly hot conditions Saturday, you should all go to the head of the class and be recognized for the absolute great fans you are.
Bulls vs. Huskers
After the game, the Memorial Stadium cleanup crew had to work overtime. Why? Because they had to sweep up all the points that were left on the field by Nebraska. There were 30 potential points the Huskers should have had but were erased by penalties. There were three TDs called back and three Connor Culp missed field goals. (Okay, so his last attempt really was good, but the refs ruled it wasn't.)
Miss that many points against teams like Fordham and Buffalo, and the Huskers can still win pretty handily. But lose that many scoring opportunities this week at Norman and the Huskers are going to get their butts handed to them in a brown paper bag.
However, there is still potential for this year's Husker football team. As I said before the season began, Nebraska has a very tough schedule. But with that schedule, the Huskers also have a great opportunity to make some noise this year.
Dropping a game to hapless Illinois on the road last month was an enormous loss for the Huskers. If that game were to be played this Saturday, the Huskers would win going away. But of course, that thinking is pointless.
Up Next: Oklahoma
Ahead for the Huskers are teams like Ohio State, Michigan, Wisconsin, Iowa, Michigan State and Minnesota. Win a few of those games and the conversation about Nebraska football will likely change. But next up is a road game with the Oklahoma Sooners who last week pasted FCS Western Carolina 76-0. The week before that, the Sooners escaped with a home win over Tulane, 40-35.
Sooner stats
Through two contests, the Sooners are averaging 58.0 points per game while allowing just 17.5 ppg. And Oklahoma has put up 1,054 total yards of offense (661 passing and 393 rushing) for an average of 527 ypg.
The Sooners' Heisman contender and quarterback, Spencer Rattler, has completed a whopping 76.9 percent of his passes for 547 yards and 6 TDs with 2 INTs. He's also rushed for 36 yards (3 yards a carry) with 1 rushing TD.
Husker stats
For Nebraska through three games, they have averaged 34.0 ppg and are allowing 17.5 ppg. Total offense for the Huskers so far is 1,541 for an average of 514 yards a game.
QB Adrian Martinez has passed for 728 yards (62.2 percent with 4 TDs and 0 INTs) and has rushed for 256 yards (7.53 yards per carry and 3 TDs) for 984 yards of total offense.
If you examine these stats, you may discover Saturday's score might be closer than you think. And no, I'm not predicting a Husker win - not with Nebraska's knack of self-destruction. However, if the Huskers can keep their mistakes to a minimum, they just might make it a game in the fourth quarter. Again, "if" is a huge word,  and to date Scott Frost & Company haven't shown they can guide the Huskers on the road against a great opponent.
Stay tuned, Husker fans, and keep the faith.