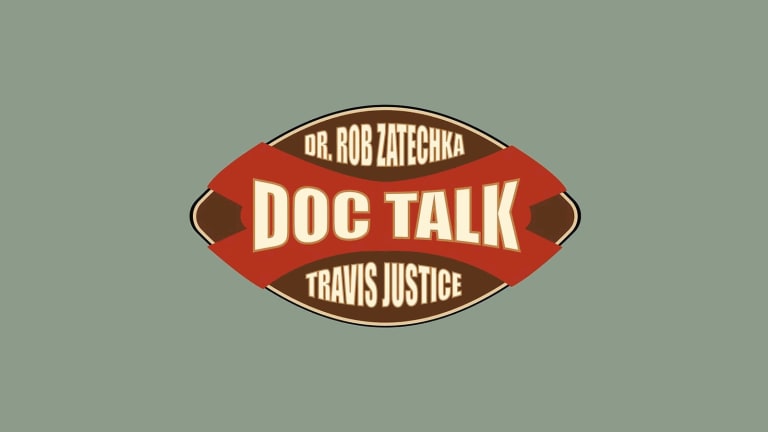 Husker Doc Talk Podcast: The 'V' Word!
We're talking vaccinations and the Delta variant. Are games and attendance at risk?
We've been told a thousand times, never talk about religion and politics on the podcast. We've done it a couple of times, and despite making some people mad, everything turned out okay.
In this edition of the Husker Doc Talk Podcast presented by the Rimington Trophy, Dr. Rob Zatechka and Travis Justice talk about the "V" word. Get your mind of the gutter, not that "V" word. We are talking about vaccinations. Depending on how you feel, this might be the same as talking about religion and politics.
Why talk about this now? Well, COVID cases are increasing not just in Nebraska but all over the country. Husker head coach Scott Frost has said he's not yet comfortable with the team's vaccination rate. The Delta variant of the virus seems to be affecting young adults and children more than the older population. A high percentage of people being hospitalized and dying are unvaccinated.
Since Dr. Rob is a doctor, he's more than qualified to give his opinion on the matter. He's just lucky enough to do a podcast where he can talk about both of his passions, medicine and football! Seriously though, are games at risk? Is the 100% capacity limit at risk?
Let's say they do postpone or cancel games or even reduce the crowd size. What happens to your ticket? Chad Carr from Ticket Express is on the show with Ticket Talk and clearly explains this company's policy.
We can only have these deep conversations while drinking beer! So Rob's wife Jennifer stopped at McCue's Nebraska Taproom in Kearney and picked up a crowler from Highway 14 Brewing Company in Albion.
Less than four weeks until the season kicks off. Do you have the right gear? Husker Hounds has three locations in Omaha, and you can buy online by clicking here! Husker Hounds has the biggest and best selection of anything you want Big Red!
When you listen to this episode, please give it a rating or a like on your podcast streaming service. If you feel so inclined, take the time to provide us with a review!
Twitter
Dr. Rob Zatechka-@doctalksports
Travis Justice-@traviscreates
Questions?