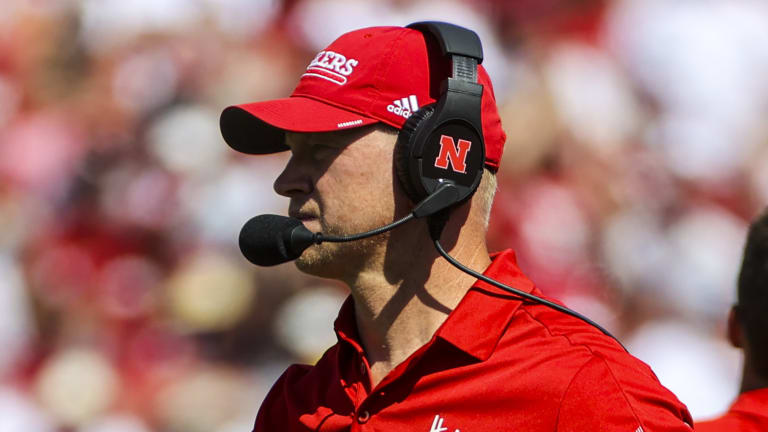 Husker Midterm Coaching Grades
Dave Feit issues report cards for Scott Frost and his staff
We have now reached the halfway point of the 2021 season. Nebraska is 3-3 and sits in 5th place in the Big Ten West. But how are the coaches doing? Who is excelling at his craft, and who might find themselves on a hot seat?
I put together grades for each Nebraska coordinator and full-time assistant coach. These grades are intended to be a reflection on what I've seen through the first half of the season and provide a milepost for an end of season review.
Methodology
When I grade coaches, I look at four key areas:
On-field performance. How is their unit playing? Are they a bright spot, weakness, or somewhere in between?
Improvement. Has the overall unit (and/or individual players) gotten better - or worse - over the course or the season or last 12 months? Development of players will show up here.
Depth. How big is the drop-off between the starters and the backups? Injuries happen, so the next man up needs to be able to contribute. Development will be reflected here as well.
Gut opinion. I've been at every home game and watched the others. I can't diagram a Tampa 2, but I feel like I have good understanding of where this program has been, and where it is now.
I'll assign a letter grade (A through F) to each, and compile them into an overall GPA, using the standard 4.0 scale.
You'll notice that I don't include recruiting in my grades. This is mainly because I don't follow recruiting close enough to make an informed opinion on who is landing the talent and who is dead weight. Also, grading recruiting creates a lot of incomplete grades as recent signees redshirt and work their way up the depth chart.
A few other notes:
Coordinators who also lead a position group get two individual grades, one for each responsibility. Coordinators are graded on the entirety of their phase of the game. The head coach and strength & conditioning coach are graded on the entire team.
I'm using the official titles on Huskers.com to determine responsibilities. I know several coaches help out with special teams units, but I'm only grading on what is officially assigned.
Since I'm not at practice or in the meeting rooms, I can only grade based on what I see on the field. That creates a challenge when players screw up or do something SportsCenter worthy. Surely the coach didn't tell his guy to hit a seven-yard punt or let the quarterback get sacked. On the flip side, can you teach Adrian Martinez's ability to scramble and weave? My philosophy is if we're going to blame coaches for the mistakes and poor performance of their players, it is only fair to give coaches credit for the good performances and athletic plays their units make.
I completed the majority of this prior to the Northwestern game. After the 56-7 win, I did tweak a few grades, but one win over a bad opponent isn't going to outweigh the other five games.
I'm not calling for anybody to be fired. While I have three names in my "Academic Probation" list, there are six regular season games left, with postseason games still possible. That gives coaches ample time to correct problems and demonstrate improvement.
Let's start at the head of the class:
DEAN'S LIST
Tony Tuioti, Defensive Line
On-Field Performance: The defense is playing great, and that starts up front. The D line is keeping the linebackers clean and disrupting plays on their own. A
Improvement: The growth of Damion Daniels, Deontre Thomas, and Ty Robinson has been easy to see. A
Depth: Ben Stille, Jordon Riley, and Casey Rogers would be a respectable line on their own. Lots of promising youth waiting in the wings. A
Gut Opinion: Tuioti is the best assistant coach in the program. Give this man a raise. A
GPA: 4.0
•
Erik Chinander, Defensive Coordinator
On-Field Performance: This isn't the turnover-creating machine we were promised when he took the job, but this defense is good enough to win the Big Ten West and be competitive against anybody else. A
Improvement: Chinander is benefiting from the four "Super Seniors" (JoJo Domann, Ben Stille, Marquel Dismuke, and Deontai Williams), but the defense is notably better than it was a year ago. A
Depth: The defense has benefitted from being healthy <furiously knocks on wood>, but the depth behind the starters mostly appears ready for primetime. B+
Gut Opinion: Remember when we thought Chinander was a bum? Maybe that should be a cautionary tale for the other coaches with poor grades. Or maybe it should be an example that it is possible to show dramatic improvement over a short timeframe. A
GPA: 3.88
•
Barrett Ruud, Inside Linebackers
On-Field Performance: Ruud's grade benefits from having the defensive MVP Luke Reimer and emerging star Nick Henrich. A
Improvement: Reimer and Henrich are notably better. Chris Kolarevic is a great addition. B+
Depth: This unit lost standout Will Honas to injury and hasn't skipped a beat. There is a gap to the backups, but Garrett Snodgrass and Eteva Mauga-Clements are players in the rise. B
Gut Opinion: Ruud seems to keep a low profile on the staff - seriously, how often do you hear him mentioned? - but he's getting great results. A
GPA: 3.63
•
Travis Fisher, Defensive Backs
On-Field Performance: It's tough to find a lot of issues with the play of the corners and safeties without getting into nit-picking. B+
Improvement: Admittedly, the DBs are a victim of their past success. Cam Taylor Britt hasn't flashed as much as he did in 2020, and I'm not sure Dicaprio Bootle has been fully replaced. B
Depth: There is a ton of depth, and no appreciable drop-off when somebody comes out. B+
Gut Opinion: If we did this exercise for other seasons, I suspect Fisher would consistently grade out very well. A
GPA: 3.50
•
Matt Lubick, Wide Receivers
On-Field Performance: A lot of preseason questions have been answered. It's tough to find significant fault with the performance of the receivers. B+
Improvement: The increased roles and production from Omar Manning and Zavier Betts are notable. A
Depth: NU has a solid rotation of capable players. I'd like to see more talented freshmen get opportunities. B+
Gut Opinion: I'm docking Lubick for starting walk-ons over players who appear to have higher ceilings, but the WRs have been good. B
GPA: 3.50
•
Sean Beckton, Tight Ends
On-Field Performance: Very high. It is not a coincidence that the offense has moved best in the last three games with Austin Allen and Travis Vokolek on the field. A
Improvement: The tight ends definitely have not gotten worse, but have they been noticeably better? Like with Travis Fisher, Beckton is probably getting dinged for having set a high bar in 2020. B
Depth: A coach can't control injuries, but it got a little dicey when Allen, Vokolek, and talented freshman Thomas Fidone were out. Credit for bringing Teddy Prochazka over from the offensive line to help out. C+
Gut Opinion: The tight ends are a strength of the offense, and Beckton gets credit for that. A
GPA: 3.38
•
Mike Dawson, Outside Linebackers
On-Field Performance: We can quibble about the (relative) lack of sacks, but the OLBs are playing really well. JoJo Domann is an instinctive freak, but there are several standouts in the room. B+
Improvement: Has anybody on the team improved more than Caleb Tannor? Garrett Nelson is also taking a big step forward. A
Depth: This could be better. The bulk of the production is coming from four guys (Domann, Tannor, Nelson, and Pheldarius Payne). Damian Jackson has developed from "that jacked Navy SEAL" into a respectable backup. C+
Gut Opinion: Mike Dawson is a big reason why I grade position groups and coordinators separately. Dawson is excelling as a position coach. B+
GPA: 3.38
•
Zach Duval, Head Football Strength & Conditioning Coach
On-Field Performance: As a whole, Nebraska's losses have not been due to opponents being stronger or better conditioned. B+
Improvement: Would you say there is a notable improvement in S&C from 2020? I'm giving credit for the handful of examples I can think of where a change in a player's body / conditioning has led to increased production. B
Depth: When the backups and newcomers play, are they being pushed around? I can't think of any significant examples. B+
Gut Opinion: Nebraska has played three games in scorching hot conditions and held up very well. I don't know how much credit S&C should get for Nebraska being relatively injury free, but I'll factor it in anyway. B+
GPA: 3.38
C's GET DEGREES
Mario Verduzco, Quarterbacks
On-Field Performance: Adrian Martinez is having an excellent season. Martinez's habit of overthrowing open receivers is the only thing keeping this from an A. B+
Improvement: Martinez is a better passer, runner, and leader of the offense than he was in 2019 or 2020. A
Depth: Logan Smothers is a notable improvement at backup and has looked capable running the offense. If NU had to roll with their third string QB, it could be trouble. C+
Gut Opinion: I said upfront that coaches get credit for athletic performances by their players, and the first two grades reflect that. But I wonder how much of Martinez's stellar season is due to him being healthy, experienced, and a gifted athlete? And how much is due to the coaching and development he's received from Verduzco? Past history (i.e., Luke McCaffrey and 2019-2020 Martinez) says Martinez is making his coach look better than he might be. D+
GPA: 2.88
•
Ryan Held, Running Backs
On-Field Performance: You can see flashes, but not a lot of consistency. I'm open to shifting some blame onto the O-Line, but the revolving door of starters (3 in 6 games) is telling. C+
Improvement: What does it say about development when a transfer and true freshman have the same number of starts as guys Held has previously coached? There is a lot of recruiting hype buried on the depth chart. C+
Depth: Even without Gabe Ervin, Jr., running back is still the deepest position on offense. Extra credit given for no longer needing to use a 165-pound receiver as your short yardage back. B+
Gut Opinion: Held's reputation seems to be more about recruiting than on-field coaching. This is fine, as Nebraska needs all the top-tier talent they can get. But since my grades don't reflect recruiting, Held's score may not show his full worth. C+
GPA: 2.75
•
Matt Lubick, Offensive Coordinator
On-Field Performance: I'm grading under the belief that Lubick is the true play caller - and not a title-only coordinator like John Papuchis or Troy Walters. I can see potential, but I also see an inconsistent offense that stalls out in the red zone and makes people ask if Nebraska has an "identity". C+
Improvement: Good news: NU scored 56 points against Northwestern. Bad news: NU scored a combined 58 points in their three other games against Power 5 teams - all losses. I need to see more than one game of improvement. C+
Depth: There are so many more options and legitimate weapons than there were a year ago. Take note of how much of that is development versus getting lucky in the transfer portal. B
Gut Opinion: I would love to see what this offense could do with an average offensive line from the post-Tenopir era. Could they average 30+ points a game? Because that would dramatically change the team's W/L record and how we view this staff. C+
GPA: 2.63
ACADEMIC PROBATION
Scott Frost, Head Coach
On-Field Performance: Frost's W/L records - in 2021, against Power 5 teams, on the road, and/or in one score games - are not what anybody wants from a coach in year 4. Games have been lost due to penalties, poor execution, and repeated mistakes. D+
Improvement: This is - without question - Frost's best team at Nebraska. This team is also - without question - still besieged by the same issues that have haunted Frost since 2018 or 2019. C
Depth: Even without the free year of eligibility in 2020, this is a ridiculously young team. The gap between starter and backup is much smaller than it has been at most positions. Is NU the most talented team in the West? I say yes. Do they have the best development? I say no. C+
Gut Opinion: I'm on record that I can see Frost's vision coming into focus. But let's be honest with ourselves for a minute. Pretend Scott Frost is not a Nebraska native, alumnus, and National Championship winning QB. Would you give a 15-23 coach another year to see if he can fix the issues he's been battling since 2018? D+
GPA: 1.88
•
Greg Austin, Run Game Coordinator
On-Field Performance: NU has rushed for 300+ yards twice…against bad defenses. The overall yards per carry (5.0) is good but is skewed by some quarterback scrambles that turned into explosive plays. D
Improvement: The raw numbers are better than 2020 (4.8 Yds per attempt a year ago), and the run schemes appear to be better as well, even if execution is sometimes an issue. C
Depth: Points are given for the wide variety of players (12) to have a carry in a non-blowout situation. B
Gut Opinion: I debated including this one, as I think "Run Game Coordinator" is an "Assistant to the Regional Manager" caliber title. But here's what it ultimately comes down to: Can you get 10 yards in three plays when everybody knows you're running? NU failed against Michigan State, and I'll be very nervous the next time they are in that situation. D
GPA: 1.75
•
Greg Austin, Offensive Line
On-Field Performance: Yuck. The line has struggled to consistently run block, pass protect, and remember the snap count. The struggles have been more pronounced in games against teams with functional defenses. D
Improvement: Cam Jurgens appears to have fixed his snap issues and is probably the best of the bunch. This is a young line, but they need to grow up quick. The two new starters in the Northwestern game are helping this grade a lot. D+
Depth: Where the upperclassmen? There are three juniors and zero seniors on the roster. Even if Zach Duval excels at his job, it is still tough for a pup to compete on the line without taking their lumps. I'm giving credit for trying different configurations to find something that works. D+
Gut Opinion: I liked Greg Austin as a player, and I want to him to succeed as a coach. But if you want a reason why Nebraska is 3-3 instead of 5-1 or 6-0, look no further. Special Teams is a special kind of disaster, but the offensive line is the biggest issue. D-
GPA: 1.13
•
Mike Dawson, Special Teams Coordinator
On-Field Performance: The best analogy I've seen for Nebraska's Special Teams is to a game of Whack-A-Mole. You hammer down one pest, only to have two more pop up. D-
Improvement: Kickoffs have been much better. Everything else is the same (i.e., not great) or dramatically worse. Yes, technically, fair catching punts against Northwestern is better than what happened earlier in the season, but I'm not rewarding that. D
Depth: The specialist options (including returners) are limited or head-scratching. The coverage and return units tend to be a graduate-level course of "Who's that Husker?" F
Gut Opinion: Special Teams Analyst Jonathan Rutledge was fired because the 2020 unit was a dumpster fire. Aside from one game where Special Teams weren't needed, the 2021 version has been a turd wrapped in roadkill, placed in a dumpster fire that was involved in a train wreck while being leaking toxic waste. And that's being nice. F
GPA: 0.38