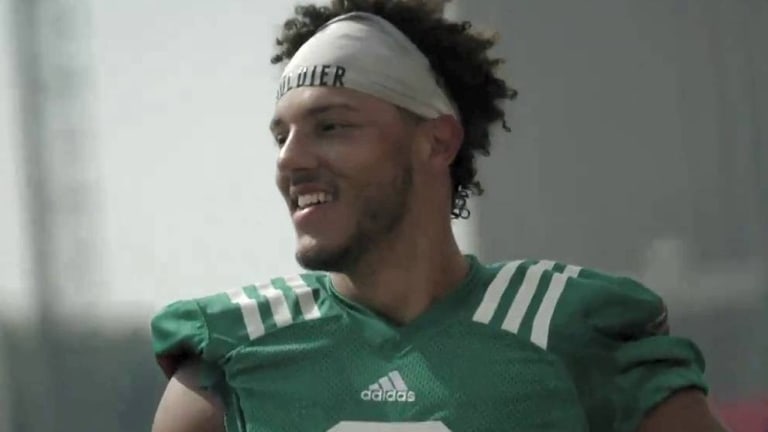 Huskers Name Team Captains
Adrian Martinez becomes program's first three-time designee
Nebraska quarterback Adrian Martinez has become the first three-time captain in the history of Nebraska football as he joins Austin Allen, Damion Daniels and Cam Taylor-Britt in the team's official leadership positions announced Saturday evening.
Entering his fourth season as the Huskers' starting signal-caller, Martinez has started 27 games and owns 10 school records. He graduated in May with a degree in business administration.
Allen, a tight end from Aurora, Neb., has played in 32 games for the Huskers and started 12 of them. He has caught 27 passes for 373 yards, while also providing perimeter blocking for the Nebraska rushing attack. Allen has already earned his undergraduate degree in mechanized systems management.
Daniels, a Dallas native, is the second member of his family to be selected as a Nebraska captain. Damion and Darrion, a captain in 2019, are the ninth set of brothers to serve as Husker captains. Damion has played in 32 career games, and he totaled 20 tackles as Nebraska's starting nose guard in 2020. He earned his degree in communications studies in May 2020 
Taylor-Britt, from Montgomery, Ala., was a second-team All-Big Ten selection last season. The cornerback has started 16 career games, and he recorded two interceptions and four pass breakups in 2020. He was also Nebraska's top punt returner last season. Taylor-Britt is on track to earn his degree in criminology and criminal justice in December.
What are fans saying about the selections? Take a look at the HuskerMax discussion thread.
Nebraska opens its 2021 season at noon Saturday at Illinois.
Full bios
Info links