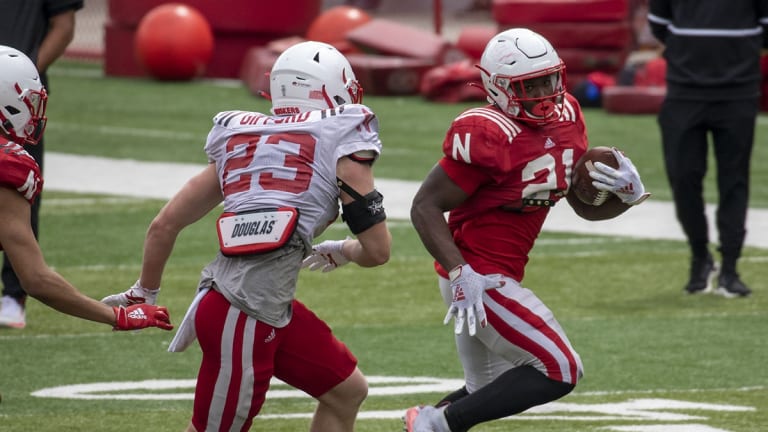 Nebraska Football Post-Spring Game Red Flag No. 2
The running backs are mostly short on experience. Husker Dan wonders whether the Huskers have a guy who can get it done against Big Ten defenses,
The running backs are mostly short on experience. Husker Dan wonders whether the Huskers have a guy who can get it done against Big Ten defenses,
Last week, we looked at the Nebraska quarterback room heading into the 2021 season. And this time, we'll look at the running back corps.
QUESTION
Will any of the Husker running backs be able to be effective against Big Ten defenses?
Red flag No. 2 (The running back room)
Before I go on, I want to pose a couple of questions. See if you know the answers. I'll discuss them later in this column.
Q 1: Over the last 32 Husker football games, how many times did a Husker running back lead the team in rushing? And what was the record during those games?
Q 2: And how many times did a Husker quarterback lead the team in rushing in those games? And what was that won-loss record?
(Note: Wan'Dale Robinson's numbers don't count for these questions because his "real" position was a wide receiver.)
The University of Nebraska has had a long history of producing great running backs, including Bobby Reynolds, Jeff Kinney, Rick Berns, Mike Rozier, Lawrence Phillips, Ahman Green, Roy Helu, Calvin Jones, Rex Burkhead and Ameer Abdullah.

But not since the days of Burkhead (3,329 career rushing yards) and Abdullah (4,588 career rushing yards) has Nebraska had a consistent, productive 3- or 4-year running back. (In 2018. Devine Ozigbo rushed for 1,082 yards for Nebraska.)
And the best running back Nebraska had last year won't be returning this fall. Dedrick Mills, decided to enter this year's NFL draft. (Because of the COVID rule that awarded an extra year of eligibility, Mills could have stayed at Nebraska for another year. But instead, he ended up signing a free-agency contract with the Detroit Lions.)
So who are the Huskers left with at running back? And do they have what it takes to be successful in the B1G?
The long and short of it
In a nutshell, the Husker RB Room is long on potential but (with one exception) very short on experience
Those RBs with zero experience
One of the newest Husker RB recruits is Sevion Morrison (Fr.) from Tulsa, Oklahoma. While at Edison High School, he became the school's all-time career rushing leader. And to become the all-time leader, he had to break the record set by former Sooner All America RB Spencer Tillman, who went on to win a Super Bowl with the '49'ers. Note: During his senior year at Edison, Morrison averaged 10 yards a carry for 1,798 yards. He redshirted last year at Nebraska and looks to see playing time this fall. Morrison is 6' 0" and weighs 210 lbs.
Gabe Ervin (Fr.) is an interesting addition to the RB room. He's from Buford, Georgia. He's a 6' 1", 190 lb. early enrollee who showed flashes of talent in this month's Spring Game. In 2020, his senior year in high school, Gabe was listed by Rivals.com as one of the top 25 running backs in the nation. He was also one of Sports Illustrated's All America candidates in 2020.

A walk-on
You have to wonder why a kid from Tallahassee, Florida would want to come to Nebraska as a walk-on, but Jaques Yant (Fr.) did just that. At 6' 2" and 245 lbs., Yant looks to be a powerful running back. But the only time we've seen him in a Husker uniform was in this month's Spring Game. He looked very tough, but as we all know, tackling wasn't allowed in the first half (gasp!) and the offense ran against mostly vanilla defenses all afternoon.

Those with some experience
Another back Husker fans haven't seen a lot of is Rahmir Johnson (RFr.) from Oradell, NJ. During his redshirt year in '19, Johnson played in four games, rushing 21 times for 64 yards. And in a COVID-shortened season last year, Johnson rushed just 5 times for 23 yards. Coming out of high school, RJ was rated by Rivals.com as the No. 6 best all-purpose running back in the country. In 2020 and 2021, Johnson was voted to the Brook Berringer Citizenship Team and the Tom Osborne Citizenship Team. RJ is 5' 10" and 185lbs.

Marvin Scott III (Fr.) is another Husker RB with a lot of potential. He's a 5' 9", 210 lb. freshman from Daytona Beach, Florida. Last year at Nebraska, he played in 5 games, rushing for a total of 62 yards. Scott, a standout RB in high school, was also a state (Fla.) champion weightlifter. His 405 bench press was tops in his weight class.
The most experienced back
So, are there any Husker RBs who have much game experience? There's only one, and even his experience has been limited. Markese Stepp (So.) transferred to Nebraska in the offseason from Southern California. He has three years' experience, but because of injuries etc., his playing time was limited at USC. During his three years as a Trojan, he rushed for 505 yards at 5.1 yards per carry. If he can stay healthy, his size (6' 0" and 235 lbs.) and ability could prove valuable against B1G defenses.
(Ronald Thompkins (RFr.) who also had limited experience, opted this month to enter the transfer portal and therefore won't be a part of the RB corps this fall.)

So how essential is the running game for the Huskers?

Going back to my questions at the beginning of this column, here are the answers:
Q 1: During the past 32 Husker football games (the Scott Frost era), a Husker running back has led the team in rushing 15 times. And the record in those games? 8-7.
Q 2: During that same span, QBs have led the Huskers in rushing 17 times. And the record when that happens? 3-14. Not good.
Think about that. When the Huskers run the ball effectively, they win more games (not a lot more), but when QBs are the leading rushers, the Huskers have a dismal 17.6% winning percentage.
What are the chances the five RBs on the roster will stay at Nebraska? For the answer, take a look at the following facts.

Class of 2018 (Frost's first year at Nebraska)
NU signed only two running backs (both 4-star players): Maurice Washington and Greg Bell. Washington got into legal trouble and was kicked off the team and kicked out of school. After playing in the first four games (three as a starter) at Nebraska, Bell transferred that same year to San Diego State.
The Class of 2019
This class saw the Huskers sign three RBs: Ronald Thompkins and Rahmir Johnson (both 4 stars) and a 3-star player, Dedrick Mills. Only Johnson remains on the roster.
Class of 2020
The Huskers signed two 3-star RBs: Sevion Morrison and Marvin Scott III. Both are currently on the roster. Another player, Jacques Yant, was a July 2020 walk-on.
Class of 2021
Two scholarship RBs were signed this year: Gabe Ervin (3 stars) and Markese Stepp (s Stars)
Note: Of the 10 scholarship running backs signed in Frost's first four recruiting classes at Nebraska, only five remain on the roster. Gulp!
Here's the RB pecking order as I see it going into this fall:
Markese Stepp (starter), Gabe Ervin, Rahmir Johnson, Marvin Scott III, Sevion Morrison and Jacques Yant. But don't be surprised if the RB depth chart changes from week to week when fall camp begins in August.
RB rating: C+
Because of so much inexperience, it's really difficult to say with any certainty how this group will perform against B1G defenses. Let's just hope Husker RB coach Ryan Held can work his magic.
Next week, we'll examine the receivers room.