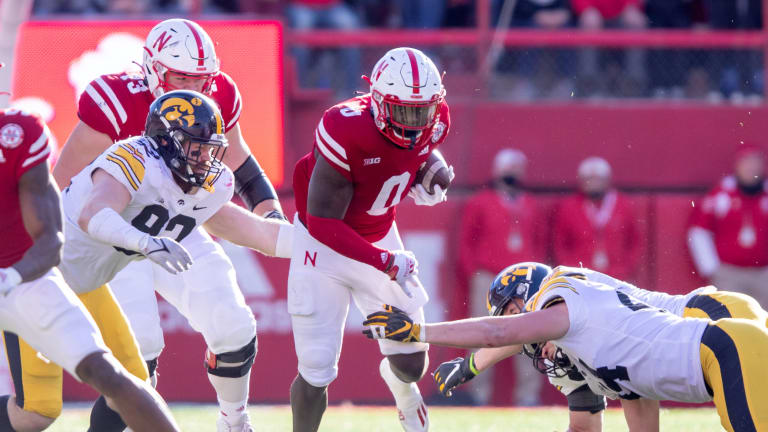 Fourth-Quarter Preview of the Huskers' 2022 Schedule
Husker Dan looks at the final three Nebraska opponents: Michigan, Wisconsin and Iowa
This is the last of a four-part series. In this installment, we'll look at the final three Husker opponents: Michigan, Wisconsin and Iowa.

Game #10 Michigan Wolverines
Conference: Big Ten
Home: Ann Arbor, MI
Game Date: Saturday, Nov. 12
Game Location: Ann Arbor, MI
Head Coach: Jim Harbaugh, 8th Year (12th overall)
Game Time: TBA
Last Season's Record: 12-2
Last Season's Game: 32-29 Wolverine win in Lincoln
Bowl Game: Orange Bowl, lost to Georgia, 34-11
Preseason Ranking: Second in the Big Ten East
Last Season's Ranking: AP #3
Transfers Lost: 10
Transfers Gained: 1
HuskerMax: Game page
How does a team that finally downed Ohio State in the regular season and beat Iowa for the Big Ten Conference title last year improve on that record this fall?
The answer: It probably won't.
Why? Because Michigan will be without a couple of really good players, including defensive end Aidan Hutchinson. How good was Hutchinson last year? For starters, he was the Heisman Trophy runner-up and was the second pick overall in the '22 NFL draft. At 6-foot-7 and 264 pounds, he was a one-man wrecking crew.
The Wolverines must also try to find someone to replace linebacker Josh Ross. How good was Ross last year for Michigan? He was the leader of the defense and always managed to get his teammates in the right defensive position. But Maize and Blue fans do have some good news this fall. Returning will be quarterbacks Cade McNamara and J.J. McCarthy, both of whom helped Michigan earn a place in the four-team College Football Playoff. The Wolverines' two losses were to Michigan State (11-2) and eventual national champion Georgia Bulldogs. No disgrace there.
Michigan returns nine starters on offense and four on defense. This is a game in which Nebraska will NOT be favored to win. My crystal ball doesn't forecast a Husker win, but if the Huskers can make sufficient progress by this time in November, who knows what can happen?
Note: You may want to watch the YouTube replay of last year's Husker-Wolverine game. The Huskers had every chance to win the game, but a very late Adrian Martinez fumble deep in Husker territory gave Michigan a chip-shot field goal to win. 
Game #11 Wisconsin Badgers
Conference: Big Ten
Home: Madison, WI
Game Date: Saturday, Nov. 19
Game Location: Memorial Stadium, Lincoln, NE
Game Time: TBA
Head Coach: Paul Chryst, eighth Year (11th overall)
Last Year's Record: 9-4
Last Year's Game: 35-28 Badger win
Last Year's Bowl Game: Beat Arizona State 20-13 in the Las Vegas Bowl
Last Year's Ranking: Unranked
Preseason Ranking: #1 in the Big Ten West
Transfers Lost: 12
Transfers Gained: 5
HuskerMax: Game page
This year's contest will be a home game for the Huskers. But the home field hasn't been much of an advantage for Nebraska. Although the last time the Huskers beat Wisconsin was at home (30-27) in 2012, the series since that time has been all Wisconsin (9-0).
Wisconsin is picked by nearly everyone to win the Big Ten West, and it's hard to argue with that.

Wisconsin hasn't changed much through the years. Why? Because it doesn't have to. The Badgers are like a really good steakhouse. Their menu isn't going to dazzle you, but the steaks they dish out each Saturday are hard to beat. Opponents are going to get a dose of a huge offensive line, a great running game, effective special teams and a stingy defense. Last year, the Badgers scored a modest 25.4 ppg, but get this: they allowed only 16.2 ppg. You don't see a lot of flash out of head coach Paul Chryst or his Badger teams.
No need. All the Badgers do is win.
It's true the Badgers return only five starters on offense and three on defense, but Chryst can coach. Graham Mertz returns as the Badgers' starter at QB. Wisky also lost eight defensive players from last year's team. How much will those losses affect this year's team? Probably not much.
It would be a substantial upset if the Huskers were to win this game. I know, stranger things have happened. The game will be played at Memorial Stadium in Lincoln. But until Nebraska can prove it's a legitimate conference contender, it likely will be business as usual for Wisconsin in this game.
Game #12 Iowa Hawkeyes
Conference: Big Ten
Game Date: Friday, Nov. 25
Game Time: 3 p.m. CST
Venue: Nile Kinnick Stadium in Iowa City, IA
Head Coach: Kirk Ferentz, 24th Year
Last Year's Record: 10-4
Last Year's Ranking: #23 AP
Last Year's Bowl Game: Citrus Bowl, lost to Kentucky 20-17
Preseason Ranking: 2nd in the Big Ten West
Transfers Lost: 5
Transfers Gained: 0
HuskerMax: Game page
Iowa is a team not unlike Wisconsin. The Hawkeyes are well-coached. They rarely beat themselves. They wait for the other teams to screw up and then they strangle them much like a boa constrictor with their defense and special teams.
Both Wisconsin and Iowa serve a steady diet of meat and potatoes. If you're looking for Lobster Newberg or even Beef Wellington from either program, you'd better find another place to eat.
There's nothing flashy about the Hawkeyes.
Proof of that is last year's Iowa offense. Simply put, Iowa's offense last year was bad. How bad?
How about 121st out of 130 Division I teams? That's how bad. So how did Iowa manage to win 10 games last year?
Easy. Opponents must be prepared to play a full 60 minutes. If they don't, the Hawkeyes will find several ways to beat you: defense and special teams are enough.
Nebraska just replaced four offensive coaches in the off-season. But Iowa head coach Kirk Ferentz doesn't devote that much attention to his offense. With this year's addition of Mark Whipple, this will be the Huskers' third offensive coordinator in four years.
Note to Coach Frost: Maybe the solution isn't Nebraska's offense. Just sayin'.
Not since Bo Pelini's 2014 team beat the Hawkeyes at Kinnick Stadium has Iowa lost to Nebraska. Mike Riley was 0-3 and Scott Frost is 0-4. A seven-game losing streak for the Huskers is going to have to end sometime. This game looks to be another close one.
In fact, the last four times these two teams met, the Huskers lost 28-31 in '18, 24-27 in '19, 20-26 in '20 and 21-28 in Lincoln last year. That's an average margin of defeat of only 4.8 points. Can Nebraska get out of its own way and finally beat the Hawkeyes? Stay tuned.
Note: Nebraska's record vs. Michigan, Wisconsin and Iowa since the Huskers joined the Big Ten Conference in 2011 is 6-19 (Michigan 2-3, Wisconsin 1-9 and Iowa 3-8).
---