Rich Glover was a starter on Nebraska's 1970 and '71 National Championship team as a defensive tackle. He won the Outland Trophy, Lombardi Award, AFCA-Kodak Player of Year, and finished Third Place in Heisman Trophy voting in 1972. Other awards that year include Defensive Player of the Year (AP and UPI), All Big Eight - AP, UPI, World-Herald, and the Outstanding Defensive Player in the Orange Bowl.
In the Game of the Century, he had 22 tackles and knocked down the 4th down pass attempt by Jack Mildren to ice the game. 
His professional career began with the New York Giants who selected him in the third round and he played with 1971 Outland Trophy winner and former Husker teammate Larry Jacobson. Injuries ended his career in 1975 with the Philadelphia Eagles.
He was elected to the College Football Hall of Fame in 1995. In 1999 he was selected to the Sports Illustrated NCAA Football All Century Team. He is also on the Gannett News Service All Century Team. His Number 79 jersey was retired in 2005.
This interview with Rich was done by David Max on November 7th, 2016.
DM Where are you from originally?
RG I'm from right here in Jersey City, New Jersey.
DM How did Nebraska find you in Jersey City. Who recruited you?
RG Coach Monte Kiffin.
DM Do you still stay in touch with him?
RG Yeah, we talk every now and then. We stay in touch.
DM Were there any other schools that were recruiting you?
RG Back then the only big schools in the East were Penn State and Syracuse. Rutgers wasn't playing football at that time. I had a coach that went to Syracuse and another that went to Wyoming. Syracuse said I wasn't big enough to play for them. Same thing for Penn State. Wyoming, at that time the coach was Lloyd Eaton, he was on his way out. They sent me a scholarship in the mail to come out to Wyoming. I was a guy from New Jersey that had never been outside of the state before. I said, no I don't think I want to go there. First of all, I wanted to see what it looked like and second of all it was in Wyoming. That was a little ways for me. I definitely wanted to get away to see what other parts of the country looked like so when Nebraska came back and recruited me, he was also looking at Daryl White who I became best friends with later. When Coach Kiffin came over to Jersey City I got a call from the front office. Coach Kiffin said he liked what he saw and said he would be back to meet my parents, take us out to dinner and bring me out for a visit.
DM So you and Daryl were recruited simultaneously?
RG I didn't know Daryl. He was at East Orange, one of the top schools in the state for class size. East Orange won the state championship two years in a row. I met Daryl on the plane on our recruiting trip.
DM Who was your position coach at Nebraska and what was he like?
RG Coach Monte Kiffin. He was a hard coach but he was a fair coach. He laid out what you had to do and said if you want to play you have to do this and you have to do that. At that time you got to remember that Nebraska could recruit as many winning players as they want so at Nebraska they had Freshman football. Then when you went to the varsity they said "Get to the end of the line."
DM What was it like playing with Larry Jacobson who won the Outland Trophy the year before you did?
RG I didn't know Larry as a freshman. I was a starter on the freshman team. Then when I went up to varsity they said I was number eight. They had the black shirts, the gold shirts, the green shirts, the white shirts, they had no shirts and they had commandos. Commandos were guys on scholarship who you don't get to play, you just practice and scrimmage. I worked my way up to become a starter. Larry Jacobson was the starter and they said he was going to play. They bring out this big tall lanky guy and I thought, man, where was he at?
DM Do you have a favorite Bob Devaney story?
RG Yeah. The one he told when I first met him. He said "I only have two rules. One, you go to class. Two, you don't get in trouble with the police." I said "Shucks, those are the same two rules I had at home. If that's all I have to do here then it's going to be easy." He was a coach. He was a Dad. He was a friend. He had an open door policy. I've been with a lot of coaches on different teams. He was a conditioning guy. We would run. Guys today take off their pads and helmets, well NO, we were all on the line. Everybody was running. One time he said "Who's tired?" One guy raised his hand. "Everybody back on that line. We're going to run again. I just wanted to see if someone would raise their hand." He also would say "We're on a business trip. Once we win this game we're going to go home." He never said we're going to lose. Always positive.
DM What is your memory of the Game of the Century against Oklahoma in 1971?
RG Oklahoma was the team to beat in the Conference. We were playing to stay number one. They were two. Playing for a trip to the Orange Bowl. They had Tom Brahaney, quarterback Jack Mildrin, then you got Gregg Pruitt, you got Leon Crosswhite, you got a great defense. All I remember was that we had to beat them because we were number one. I was going against the best center in America in Tom Brahaney. For me, if he was the best center in America and I play my best game and we beat them then I am the best nose guard in America. I looked at that game like that. We took a head shot before the game, me and him, and he had that little smirk on his face like he was just going to beat you. I just looked at that and went back to the hotel and told my teammates "They think they're going to beat us. They're laughing at us." I just took it like that.
DM Was Tom Brahaney the best player that you ever played against?
RG He was the best player I ever played against. He was the best center in America. We were playing for all the stakes. The Heisman Trophy. The Number One ranking. The trip to the Orange Bowl. We were playing for Coach Devaney. We were playing for him. We were going to win the game for you, Coach.
DM What was your best bowl game memory?
RG My best bowl game memory was when we played Alabama. (1971 Orange Bowl) Coach Devaney played Bear Bryant before in a bowl game and lost. He was embarrassed and we said we were playing the great Bear Bryant again and we were going to beat him. They had the great running back Johnny Musso, the great All American lineman John Hannah. Back then I got a lot of letters from people. This one letter I got from a doctor that was an Alabama fan. He said, "Coach, how are you going to stop Rich Glover?" He said first of all we got Johnny Musso and we got John Hannah. Those two are going to take care of Rich Glover. I took that personally. I wrote that on the wall in my room and looked at it every day and every night and said to myself I'm going to get John Hannah and Johnny Musso in that game and every time I tackled Johnny Musso I tapped him on the butt and said "Every time you look up I'll be right here waiting on you." The game was going to be won up front so we had to dominate. It was just a matter of getting busy.
DM You won the Lombardi Trophy in 1972. How did you find out that you won?
RG My Junior year I was up for it too. Myself, Larry Jacobson, Walt Patulski of Notre Dame won it then. We were all invited to Houston for a couple of days. They had a big banquet and then they announced the winner. Coming out of high school I wanted to be the best lineman. I was voted the best and it helped me get recruited. Again, I wanted to be the best lineman in college so in my Senior year I set my goals to be the best lineman in college football. Winning that award made it come true.
DM You also won the Outland Trophy?
RG Coach Devaney called me to the football office. I thought "Oh God. What did I do now?" He said "You won the Outland Trophy. We'll see you at practice." That's how I got my Outland Trophy.
DM That's a similar story to Larry Jacobson's. He said his was presented at half time of a basketball game.
RG They didn't have a banquet back then. The only banquets were the Vince Lombardi Award and the Heisman Trophy. The Outland didn't have a banquet. Right now I have the first one, a plaque, and the trophy. They give everyone a trophy with a man on a stand and bring us back to be part of the Outland ceremony which is in Omaha every year.
During my career I got to meet three Presidents. Ronald Reagan was Governor of California and was at the Lombardi Award and he introduced me to George Herbert Walker Bush who at that time was the head of the CIA at the same dinner and I met President Nixon when the team went to the White House.
DM You had your jersey #79 retired in 2005. What do you remember about the retirement ceremony?
RG I don't remember too much about that. Right now it's not retired. An offensive guy is wearing #79. They should give it to a defensive guy who can stand up and represent defense.
DM What was the transition like going from Nebraska to the New York Giants?
RG Now it's more of a job. In college it was fun, you got a good education and going to the Giants was great because I grew up in the area watching the Giants. It was exciting plus they played their games at Yankee Stadium. We played preseason games in Yankee Stadium and regular season games at the Yale Bowl and we practiced right here in Jersey City where I played my high school football. That was pretty cool. Practicing for the Giants where I used to play high school football. It was great. Larry Jacobson was on the team. We had a good team but pro football as you know is Not For Long. They had the player strike. Then the coach got fired. Like they say. It's nothing personal. It's business. For me pro ball was great. I enjoyed it all but you have to be at the right place at the right time.
DM Do you still stay in touch with teammates you played with?
RG Some of them I do. I try to stay in touch with as many guys as possible. I reach out to them and they reach out to me. Daryl (White) and I are always talking. I talk to Johnny (Rodgers) every now and then. Larry (Jacobson), I have his number.
DM What are you doing now? I understand that you do some coaching and that you have a foundation. Tell us about your foundation.
RG The foundation is called "All Access to Life". This is our thirteenth year. We started in 2004. It started when my friend Dusty Baker who coaches in professional baseball got me an "All Access" pass to a game where you could go anywhere in the club house or on the field. I said to myself "You know what. I want the local kids to have all access to life. You can go wherever you want to go as long as you take care of your business and keep your nose clean." I started the All Access to Life Foundation with a football camp. It is a free camp. Most camps you have to pay. The city helped me out at first with t-shirts and food and the kids come out for a week for three hours a day working on the basic fundamentals of football. We got incorporated with our 501c. We don't just do football. We do life skills and academics. Work with the kids after school at the center. We do arts and different things and at the holidays we help out serving food. Our goal is to provide all access to do whatever you want to do as long as you do it the right way. The Foundation is not just me and my wife. My son (Rich, Jr.) helps out. My sister is a board member. Daryl White is a board member. We do things in the community to help out and give back.
DM Are there any comments you would like to add about your playing days at Nebraska that I didn't ask?
RG I enjoyed every minute of it. It was a very positive experience. The coaches we had were great coaches. The players we had on the team were great players. Everybody came out. We played hard. The fans were great. They cheered. The time we came back from the Oklahoma game in 1971 when we beat them in the Game of the Century we couldn't land the plane because people were on the runway. They had to move them off the runway so we could get the plane in. Once we got the plane in they swooped in right up to the plane. We couldn't get off the plane and onto the bus. People were lined up along the street just cheering us. There is nothing like Nebraska football. People that have never been and never seen it don't know how it is. That song they play. There's nothing like it.
DM You're right. There is no place like Nebraska. Thanks for sharing your Husker memories with us.
For information about Richard's Foundation All Access to Life go to this link. Here is the donation page.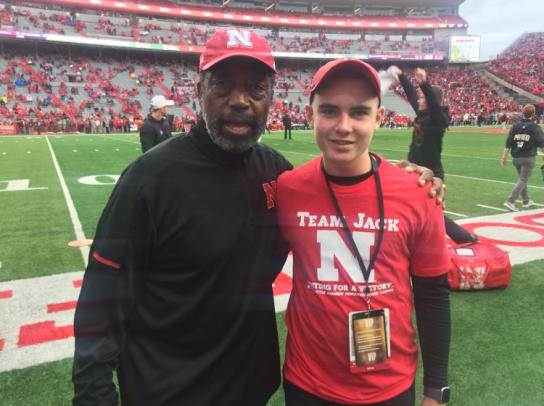 Related links