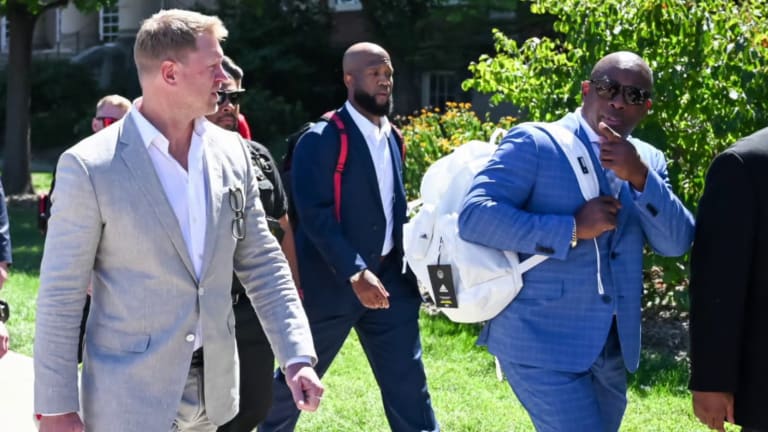 Stryker Pregame Retrospective: Failing the Low Jump
Culture-wrecking Frost has mainly himself to blame for Nebraska's spectacular descent
Just before Scott Frost's first scheduled kickoff as Nebraska head coach, one thing quickly became evident: The bar certainly was not set too high for him to succeed.
Contrary to the national narrative that said, "Delusional Nebraska fans expect national championships because they think it's still the 1990s," experience showed me that Husker fans did not have overly high expectations when Frost and his team prepared to kick off Frost's maiden season in what was to become the ill-fated Akron game of 2018.
My pregame survey that day provided a sharp rebuttal to that tired old notion.
I asked 100 Nebraska fans a question, which started with an assumption that now seems embarrassingly naive. "Assuming that Scott Frost continues to rebuild the Nebraska football culture in his first season as coach, what is the minimum that you would be satisfied with, or consider it a success? How many wins would it take to satisfy you?"
A large plurality (42 percent) said they only expected Frost to win half his games in 2018. All they really wanted in Year One was for Frost to get Nebraska into a bowl game, something he ultimately failed to do in all four of his full seasons at the helm. Almost as many fans (38 percent) said they'd be satisfied with a sub-.500 season that year — not exactly a daunting challenge for a coach who seemed to be a rising star.
The scope of Frost's implosion is astounding. He had everything he needed to get off to a good start in Lincoln, including enough talented players to win seven or eight games every year. Everything, that is, except humility, teachability and a coaching staff that acknowledged how important discipline and fundamentals are to win in the Big Ten.
Fast-forward to tonight, when interim head coach Mickey Joseph heads into Act 2 of his audition for the full-time head coaching job as he leads the Cornhuskers into their Homecoming game against Indiana. He has a steep uphill climb, because he'll have to overcome more problems caused by Frost than Frost himself ever inherited from Mike Riley.
Wow, it's hard for me to believe I typed that sentence.
I didn't see Frost's headlong crash coming, but then again, I'm the guy who wrote that the improvement from Riley to Frost would prove to be as dramatic as the upgrade from James Buchanan to Abraham Lincoln. That was an epic swing and miss on my part. I thought Frost would adapt and set the program straight, even after stumbling to a 9-15 record in his first two seasons. His failure to improve the team during the COVID season of 2020 — when the Huskers had more offseason workouts than any of their opponents — was a telltale sign.
It was hard to give up on Frost. I saw several above-average recruiting classes and thought he would care too much about the program to continue to flounder in his self-absorbed fantasy land where a focus on defense, special teams and the systematic development of players are only for coaches who don't have a world-class offensive scheme. In that regard, he ended up more like Bill Callahan than I ever thought.
Of course, judging by his record, he wasn't nearly as good as Callahan, who won 27 and lost 22 at Nebraska. Frost's 16-31 mark ranks him just above Bill Jennings. If that's not the ultimate indignity for a home-grown Nebraskan who, as a player, saw the best of times under Tom Osborne, then I don't know what is. The saddest part of the Frost era is that he pretty much brought it all on himself. As he talked about the importance of rebuilding the winning culture that sagged badly on Riley's watch, his negligence was actually inflicting even worse damage on his alma mater.
So many questions remain, far too many to be answered by his successor. Here's a big one: does Joseph (who already has admitted he doesn't enjoy the media-related responsibilities of being the Husker football CEO) really want the job badly enough to endure multiple press appearances each week during the fall? We'll start by judging the statements made by his teams on the field.
---