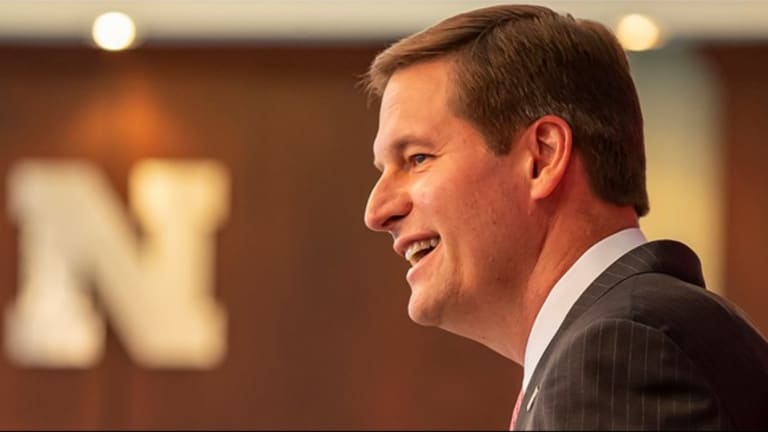 Returning the Huskers to a Homegrown Theme
As athletic director, Trev Alberts must provide trust and stability, and keep Nebraska true to itself.
As athletic director, Trev Alberts must provide trust and stability, and keep Nebraska true to itself.
The image of Trev Alberts leaving the football field for the final time as a Nebraska Cornhusker has stayed with me over the years.
Alberts, a consensus All-American who won the Butkus Award while leading the Huskers to an undefeated regular season as a senior in 1993, dislocated his elbow on an icy, windy day in his final home game against Oklahoma. But that's not the way his college career ended. 
He came back five weeks later to play in the Orange Bowl, disrupting Heisman Trophy winner Charlie Ward all night long and sacking him three times during the Huskers' 18-16 loss. To some, it's a reminder of how close Nebraska came to three consecutive national titles. To me, it has always been a shining example of what it looks like to lose with honor.
Now Alberts, who launched his athletic career in Lincoln during Bob Devaney's final years as athletic director, has an opportunity to bring renewed honor to his alma mater. He can get more than halfway there simply by providing stability. I think he will.
After the unexpected departure of Bill Moos, there was widespread debate about who Nebraska needed to run things smoothly in North Stadium. Did it have to be a former Husker player? No, not necessarily, although Ed Stewart would have done nicely. Did it even have to be a Husker insider? Again, no, but the chances of an outsider unnecessarily disrupting the house and in a misguided attempt to chart a bold new path would have been much higher. (I consider Steve Pederson an unthinkable anomaly.) 
Is there really a perfect candidate out there somewhere? No, there isn't. We discovered that after everyone's top choice, Pederson, was hired in 2002.  So you hire the best person you can find in the time which can reasonably be allotted to fill the position.
Chancellor Ronnie Green's selection — after consultation with a diverse blue-ribbon selection committee comprising more than a dozen people, including many current and former Husker athletes — is the best one that could have been made under the current circumstances. Green said he and university president Ted Carter considered more than two dozen candidates before narrowing the list to eight, and said Alberts was the clear choice, the only one interviewed. The trump card appears to have been Carter's firsthand knowledge of Alberts during the last portion of his 12-year tenure as athletic director at Nebraska-Omaha. Despite controversy Alberts became embroiled in during his early days at UNO (read on for a discussion of that topic), it seems clear that Alberts gives the Nebraska athletic department its best chance for 20 years of stability while still maintaining its soul.
Another benefit: Alberts offers the prospect of Nebraska getting a level playing field in the Big Ten. Will football officials suddenly start calling holding penalties against Husker opponents because Alberts replaced free-spirited Moos? Probably not, but Alberts' buttoned-down persona and measured approach to everything will reliably score the Huskers a few points around conference tables in Chicago now and then, assuming the Big Ten Council of Presidents / Chancellors decides sometime this decade that it's safe for more than three people to sit closer than six feet apart.
He's an Iowa kid who left the state to become a legend in the Big Eight, and as such is unlikely to be included in Big Ten inner circles, but Alberts will do much better at playing 21st-century politics than someone like Devaney or Moos could have. He pledged to help Husker athletics become "comfortable in uncomfortable situations," which he applied to discussions of name, image and likeness agreements, but could just as well have applied to NU's current outsider status in its own conference.
At this rate, I risk making him sound like a corporate lawyer. Alberts convincingly won his press conference not because of his ability to parse words, but because he clearly embraces Nebraska values, and without evidence of Pederson's ego, which drove the Husker football program off the road and nearly over the cliff.
The biggest question is this: After a two-decade dry spell on the gridiron, how can Alberts help improve the product on the field?
There's no need to overthink it, and Alberts didn't in his introductory remarks. He'll do it by earning trust and providing stability. Nebraska doesn't need a new philosophy, a re-invention of the wheel or the latest theory on subduing energy vampires. Nebraska football — and its other sports — simply needs continuity while holding onto the core values that have served it well in decades past. Alberts addressed it well in his opening remarks July 14.
He focused first on trust. Then on hard work, on teamwork without personal agendas and on making the department reflective of Nebraskans
"Think about what Nebraskans and our alumni all across the country represent," he said. "They're tough. They're really hard-working people. They do the right things all the time. They do it the right way. They don't make excuses. Rarely do you hear Nebraskans make excuses.  And most importantly is they never ever quit and stay together. We're just going to work on continuing to have championship habits."
Alberts appears able to elucidate and execute the philosophy faithfully and skillfully over the long haul. That's the sort of thing which builds confidence, eliminating the need for excuses.
Perhaps most importantly, while he's the best man to smooth the waters with the Big Ten, Alberts pledged to put "the best long-term interests of the University of Nebraska" first.
Reflecting the current instability, within hours there were rumors that coach Scott Frost, associate athletic director Matt Davison and "big-money donors" did not support the move. I don't know about the donors, but Frost dispelled the rumors when he released a statement of support, calling it an "excellent choice," and Davison did the same. For stability and consistency to grow in Lincoln, these kinds of rumors and fear-based speculations have to recede. They cannot affect decisions and shouldn't dominate conversations, regardless of whether the rumors start within or outside the department.
Initially, the biggest source of discontent Alberts will have to face down is directly related to his decision a decade ago to cut the football and wrestling programs at UNO while preparing the Mavericks for a move up to Division I status. Given the Mavericks' dire budget crisis at that time, cutting football expenses made sense, but not so the elimination of a wrestling program that was coming off its sixth Division II national title in eight years. Alberts' most numerous and vocal foes appear to be boosters of wrestling, currently one of the Huskers' most successful programs under coach Mark Manning.
How much blame should Alberts bear for this unpopular decision? Some close to the UNO program a decade ago claim that Alberts was aloof and uninterested in his highly successful wrestlers and coaching staff, consistently staying away from meets and failing even to offer sincere congratulations on their achievements. Others claim that the decision to end the program was made above the newly hired Alberts, possibly by the Board of Regents.
Let's assume for a moment that the rumors are true, that a deal was struck at the highest levels of University of Nebraska administration, whereby UNO got to be Nebraska's only D-I hockey school and the Huskers got to be the state's only D-I wrestling school. Was that a good outcome? Not necessarily, but if this allegation is correct, Alberts didn't have much say anyway. Even if he were so inclined, how much could a 40-year-old in his first AD position have pushed back on the regents? It's a far cry from veteran coach Mike Riley yielding to Shawn Eichorst's directive to fire trusted longtime defensive coordinator Mark Banker and hire Bob Diaco.
Alberts must bear the responsibility for this misstep, but it wasn't a deal-breaker in 2021, not by a long shot. Alberts is a great hire despite his decision to cut UNO wrestling a decade ago. Now he'll have to go out and win the trust of Manning, the Husker wrestling program and high school wrestling coaches around the state.
That may take time. Perhaps the quickest impact Alberts could make would be to find some sizeable donations and upgrade the locker rooms and office spaces for the conference champion Husker baseball team.
Shortly after winning his first national title in 1994, coach Tom Osborne expressed an almost-regretful memory, saying that his 1993 team set the stage for the next year's squad, and wishing they could have played a bigger role in that triumph. Perhaps, through Alberts, that legacy can be fulfilled in future Husker success.