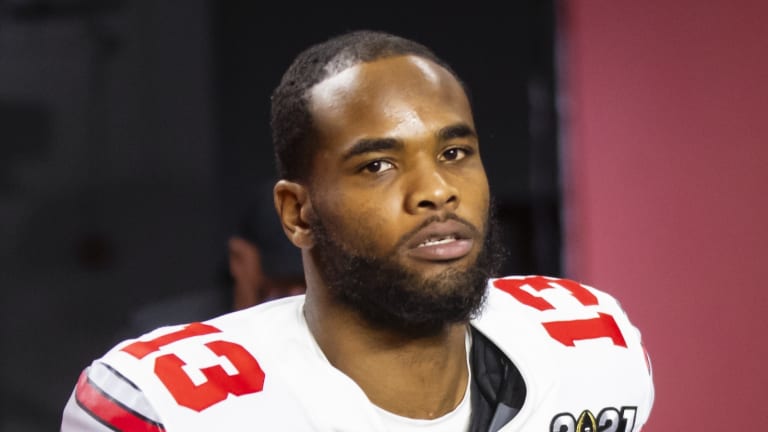 Tyreke Johnson a Big Get for Nebraska's Secondary
The Ohio State transfer's lack of playing time for the Buckeyes doesn't mean he's short on talent and potential.
Nebraska came out of spring ball with two scholarships still available to fulfill the Huskers' their 25 initial counters for 2021. Of the positions the staff wanted to address, defensive back was top priority. One of the top targets when he became available was former Ohio State defensive back Tyreke Johnson.
 The Huskers brought Johnson to Lincoln for a visit on June 3-4 and vaulted themselves to the top of his list. He announced his commitment  Sunday afternoon via Twitter, but Husker fans being who they are noticed that his name had appeared in the UNL student directory back on June 9. Nebraska can't publicly comment on unsigned players and since Johnson is a transfer, the staff may not be able to acknowledge his addition until he arrives on campus, which will likely be in July.
At first glance, targeting a defensive back may seem peculiar seeing as how the Blackshirts return three multi-year starters in 2021. Junior cornerback Cam Taylor-Britt was named second-team All-Big Ten last season and enters 2021 as arguably the best corner in the conference. Super-seniors Deontai Williams and Marquel Dismuke return to man the safety spots after both earned honorable-mention All-Big Ten honors in 2020. Doesn't seem like a position group that needed much help, does it?
The secondary might actually be the strength of this team in 2021. A trio of sophomores are competing to replace the departed Dicaprio Bootle. Travis Fisher really likes his options; Quinton Newsome, Braxton Clark and Nadab Joseph each show a lot of potential and upside. And behind Williams and Dismuke, the team is pleased with the progress of freshmen Myles Farmer, Noa Pola-Gates and Isaac Gifford. So why look to add another defensive back?
You have to dig deeper. The Huskers have dealt with several setbacks while they have strived to build the room. Injuries have stunted the development of some players, while transfers have stymied the overall depth. Myles Farmer (ankle) and Braxton Clark (shoulder) are working their way back after injuries derailed their 2020 seasons. The team was without young corners Marques Buford (all), Tamon Lynum (most) and Nadab Joseph (parts) this spring while they dealt with injuries of their own.
Then take into account how the room has lost six players due to transfer. The 2018 class saw the departures of Cam'ron Jones and CJ Smith, both 4-star prospects, during the 2019 offseason, while Mesa (Arizona) Community College product Will Jackson joined the team in June of 2018, only to leave two months later. The team then suffered a serious blow to their numbers last year when a promising trio from the 2020 class entered the portal within months of their arrival; 4-stars Jaiden Francois and Henry Gray, and highly regarded 3-star Ronald Delancy. I guess it wasn't such a bad idea to add talent after all, eh?
Enter former Buckeye Tyreke Johnson. The 6-foot-1, 190-pound Johnson was considered a crown jewel of Ohio State's 2018 class. A former Rivals 5-star recruit, Johnson had scholarship offers from Clemson, Georgia, Kentucky, LSU, Miami, North Carolina, Ohio State, UCLA, Vanderbilt and Virginia Tech - in middle school.
He went on to play at Trinity Christian Academy in Jacksonville (FL), and was teammates with Deontai Williams for a year. Johnson eventually garnered over 25 offers with Alabama, Auburn, Florida, Florida State, Michigan, Nebraska, Notre Dame, Oregon, Penn State, Tennessee and USC joining the pursuit. The summer prior to the start of his senior year, Johnson was selected to participate in The Opening Finals, the most exclusive camp in the country that is invite-only. After a decorated high school career, he was chosen to play in the prestigious U.S. Army All-American Bowl. Johnson was recognized for being one of the most impressive participants during the week of practices, putting his versatility on display. He started the game at strong safety after practicing the majority of the week at corner.
Johnson enrolled at Ohio State in January of 2018 and redshirted his first season in Columbus. He played in 12 total games during the 2019 and 2020 seasons, though he never broke into the regular rotation. There's no shame in that, however. There are multi-year starters at prominent Power Five programs who would struggle for reps at Ohio State. You're talking about a school that has had seven cornerbacks selected in the first round of the NFL draft since 2014. Yes, you read that right.
Johnson's lack of playing time was likely due to those ahead of him on the depth chart, not because he lacks talent and potential. Keep in mind Johnson was playing in a secondary that boasted NFL draft picks Jeff Okudah (1st round, 2020), Damon Arnette (1st round, 2020), Kendall Sheffield (4th round, 2019), Shaun Wade (5th round, 2021) and Jordan Fuller (6th round, 2020).
The Buckeyes maintain enviable talent in the secondary. The competition is fierce, despite returning three of four starters. You're talking about a room (and roster) that is essentially full of four- and five-star prospects. CB1 is senior Sevyn Banks, who has a chance to be a 1st round pick in 2022. Safety Josh Proctor will be a mid-round selection in 2022 as well. Johnson went into spring ball competing with incumbent senior starter Marcus Williamson and talented junior Cameron Brown for the corner spot opposite Banks. Williamson came out of spring still holding his starting spot, and Johnson was neck-and-neck with Brown for CB3.
The decision was made by Johnson to look for a fresh start. He put his name into the transfer portal on May 12. Along with Nebraska, dozens of schools immediately reached out, including Florida, Florida State, Minnesota, Mississippi State, Oregon, South Carolina and UCF.
Johnson was recruited to play corner at Ohio State, but I always felt his best position would be safety. He came out of Trinity Christian with pretty good coverage skills, but he struggled to adjust to Ohio State's press-man defense that has been a Buckeye staple for years now. He never showed the sort of suddenness or change of direction as a Buckeye to be an elite corner. I think he could do really well in a primarily zone-scheme, but if he's willing, I think he could be a star at safety.
In high school, the thing that really stood out about Johnson on film -- particularly in camp settings -- was him flying around, being aggressive, making plays and hitting people. He seemed to enjoy contact and was adept at reading the quarterback. His style of play and skillset seem better suited for safety where he can come down and make plays on the ball. I think he would excel playing 12-15 yards back, being able to read and react from the middle of the field, rather than having to stick to the hip of a receiver. That hasn't been his strong suit to this point.
I'll be interested where he is slotted to play, at least initially. Does Fisher put him at corner to compete in fall camp for the corner job opposite CTB? The Husker secondary coach is known for his affinity for versatile players. Guys who are capable of playing multiple positions. I think Johnson could do that. There's no question Johnson is a super-talented player. He's the sort of guy you love to add from the portal and roll the dice on because of his natural talent. Because last year doesn't count against a player's eligibility, Johnson will be a fourth-year sophomore and will be eligible to play immediately.