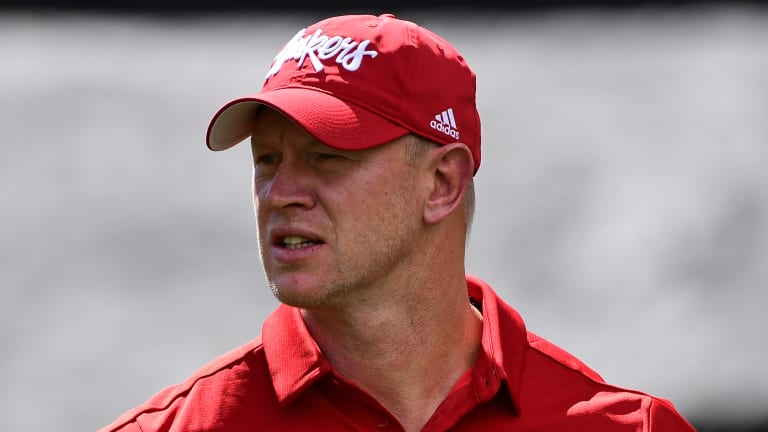 Husker Football Recruiting in June
The hunt for future talent is opening up for the first time in 15 months.
As the calendar turns to June, the near 15-month-long dead period - 444 days to be exact - officially comes to an end. For the first time since mid-March of last year, high school players will be able to take visits (official and unofficial), meet with coaches face-to-face, and attend school-run events on campus.
Nebraska will embark on an ambitious schedule throughout the month. The staff will use this time to host dozens of official visitors from the 2022 class, while also welcoming recruits from the 2023 and 2024 classes on unofficial visits as well. The Huskers currently have two commitments in their 2022 class; linebacker Ernest Hausmann (Columbus, NE) and wide receiver Victor Jones Jr. (Orlando, FL). Don't be surprised to see that number pushing double digits by the time July rolls around. Keeping in mind that official visits are always fluid and subject to last minute changes, here's a look at who is currently planning to be in Lincoln:
*June 4-6: As of this writing, the Huskers will be hosting nine players with several holding top-of-the-board status. Richard Torres, out of Southside High School in San Antonio (TX), feels like the preferred guy in the quarterback pecking order. He'll be joined by Dallas (GA) East Paulding running back Justin Williams, a Rivals 4-star who tops Ryan Held's wish list. The staff would like to add one, perhaps two more wide receivers in this class and their top choice to fill that last spot is Landon Samson out of Southlake (TX) Carroll High School. Samson, who has been selected to play in the All-American Bowl, visited for the Red White game as well. Two of Tony Tuioti's top targets will also be in town; Jalen Marshall (Overland park, KS) will be making a return trip after attending the Spring Game, while Nico Davillier will be coming up from Maumelle (AR) to check out one of his five finalists. The Huskers will likely sign two or three offensive linemen in this class, and you could make a strong argument that Ashton Craig (Lawrenceburg, IN) is the top target for Greg Austin. Also expected this coming weekend are linebacker Gavin Meyers (Hays, KS) and offensive lineman Valen Erickson (Chicago, IL) - both of whom were at the Spring Game - and tight end Chase Androff (Lakeville, MN).
*June 11-13: Husker coaches are hoping a family connection can help them with arguably the top safety on their board. Orlando (FL) Evans High School star Markeith Williams, who is a 4-star prospect according to both 247Sports and ESPN, is cousins with Tamon Lynum. Also scheduled to be in town is linebacker Tyler Martin out of Cambridge (MA). Martin was committed to Michigan for four months, but backed off that commitment in January after Jim Harbaugh replaced defensive coordinator Don Brown. Martin, who Rivals and ESPN rank as a 4-star prospect, will be making his second trip to Lincoln after taking a self-guided tour back in mid-April. Rounding out the list is Boulder (CO) Fairview High School wide receiver Grant Page, who might be 1b on Matt Lubick's receiver board. Page was in Lincoln for the Spring Game as well.
*June 18-20: Ernest Hausmann plans to take an active role as a peer recruiter for the Huskers. He'll be around most visit weekends and home games this fall, but he'll use his official visit this weekend. Also expected in Lincoln is maybe the top cornerback target in this class, James Monds III. If the last name sounds familiar, that's because the Fort Pierce Westwood (FL) High School standout is the nephew of former Husker All-America defensive back Wonder Monds. The staff will also host intriguing athlete JaCorey Thomas out of Boone High School in Orlando (FL). Thomas, who 247Sports and ESPN rank as a 4-star prospect, is a safety/linebacker hybrid who I think projects nicely into JoJo Domann's position in Chinander's defense. Others expected to visit are safety Nathan Vail (Kennesaw, GA), and tight end Austin Terry (Tumwater, WA), who attended the Spring Game.
*June 21-24: With only 4 weekends available, kids who want to take all five of their official visits in June will need to make mid-week visits. That will be the case for Littleton (CO) Valor Christian offensive lineman Jake Maikkula (21-23rd) and Cedar Rapids (IA) Prairie High School tight end Gabe Burkle (22-24th). Both of them will be making return trips to Lincoln after visiting for the Spring Game.
*June 25-27: Nebraska continues to look for pass rushers and will host one of the best out of the Sunshine State. Lake Minneola standout Nick Campbell will make his way to Lincoln along with Loganville (GA) Grayson defensive back Mumu Bin-Wahad.
On top of that, the staff has a jam-packed camp schedule that will see them welcome hundreds of high school athletes on campus. The staff will have two Friday Night Light camps (June 4 and 18), a specialist camp (June 11), a 7-on-7 camp (June 13), and the Adidas "Pipeline" OL/DL Camp (June 19), which will also include a recruiting barbecue. They'll hold individual camps on June 5 and 11, and also have two camps (June 9 and 12) featuring rising 7th and 8th graders. Dating back to the Mike Riley era, the Friday Night Light camps have traditionally been open to the public. Those events routinely drew several thousand Husker fans and were used as a nice recruiting tool with visiting prospects. It's still unknown whether fans will be allowed to attend this year, but I would assume they will be. Any chance to give prospective recruits a taste of the fan support at Nebraska is a good thing.
In an attempt to help mitigate the lack of an evaluation period, for the first time coaches will be allowed to put visiting recruits through an hour long private workout. The staff will use these opportunities to evaluate players they are on the fence about offering, while also reshuffling their board as they watch players who already have offers workout in-person. Husker coaches will put kids through combine style testing and position drills. Nebraska is already scheduling several of these workouts and will have them peppered throughout the month.
If that's not enough, they also plan on being active on the satellite camp circuit. For the past several years, Husker coaches have attended the Lindenwood Mega Camp in St. Louis, which has become the preeminent camp of its kind in the area and one of the most popular in the Midwest. Husker coaches will also attend a camp in Atlanta. There could be more.
Ryan Held said it best when he spoke several weeks ago about the upcoming end to the dead period; "June, that's going to be a marathon now. I told my wife, 'I'll see you in a month.' There's just no way. It's travel, it's (working) 18-hour days because we have to make up for so much lost time of getting kids on official visits, the camps, traveling to other camps, which is awesome because we're excited to actually get to go out and see kids in person or have kids on our campus."
This staff has a lot to get done, absolutely. The dead period is set to resume June 28-July 24. The NCAA has not yet said if this schedule will be altered in any way.