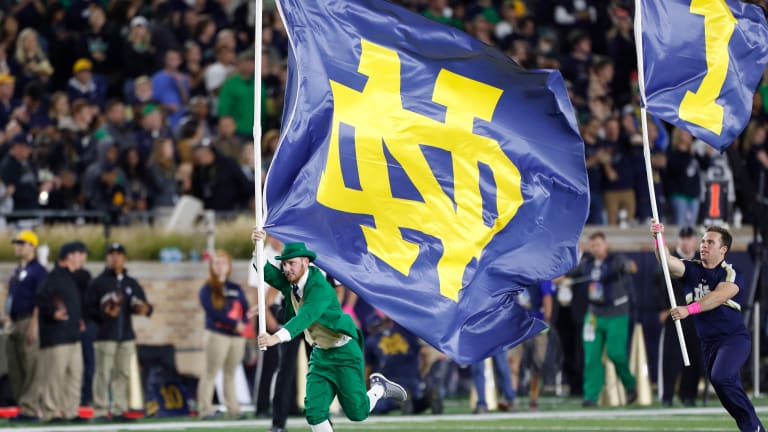 From The Bleachers: Worst-Case Scenario
The latest from Irish Maven contributor Sean Cameron
It was like the proverbial train wreck and I could not pull my eyes away. I felt a sense of disorientation, confusion, and shock. The carnage on the screen was nausea-inducing. When I got back to the hotel, already soaked, cold, and disappointed from watching my sons' team lose a heartbreaker, I counted on the television to bring me solace, and satisfaction. Instead, I got an emotional gut-punch. 45-14. Michigan.
As I sat on the hotel bed, going through several of the stages of grief, I had what might be described as an out of body experience. Part of me was sitting there, stewing in the raw emotions, while another part of me was observing the scene dispassionately.
That second, more rational part of me was wondering why the other part cared so much about the result of a football game. I did not attend the University of Notre Dame. I do not know any of the players. I do not know any of the coaches. Heck, I do not even know a current student there. Why was this loss – this decimation – having such a profound effect on me?
Losing to Michigan is inherently disappointing, of course, but it was more than that. Ending all outside hope at the College Football Playoff made it even more painful, but still, the frustration went beyond even that factor. So what was it? Other than score, how was this loss different from Georgia earlier this season, or Clemson last year, or Miami the season before that one?
Ah, and there it was. Miami. The loss against the Hurricanes was last regular season beat-down the Irish had endured, in the midst of another season with so much promise. This type of performance many of the more optimistic fans, of which I am one, thought was in the past. We climbed that mountain last year, and this team, despite youth in a few places, was full of veterans that would not allow that type of let-down. Or so we thought. Or so I thought.
Sure, it bothered me that the so called "realists" of the Notre Dame internet world would be proved right again. Here's a little secret: it is not a difficult path to take the negative view always because you can pound your chest when you are right, and offer the popular "happy to be wrong" when your dire predictions do not come to fruition.
Given the choice between being a pessimist and being right versus being an optimist and having my team fall short of expectations, I will choose the latter every time. Even if it leaves me open to ridicule. Speaking of that … I teed one up for the Michigan fanbase last week when I wrote my treatise on why I hate the Wolverines and then followed it up with this Tweet:
Yeah, I had that follow up Tweet coming, and kudos to @FootballGlory19 for remembering I said it and for dragging me. I tip my cap to him. Since sarcasm is a second language, I appreciated that exchange and it in no way added to my disappointment.
No, what really stuck in my crawl was that familiar feeling; that sensation that as a Notre Dame fan I am just another Sisyphus pushing the rock up the eternal hill. That we are all Charlie Brown waiting for Lucy, a.k.a. Bama, a.k.a. Miami, a.k.a. Clemson, a.k.a. Michigan to pull that damn ball.
Since 1988, the Fighting Irish football team has had a handful of moments when they were on the verge of glory, only to be smacked in the face with reality. Whether it was the 2005 Bush-push game in South Bend (against USC), the 2012 bloodletting in the BCS National Championship (against Alabama), last year's lopsided Playoff loss to Clemson, or, to a lesser extent, this past Saturday's debacle in the Big House, they have been oh-so-close.
As a nearly lifelong fan, I have been on the rollercoaster since I first fell in love with the Irish in 1977. You would think that following the team for that long (plus being a lifelong Cub fan as well) would have inured me to the losses. It hasn't. Saturday was just another reminder that the passion for this team runs down to my bones and into my soul. Even now, when they have become my second favorite team – my two sons play for Eastern Michigan (Go Eagles!) – I still get the butterflies before the big games. I probably always will. And after a loss, whether by one point or by 31, I still get that sick feeling. I probably always will.