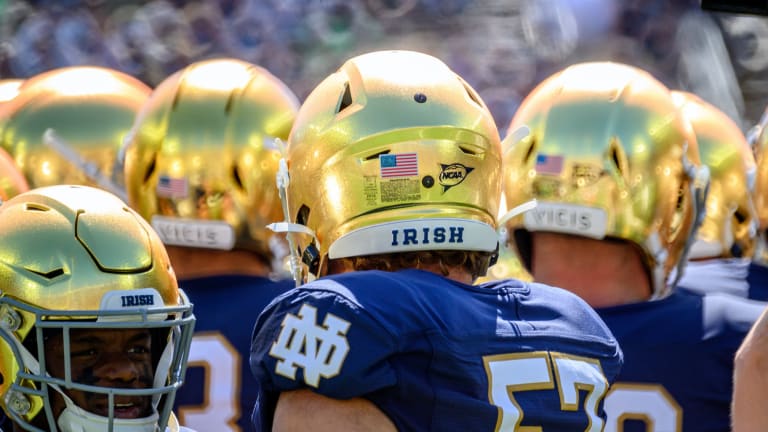 GameDay Chat: #16 Notre Dame at Stanford
Updates, analysis and fan discussion for Notre Dame vs. Stanford
No. 16 Notre Dame (9-2) kicks off against Stanford at 4:00 PM (Eastern). It's a chance for the Fighting Irish to earn ten wins in back-to-back regular seasons for the first time since 1988-89.
This is where you will find all updates and analysis before and during the game. It is also where you can chat with other Notre Dame fans about the game.
8:10 PM Update: Game Observations - Analysis of the Notre Dame offense from its win over Stanford.
7:55 PM Update: Notre Dame beats Stanford 45-24, ending a 5-game drought inside Stanford Stadium.
6:50 PM Update: Irish go up 31-17 thanks to a 42-yard field goal from Jonathan Doerer.
6:45 PM Update: We are headed to the fourth quarter with Notre Dame up 28-17 and driving after long snapper John Shannon recovered a muffed Stanford punt.
6:34 PM Update: Notre Dame starting to put distance between itself and Stanford. Irish go on an 8-play, 86-yard scoring drive. Book had two huge plays on the drive. The first was a scramble play in which he hit WR Braden Lenzy on a drag route for 43 yards. Six plays later, Book again scrambled, but this time he kept the ball and went 26 yards to convert a 4th-and-2. Two plays after that he hit Claypool for an 8-yard touchdown pass to put Notre Dame up 28-17.
6:20 PM Update: Irish offense responds with a three-and-out of its own. Book missed Tremble on an out-cut on first down and came up short on a scramble on third-down. Center Jarrett Patterson and right guard Trevor Ruhland allowed the third-down pressure.
6:15 PM Update: Notre Dame misses a field goal on its opening drive, but the Irish defense stays hot, forcing a quick three-and-out. A batted pass on 2nd-and-7 by blitzing rover Jeremiah Owusu-Koramoah helped stall the drive.
HALFTIME STATS
5:45 PM Update: Halftime Analysis - The Notre Dame offensive line has been poor this entire game. Book has been off-target for much of the game, but he made three strong throws in a row when it was needed to give the Irish a lead. Defensively, the DL was slow to get going and Stanford pushed them around early. The tackling by the defense has been poor, but they settled down on the final three drives and the DL started taking the game over.
During the week Brian Kelly called Stanford either a nameless, faceless opponent, and when you prepare your team that way you get what we are seeing today. Notre Dame is out-talenting a 4-7 Stanford team, but the Cardinal are playing harder. 
5:41 PM Update: Despite sloppy and undisciplined play for much of the half, Notre Dame takes a 21-17 lead into the halftime break. The defense settled down and the Foskey blocked punt completely changed the momentum of the game.
5:33 PM Update: Notre Dame offense answers as Ian Book hits three straight passes as the Irish go 76 yards on just three plays to put the Irish up 21-17. TE Cole Kmet went for 24 yards on a crossing route on the first play, and Book went to WR Chase Claypool for a 41-yard touchdown on a go route. Stanford had spent much of the game doubling up Claypool, but he was one-on-one on the touchdown throw and Book went to him for six.
5:31 PM Update: Irish defense finally settling down, forced another Stanford punt to give the offense the ball back with 1:41 left in the opening half. After the pass rush was mostly non-existent for much of the half, Irish had back-to-back good pressures from DE's Ade Ogundeji and Jamir Jones to force two rushed throws that fell incomplete.
5:26 PM Update: It took three plays, but Notre Dame answers with a touchdown as Book found sophomore TE Tommy Tremble in the end zone on 3rd-and-Goal to make it a 17-14 game. 
5:22 PM Update: The Notre Dame defense and special teams changes the game. On 3rd-and-4, CB Troy Pride Jr. uses his great speed to tackle QB Davis Mills short of the first-down marker. On the punt, freshman DE Isaiah Foskey blocks the punt and Justin Ademilola recovers it and takes the ball to the Stanford 1-yard line.
5:07 PM Update: Stanford takes a 17-7 lead over Notre Dame with a 28-yard touchdown pass from QB Davis Mills to WR Michael Wilson. Irish had a chance to do damage but a 2nd-and-10 sack chance turned into a 17-yard scramble by Mills, as DT Kurt Hinish couldn't finish off the play. The touchdown pass came on 3rd-and-8.
5:00 PM Update: Another Notre Dame punts. Irish convert a 3rd-and-8 with a an under route by Jones Jr., but the 15-yard gain was negated by a holding penalty on center Jarrett Patterson. LT Liam Eichenberg got beat inside on the next play and forced a rushed pass by Book that fell incomplete. So far, Notre Dame has called 9 pass plays and 3 run plays against the Cardinal.
4:54 PM Update: Notre Dame finally forces a punt. After giving up a first down, the Irish defense buckles down and forces an incompletion on 3rd-and-2, one that was aided by the wide receiver falling down. Irish get a chance to take the lead on offense.
4:46 PM Update: Notre Dame goes three-and-out and punts. Rough drive for Ian Book, who ran into a sack on first-down and then was late throwing to Lawrence Keys on a deep in cut on third-down. If Book shows the proper anticipation and timing the throw is there to be made. We are headed to the second quarter with Stanford leading 10-7.
4:38 PM Update: Stanford takes drive No. 2 all the way down to the Irish 2-yard line, but the Irish defense buckled down at the goal line and forced a Stanford field goal. Cardinal take a 10-7 lead. Drive went 82 yards in 16 plays. Stanford came into the game averaging 106 rushing yards per game but has 52 yards through two drives. Stanford converted three third-downs on the drive.
4:21 PM Update: Notre Dame answers with an 80-yard touchdown drive of its own. The Irish needed just five plays to score, and overcame a dropped pass and a false start thanks to two straight quick/smart reads by QB Ian Book and several well-thrown balls. On 2nd-and-15, Book perfectly read an RPO by pulling the ball and hitting TE Cole Kmet up the seam for a 20-yard gain. On the second play, Stanford dropped deep in coverage and Book quickly checked the ball down to RB Tony Jones Jr., who picked up 24 yards. Notre Dame ran a slip screen after faking a reverse to get Jones free for a 16-yard touchdown catch and run.
4:12 PM Update: Stanford gets the ball to start the game and goes right down the field to take an early 7-0 lead. Cardinal went 75 yards on seven plays, with QB Davis Mills going 5-5 for 71 yards and a touchdown. Irish got no pass rush and the Cardinal made two big plays over the middle of the field, a drag by the tight end and an arrow route by a RB.
3:03 PM Update: With DT's Myron Tagovailoa-Amosa and Jayson Ademilola banged up, sources told me that senior DE Ade Ogundeji got some action at defensive tackle this week. If the banged up DT's can't go do not be surprised if we see snaps with Ogundeji and DE Khalid Kareem on the field at the same time.
3:00 PM Update: Travel roster for today's game.