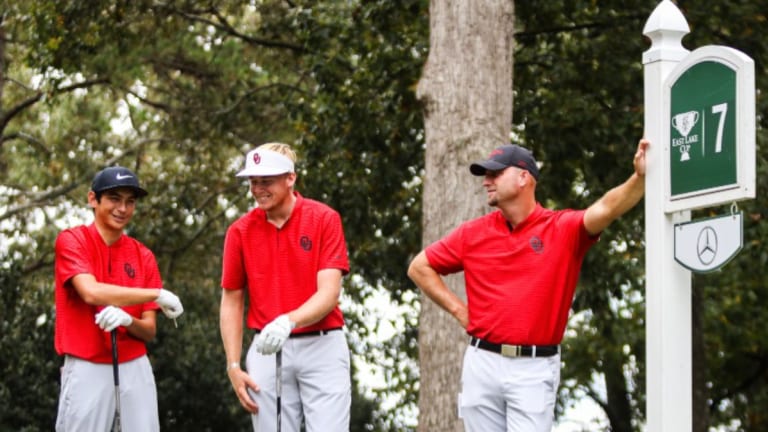 OU golf scraps but falls short of East Lake title
Jonathan Brightwell records Sooners' only win in finale loss to Pepperdine
The OU men's golf team fought hard Tuesday to comeback and claim a spot in Wednesday's East Lake Cup Finale, but ultimately came up short of the team title.
No. 2-ranked Pepperdine took home the top prize, defeating the Sooners 4-1 in match play. Oklahoma cut the lead close on the back nine, but it was not enough to overcome last season's top-ranked team.
The lone win for the Sooners in the final round came from All-American Jonathan Brightwell, who defeated Pepperdine's top-ranked player, William Mouw, by one hole. The transfer established himself as one of OU's top performers with two top-4 finishes and a 6-1 record in match play this fall.
"I thought I played well today, but it's really about the team. I love this team and I'm just really happy that they've taken me in and that I can play golf," Brightwell told SoonerSports. "Overall, I feel like we had a really good fall."
This fall was very productive for Oklahoma, including a team three top-5 finishes, a team title and two individual winners, including this week's East Lake Cup stroke play champion, Patrick Welch.
Welch dropped his Wednesday match 5 and 4 to finish the fall with a 2-3-2 match play record. The Sooners' other individual fall medalist, Logan McAllister, lost his match to finish with a fall match play record of 6-1.
All-American Quade Cummins won his match on Tuesday against Texas, but got down early o Wednesday and could not overcome a three-hole deficit. Cummins is currently ranked No. 9 by PGA Tour U after three top-10 finishes this fall.
"We're grateful for the week we got here at East Lake and we'll take a lot away from this event," head coach Ryan Hybl said. "We didn't have our best stuff today but give all the credit to Pepperdine for getting the job done and not giving us any wiggle room.
"This fall overall was very solid for us and now it's time to get back to work at the house in the offseason"
The Sooners now head into the offseason with their sights set on a Big 12 and national championship run in the spring.
To get the latest OU posts as they happen, join the SI Sooners Community by clicking "Follow" at the top right corner of the page (mobile users can click the notifications bell icon), and follow SI Sooners on Twitter @All_Sooners.