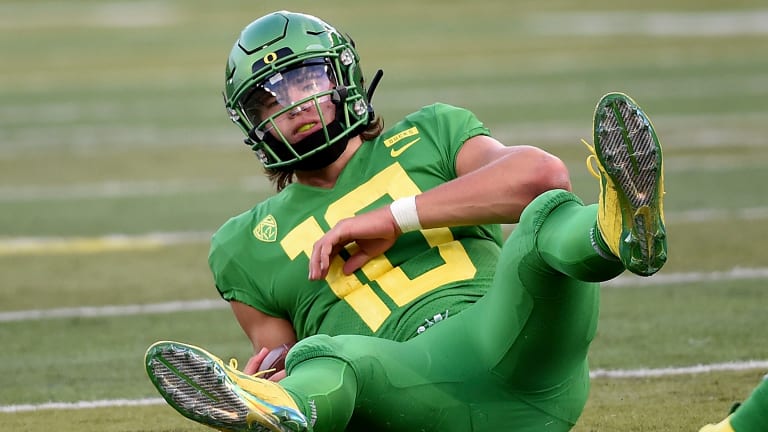 NFL Scout says Justin Herbert Will 'Get Someone Fired'
An anonymous NFL scout has now questioned the killer mentality of Oregon's quarterback, saying that he will likely cost any GM who drafts him his job.
Before entering his senior season at the University of Oregon, Justin Herbert was thought to be a top quarterback in the 2019 NFL draft, and many thought that he would be selected somewhere in the first round. 
Instead, Herbert returned to Eugene for his senior season, and so far he has been putting up impressive numbers, although they have strayed closer to average than jaw-dropping. Through six games, Herbert has over 1,600 yards, 17 touchdowns, and just one interception. Despite this, an anonymous NFL scout thinks that the Ducks' QB doesn't quite have what it takes to hack it in the NFL, and it could be detrimental for a team to draft him in 2020.
"I've never understood the love with this kid," said the scout, according to Bleacher Report's Matt Miller. "He might look the part, but he'll get someone fired. He doesn't have it."
Miller continues in the 'Stock-Up, Stock-Down' piece to say that a former staffer with Oregon said that Herbert lacks a killer mentality, though his 6'6" frame gives him great stature in the pocket.
When verified by scouts and separate football staff internally at Oregon, that's enough to cause a drop-down the board. Herbert could overcome the lack of toughness to become an NFL great, but I've not studied many quarterbacks who have success in the NFL without a lot of bite to match their bark.
As Oregon fans continue to deal with the frustrating disappointment of their former QB Marcus Mariota being mishandled and benched by the Tennessee Titans, the last thing they need to hear is that their home-grown kid doesn't have what it takes to make it in the big leagues either. Hopefully, in the end, all doubters of Oregon QBs will be proved wrong.