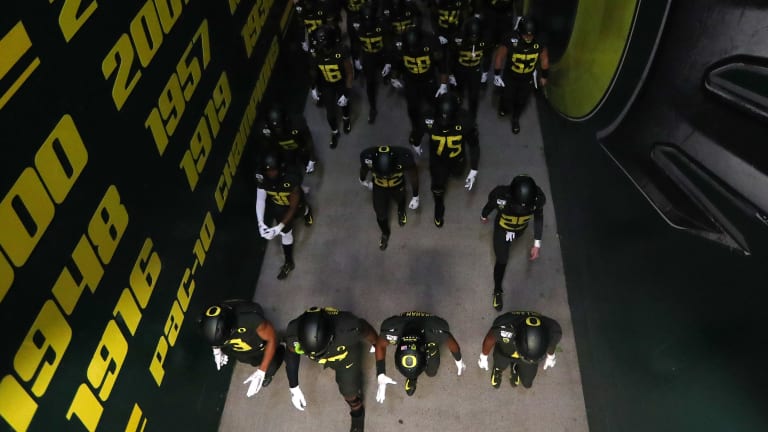 Reports Out of Practice Show the Ducks Defense is Getting Back to World-Beating Form
After two consecutive forgettable performances, a report our of Oregon practice shows that the Ducks defense is getting back to form ahead of the trip to USC.
For the past two weeks, Oregon's world-beating defense has been forced to take a step aside while the Ducks' offense stepped to center stage. With point totals of 31 and 34 allowed in consecutive weeks, it wasn't hard for fans to look to the offense to win games, and they did just that, with comeback victories over Washington and Washington State.
Now, it is the defense's turn to step back up as the team travels to Los Angeles to take on USC, and according to reports out of practice, that is exactly what Andy Avalos and his unit are doing. 
GoDucks.com's Editor in Chief, Rob Moseley, said on Wednesday that during the team's weekly two-minute drill competition, the defense took the 'W' heading into USC week as they were able to stop Justin Herbert and the Oregon O from coming away with a game-winning score. In the past weeks, it has been the offense who was able to orchestrate a game-winning drive with time winding down. 
"It was awesome to see those guys and their energy, their focus," Avalos said. "There's no question we're going to be able to take confidence from that, and everything we've done this week as part of our process."
Oregon is going to need their defense to step up in a big way on Saturday as they look to slow down USC's dynamic receiving core that features three of the top pass-catchers in the conference. If they're able to return to the form that earned them the nickname of Gang Green 2.0, then the Ducks should have no trouble keeping their College Football Playoff hopes alive.