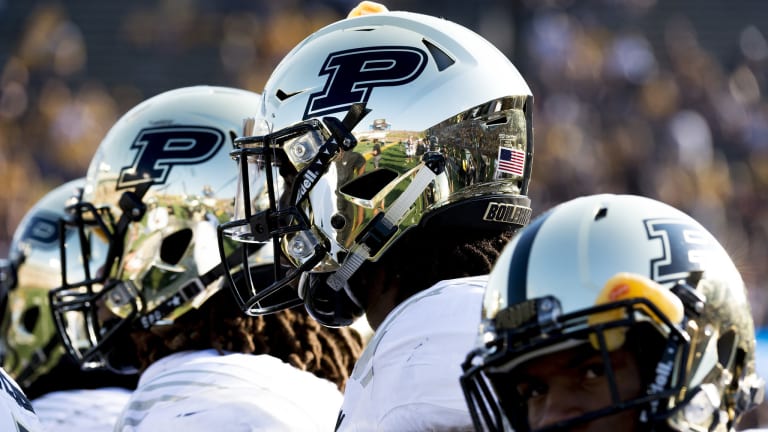 Purdue Football: Path to Bowl Eligibility
Purdue will have to win out against Nebraska, Northwestern, Wisconsin and Indiana if they want to become bowl eligible for the third consecutive season.
WEST LAFAYETTE, Ind. — After a 24-6 loss to Illinois on Saturday, Purdue's path to a bowl game has all but disappeared. They will now have to win out in their last four games to reach the bowl eligibility threshold of six wins.
For a team that has reached a bowl game in both years under head coach Jeff Brohm, this may seem like new territory, but it, in fact, isn't. In 2017, Brohm's first year as coach, the Boilermakers were just 3-5 with four games remaining in the season. They would go on to win three of those last four, beating Illinois, Iowa, and Indiana, to become bowl eligible. They were sent to California to take on Arizona in the Foster Farms Bowl where they won 38-35 for their first bowl win since 2011.
Now, just two years later, they are faced with a similar, but more difficult situation. To become bowl eligible, the Boilermakers will have to win each of their last four games, against Nebraska, Northwestern, Wisconsin and Indiana.
"I think at this point that's zero of our focus right now," Brohm said. "Our focus is finding ways to get better this week. We've got to take the small steps in order to get that done and we can't worry about anything beyond that."
Brohm might not be focused on becoming bowl eligible, but if they are to make it happen, here's who they're going to have to beat.
Nebraska (Nov. 2)
The Cornhuskers sit at 4-4 on the season and 2-3 in the Big Ten. It has been a down year for Scott Frost and Nebraska, who were ranked No. 24 heading into the season. After beginning the season 3-1, they have stumbled as of late, losing three of their last four games. They have dealt with injury problems similarly to Purdue, having to go to their third string quarterback Luke McCaffrey during their last game, a 38-31 loss at home to Indiana.
Nebraska has been struggling over their last four games, but their losses have come to Ohio State, Minnesota and Indiana - three teams that have already clinched bowl appearances. Their one win over that stretch came against a reeling Northwestern team. On paper, with Nebraska's quarterback injuries, it seems like a game that Purdue has the opportunity to pull off at home.
Northwestern (Nov. 9)
Northwestern may be having the most disappointing season of any Big Ten in recent memory. After being right on the cusp of being ranked to begin the season, the Wildcats have spiraled out of control. As of right now they are 1-6 on the season, and have yet to win a conference game. Their problems stem from a lack of offensive ability. They have been held below 10 points in five games this season, and were just shut out 20-0 last week against Iowa, a team that Purdue played very closely. With a bye week and games where they were held to zero and three points, the Wildcats have failed to score a touchdown since Oct. 5.
This seems like the easiest matchup for Purdue the remainder of the season and should be one that they are able to win, even on the road in Evanston. Northwestern has failed to do anything on offense all season, which will help a Purdue defense that has been up-and-down all season. If starting quarterback Jack Plummer can figure things out and wide receiver Rondale Moore can return from injury, the Purdue offense should be able to produce enough to win this game.
Wisconsin (Nov. 23)
After the two winnable games against Nebraska and Northwestern, things get much more difficult for Purdue. Following another bye week, Purdue will travel to Madison to take on Wisconsin. The Badgers looked like a top five team in the country just two weeks ago when they were 6-0, but the wheels seem to have fallen off. After being upset by Illinois 24-23 for their first loss of the season, they got blown out by Ohio State 38-7 in their last game.
Wisconsin is still a good team, with one of the top defenses in the country, but these last two weeks have shown that they are vulnerable. It'll easily be Purdue's toughest game remaining, on the road against what should still be a ranked Wisconsin team. Facing a dominant defense, Plummer and company will have to play some of its best football to keep up with the Badgers. And Jonathan Taylor, one of the top running backs in the nation, will have a field day unless Purdue can shore up their problems stopping the run. If Purdue can pull off the first two in this final stretch, hopefully they'll have some confidence and momentum heading into this game.
Indiana (Nov. 30)
Purdue closes the season, as usual, against the rivals from down south. Purdue has won the last two Old Oaken Buckets, but this year's Indiana team is much different. After beating Nebraska last week to become bowl eligible, the Hoosiers now sit at 6-2 and 3-2 in the Big Ten. Indiana closes the season with some tough games, facing both Michigan and Penn State over the final four games. The Hoosiers have played well on offense all season but have been shaky on defense. Purdue will have to put up points to keep up with Indiana and give themselves a chance to win this game.
It seems like in the recent past, both Indiana and Purdue need that final win over one another to become bowl eligible. That isn't the case this year for Indiana, but could still be for Purdue. If Purdue can get healthy and somehow win out, this will be a very exciting game to end the season in West Lafayette.