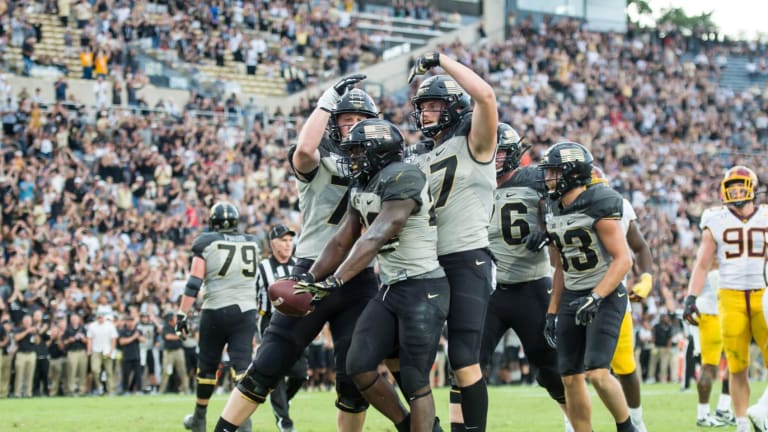 Purdue Football: Patience Key with Young Team
After injuries to upperclassmen, Purdue has had to turn to the young guys sooner than expected.
Seeing a 2-6 record next to Purdue's name isn't what fans want to see, everybody knows that. But, for now, it's all about exercising patience with this year's team, a team filled with an abundance of freshmen.
"That's what we have on this team," Purdue coach Jeff Brohm said. "It wasn't a very big senior class coming in for this year or even junior class, and that's shrunk drastically with some things that have happened injury wise."
Of that small senior class, the Boilermaker's have lost the three most valuable players — Markus Bailey, Lorenzo Neal, and Elijah Sindelar.
Bailey, a linebacker and the leader on the defensive side of the ball, was lost to a knee injury suffered at practice early in the season. Neal, a defensive end, has missed all season due to the lingering effects of a torn ACL last season, and Sindelar, the team's starting quarterback, has been sidelined with a broken clavicle suffered in the team's fourth game of the season.
With those three gone, and injuries to other starting players such as wide receiver Rondale Moore, Purdue has had to turn to the young guys. Heading into this week's matchup against Nebraska, Purdue has 19 total freshmen listed on the depth chart and has eight at starting positions. The freshmen aren't just there to fill in either; they've been tasked with fielding some of the most important positions on the field.
On offense, the Boilermakers start a redshirt freshman at quarterback (Jack Plummer), a redshirt freshman at wide receiver (Amad Anderson Jr.), and true freshman at both another wideout spot (David Bell) and running back (King Doerue). Plummer has shown flashes of what he can do, winning Big Ten Offensive Player of the week after posting 420 yards and three touchdowns in a win over Maryland. Bell has been dominant nearly all season, bringing home two Big Ten Freshman of the Week awards of his own.
On the other side of the ball, Purdue has also seen some of its best play from a group of freshmen, defensive end George Karlaftis, cornerback Cory Trice, safety Cam Allen, and nickel Jalen Graham. Karlaftis has been the leader of the defense, with six sacks on the season, Trice had a breakout game against Maryland with two interceptions and a touchdown, and Allen and Graham have stepped up nicely for a secondary needing help.
"It's a young team," Brohm said. "Our goal is always to win now but you also have to make sure that you're realistic with your players, and you understand that you've got to step on the field and compete and try to get better."
Most teams usually don't go through what Purdue is dealing with right now and although the individual performances have been there at times, as a team Purdue is struggling to find success. For Brohm though, these struggles are all part of the process.
"When things don't go the way you want, you can't hang your head too low even though it's disappointing. That's all part of the process," Brohm said. "It's important that all these young guys stick to it, even the guys that maybe haven't seen the field because they're the next one up."
This group of freshmen has shown flashes of what they can be. As time goes on, and they get more and more game experience under their belts, this group will continue to improve. And If Purdue fans can exercise patience, they'll eventually be rewarded, because the sky's the limit for this young team.