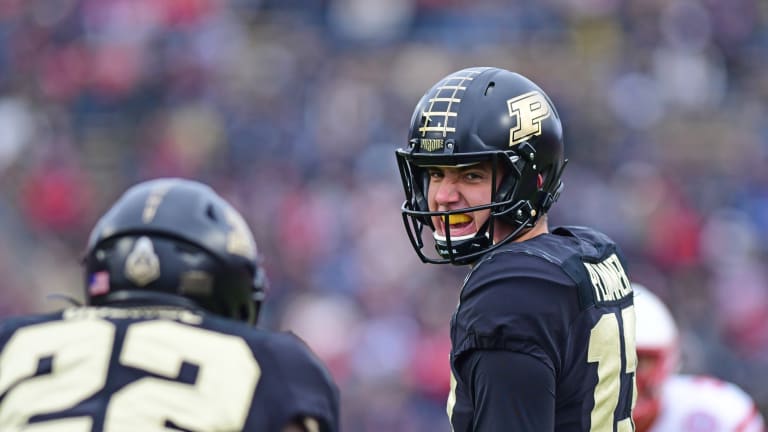 Report Card: Impressive Grades For Purdue After Big Win Over Nebraska
Purdue graded out well in its huge 31-27 victory over Nebraska on Saturday at Ross-Ade Stadium, getting its third win of the season in impressive fashion.
WEST LAFAYETTE, Ind. — Purdue had its most impressive win of the season on Saturday in a 31-27 victory over Nebraska. 
The Boilermakers scored with 1:08 remaining in the game to secure the win and improve to 3-6 on the season and 2-4 in the Big Ten. Their next matchup is Saturday at Noon ET at Northwestern.
Here's how the Boilermakers graded out on Saturday:  
Passing Offense: B
The Purdue passing offense had an up-and-down day on Saturday. They started off slow and looked very similar to last week, throwing for just 36 yards on its first five possessions, which also included two Jack Plummer fumbles.
They seemed to find their stride after that though, scoring with two touchdown passes on two drives prior to halftime to take a 14-10 lead. Plummer, who had faced some criticism from Purdue coach Jeff Brohm during the week, made some big plays, but also had some bad turnovers that required the defense to bail him out. He underthrew David Bell on a jump ball interception and then was intercepted on a shovel pass that gave Nebraska the ball at the 2-yard line. 
Plummer finished the day 25-for-34 passing for 242 yards, two touchdowns and two interceptions. He was injured in the fourth quarter and was replaced by Aidan O"Connell, who came in and completed six passes for 62 yards. It was an improvement from last week for Plummer, and he played well after the two early interceptions.
Rushing Offense: B-minus
The Purdue ground game was better than it has been for the majority of the season. Brohm had stressed throughout the week that Plummer needed to scramble more when the openings were there, and he did that on Saturday, along with breaking off some big gains on designed quarterback runs. 
He finished the day with 61 yards on the ground. Running back King Doerue broke off his longest run of the season, a 25-yard carry where he made three defenders miss on Purdue's first scoring drive. He finished with 71 yards of his own and a touchdown. Purdue finished the day averaging 4.0 yards per carry, far better than their season average of 2.4. It still wasn't great, but it was better than we've seen from Purdue this season. The Boilermakers took a step in the right direction running the ball after listening to Brohm's advice throughout the week.
Pass Defense: B-plus
For the most part, Purdue's pass defense played extremely well Saturday. It was able to limit Nebraska to just 247 yards through the air, and were able to intercept Adrian Martinez inside the 5-yard line to keep the Cornhuskers out of the end zone early in the game. 
Cory Trice was responsible for the interception, his third of the season. After some big completions early, Nebraska couldn't get much going through the air the remainder of the day. It was a big-time performance from a group that has shown flashes throughout the season.
Rush Defense: B-minus
The rush defense was faced with a tough task facing a Nebraska team that finds its success by running the ball with its trio of weapons — running back Dedrick Mills, wide receiver Wan'Dale Robinson, and quarterback Adrian Martinez. 
The Purdue defense played decent against that group. It limited Nebraska to 128 yards, and an average of just 3.8 yards per carry. The main problem for Purdue came from keeping the Cornhuskers out of the end zone, allowing all three Nebraska scores on the ground. After getting torched by Illinois on the ground last weekend, though, this was a slight improvement from what we've been seeing.
Special Teams: D-minus
It was an awful day for the Purdue special teams, other than a J.D Delliner 44-yard field goal. The punting game faced some struggles against Nebraska, where the Cornhuskers were able to break through and block two Purdue punts and nearly block another. 
The blame for the blocked punts falls on punter Zac Collins, who was getting his punts off slowly all day long. He didn't seem fully comfortable back there and it showed.
Coaching: B-plus
The Purdue coaching staff had a good game plan heading into the game and they executed it pretty well. Brohm wanted to set up Plummer for more running opportunities, and he did just that. Some big gains by Plummer were key to the Purdue scoring drives and gave the offense another dimension besides just the pass. 
Brohm's play-calling was extremely impressive toward the end of the game as well. The game-winning touchdown was scored on a wide receiver sweep to David Bell, a play that nobody saw coming. The only problem with Brohm on Saturday was his decision to go with the rugby style punts, which ended up getting blocked twice.
Intangibles: A
Purdue showed some heart on Saturday. After a demoralizing loss to Illinois last week, it  responded big time. Purdue hadn't been able to be pull off the victory in a close game, but were able to do so on Saturday, even after losing Plummer to injury in the fourth quarter.
 It was an impressive performance and Purdue showed a ton of improvement from last week.