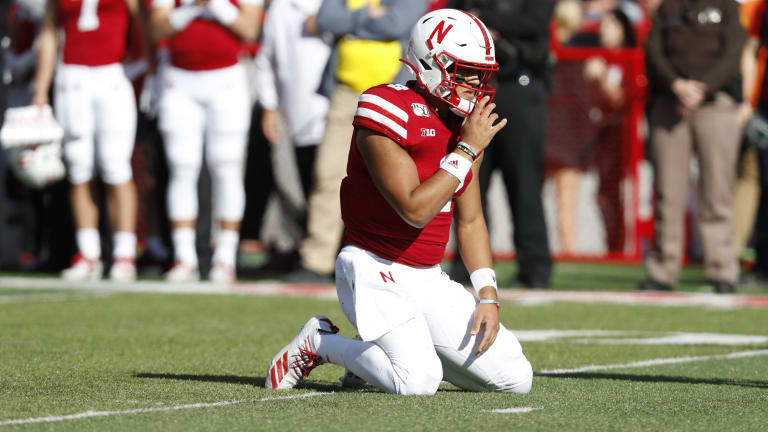 Meet the Opponent: 3 things to Know about  Nebraska
Purdue takes on the Nebraska Cornhuskers at Ross-Ade Stadium on Saturday, and will see a team thats' been struggling a bit as well.
WEST LAFAYETTE, Ind. — Purdue will have to win each of its last four games to become bowl eligible this season. Their first order of business will be the Nebraska Cornhuskers, who come to town on Saturday. Under coach Jeff Brohm, the Boilermakers are 1-1 against Nebraska, with a 25-24 loss in 2017 and a 42-28 win last season.
Here's a quick primer for you on the game:
The Details:
Who: Nebraska (4-4) vs. Purdue (2-6)
When: Saturday, Noon ET
Where: Ross-Ade Stadium, West Lafayette, Ind.
TV: FOX
Here are three things you need to know about the Cornhuskers:
Road Struggles
Ever since coach Scott Frost took over the program last season, Nebraska has had its fair share of struggles playing on the road. Under Frost, the Cornhuskers are just 1-7 playing away from Memorial Stadium, while they are 7-5 at home.
 In his first season, they finished 0-5 in road games, and this season are just 1-2. Their lone win came against Illinois on Sept. 21, and the two losses are to Colorado and Minnesota. This bodes well for Purdue, who get the Huskers at home in Ross-Ade Stadium on Saturday.
Quarterback Questions
Nebraska's starting quarterback, Adrian Martinez, is healthy and ready to go after missing the last two games with a knee injury. However, it remains to be seen if Frost will feature other quarterbacks or even pull Martinez if he is struggling. Nebraska has played two other quarterbacks who have also had success moving the ball — Noah Vedral and Luke McCaffrey. 
Vedral started for the Cornhuskers after Martinez's injury and has completed 33 of 49 passes for 407 yards in losses to Minnesota (34-7) and Indiana (38-31). He's also added 106 rushing yards and three touchdowns. McCaffrey filled in for Vedral after he was knocked out of their last game against Indiana. For being young and inexperienced, he moved the ball very easily against the Hoosiers. He kept Nebraska in the game, throwing for 71 yards and a touchdown and running for 76 yards. 
Martinez has struggled this season, throwing for just seven touchdowns and five interceptions. His success, which seems to be the case for all three quarterbacks, comes on the ground, where he has run for 341 yards and three touchdowns. Purdue should be prepared for all three quarterbacks because Frost has yet to announce a starter.
Rushing Attack
Nebraska is a team that finds its success on offense by running the ball. At this point in the season, they nearly have as many rushing yards than they do passing yards, running for 1,549 while passing for just 1,758. 
The majority of their touchdowns have come on the ground as well. They have scored 17 rushing touchdowns to nine passing touchdowns. As mentioned earlier, no matter who plays quarterback, they'll have the ability to scramble and make plays with their legs. 
Nebraska also will use two running backs quite a bit. Dedrick Mills and freshman standout Wan'Dale Robinson, who recorded 22 attempts last week against Indiana, will see plenty of action.