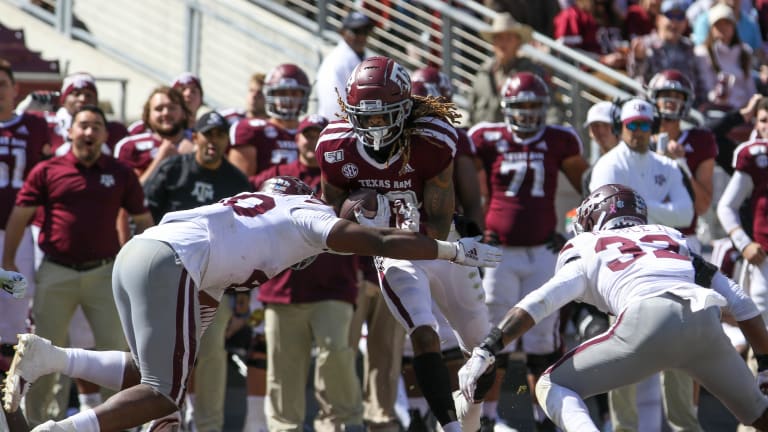 Kendrick Rogers' Resurgence Crucial for Aggies Offense
The Aggies finally have their x-factor receiver back
COLLEGE STATION - Wide receivers can mirror each other's style of play. Few can measure up to Kendrick Rogers' capability. 
The junior wideout dominated last season thanks to his massive frame and sure-fire hands. Heading into the 2019 season, NFL scouts believed he could be a sleeper pick with a strong year out in College Station. The expectations were high in Aggieland as well following the loss of Jace Sternberger. 
Although it has taken time for Rogers to regain form, back to back outings against the Magnolia State schools could be precisely what he needed. 
"We know what his potential is," A&M coach Jimbo Fisher said. "And at the end of the day there's got to be a point like we tell them 'We're going to stay with you so long. You've got to start getting results'. He did that, and hopefully he'll continue to do that."
Rogers' junior campaign started on a sour note. Suffering a leg injury during fall camp, the Frankston native did not play in the season opener against Texas State. Heading into their bye week following a victory against Arkansas, freshman wideout Ainias Smith began to see starting reps. 
Through four games, Rogers collected 17 catches for 200 yards. He had yet to score a touchdown and spent more time on the sideline than the field. Even against top-ranked Alabama, Rogers wasn't a factor, collecting one catch for five yards. 
Things changed following their loss to the Crimson Tide. On the road, Rogers finally found the end zone, scoring on an 18-yard touchdown just before halftime against Ole Miss. He'd finish with two catches for 23 yards, but one helped the Aggies pull off a 24-17 victory. 
"We've been getting him in the mix. He's getting healthy," Fisher said He's getting the practice time. Some of these guys are playing a lot and, you know, you don't get practice time. And it's hard -- it's hard as a coach to game plan around a guy.
"It makes a big difference. With his big body, he can do some things."
Rogers finally found a rhythm against Mississippi State. During the second quarter, he would bully his way forward for a 16-yard touchdown. Shaking off defenders and using brute strength to pile for positive yards, Rogers would not be denied. 
He'd finish with four total catches for 44 yards. 
"As a receiver, you get limited receptions, so when I got the ball, I was scoring no matter what," Rogers said. 
The Aggies receiving corp has been its strength this season. With veteran talents such as Quartney Davis and Jhamon Ausbon, along with the emergence of Smith and Jalen Wydermyer, Rogers' return will help the program. 
With two weeks of positive play, Rogers could be back to the form fans once knew. Perhaps the best part of Saturday's highlight touchdown is the fact it wasn't planned. Rogers missed the call and improvised his way to the end zone. 
"He made a really big play," quarterback Kellen Mond said. "I guess I'll tell you. He really ran -- he made a mistake on that play.
The Aggies will face UTSA at 11 a.m. on Saturday, November 2 at Kyle Field.