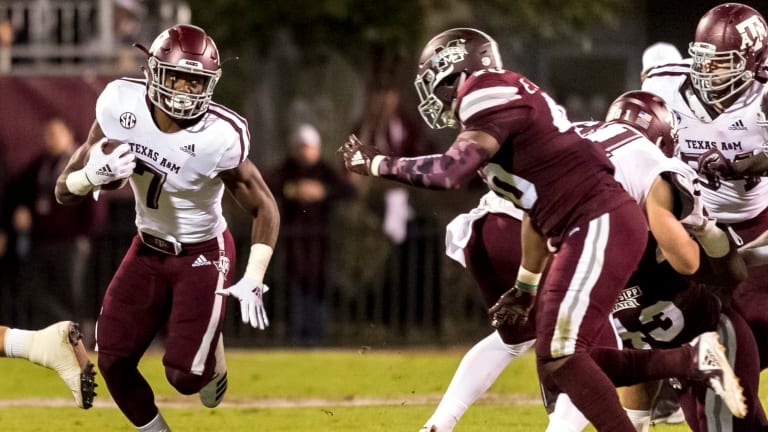 Preview: Can Texas A&M Finally Defeat Mississippi State?
The Aggies have lost three straight to the Bulldogs
COLLEGE STATION - Texas A&M likely will have confidence heading into Saturday's game against Mississippi State. The Aggies picked up their first road win against Ole Miss, relying on their defense a run game to seal the deal.
The Bulldogs, on the other hand, have seen better days. Three straight losses, including a tough blow to Tennessee, now has the team below .500 for the season. With a change at quarterback, Garrett Shrader will hopefully bring State back to their winning ways.
Things have gone south for the Aggies playing the other school from the Magnolia State. A&M has lost three straight seasons to the Bulldogs due to a stalled run game up the middle. That has been a thorn in the team's side all season.
Here's everything you need to know about Saturday's matchup.
When: 11 a.m. Saturday at Kyle Field
Line: Texas A&M +9
Records: Texas A&M (4-3 2-2 SEC), Mississippi State (3-4, 1-3 SEC)
Texas A&M on Offense
The Aggies finally produced a strong run game against the Rebels last Saturday. Freshman Isaiah Spiller rushed for 78 yards, including a late quarter 22-yard touchdown. Kellen Mond continued to use his legs, picking up 76 yards.
The problem was Mond's arm was erratic once more. Although the offensive line did hi little favors, the junior couldn't find a rhythm, throwing a pair of interceptions early on. He would make up for it with an 18-yard touchdown pass to Kendrick Rogers just before halftime.
Consistency will be critical for A&M come Saturday morning. The team needs to see more production all-around instead of relying on one unit to thrive. A&M's inability to find a balance on offense has cost them or allowed teams to remain in the game late. That could be the final straw against the Bulldogs.
Mississippi State on Offense
Much like their sister school across the state, the Bulldogs rely on the run game. A team known for RPOs, draws and options, State will throw rarely and run as often as they can. The game plan should be similar for A&M like last week.
Shrader officially took over as the starter last week against LSU. This season, he's been known for his legs rather than the arm. The North Carolina native currently ranks second in rushing, following SEC top-five rusher Kylin Hill.
The two paired together should make for some exciting matchups. One is known for their open-field speed while the other relies on brute strength to push forward. The Aggies also shouldn't rule out the passing game as Osirus Mitchell (6-5, 210) has been a go-to option for State in the air.
Mississippi State Will Win if They: Pressure Kellen Mond
Asking the Bulldogs to stop the run game shouldn't be considered hard. Last season, a similar unit held SEC-leading rusher Trayveon Williams to 26 yards in Starkville. Spiller showed improvement last week, but one game won't define the season.
The best way to win is by forcing Mond to make mental mistakes. That starts up front with pressure from the defense. Should State be able to corral the quarterback behind the line, he could force a pass that leads to interceptions. Both Brian Cole and Cameron Dantzler have played exceptional in coverage.
One bad pass could make a difference.
Texas A&M Will Win if They: Contain the Run
Hill and Shrader are the majority of State's offense. Both find more success as a runner rather than using their hands. Eliminating their best assets likely seals a victory for the Aggies.
When throwing, Shrader has seen his fair share of struggles. With just over a 50% completion rating, State will see drives end in three and outs more there than when able to move the ball on the ground. A&M could use that as an advantage when trying to force the Bulldogs off the field.
What's at Stake
For State, a loss could have them missing a bowl game for the first time since 2009. With games still against Alabama and Ole Miss, a loss on Saturday could limit their chances to make an impact come season's end. It also could lead to rumors that head coach Joe Moorhead could return back east.
For A&M, a loss justifies their ranking was overrated. While the Aggies have seen their struggles against top-10 opponents, they've struggled to win against the Rebels and Arkansas. A loss of State likely proves that they should not be considered a top SEC team just yet.
Prediction
The advantage for both teams is that early kickoffs could lead to early mistakes. With the game leading off the day, one mistake could lead to a positive outcome for one roster heading into the second half.
State hasn't been able to generate an offensive game plan early all season. Meanwhile, the Aggies allow opponents to take early leads, leading to comebacks rather than sure-fire wins. Consistency for these two clubs will likely determine the winner.
The best news for A&M is the game is at home. Mond has thrived at Kyle Field while his trips away from Aggieland have been sub-par at best. With the Aggie faithful behind him, expect a more promising outing from the San Antonio product.
It's close, but the Aggies end the losing streak. Expect the Cowbells to haunt heading into the fourth quarter.
Final: Texas A&M 34, Mississippi State 24