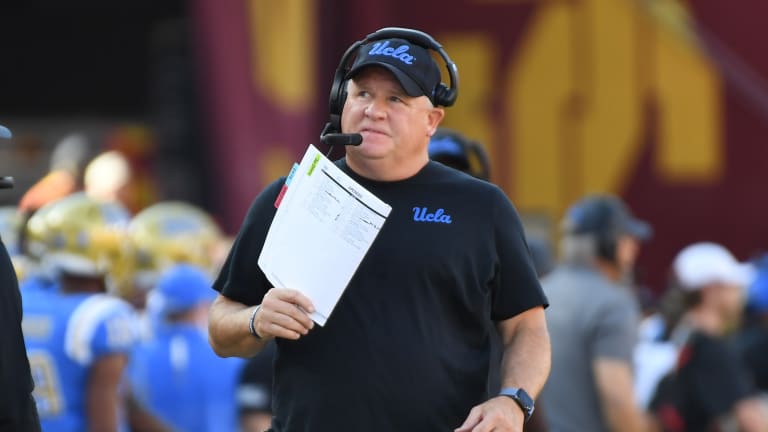 As UCLA Enters Spring It's Time to Admire the 'Genius' Of What Chip Is Doing
Chip Kelly is 7-17 after two years in Westwood but, in many ways, UCLA has been his dream job.
The secret life of Chip Kelly and his underground UCLA program had no choice but to step forward this week for the start of spring practice.
Kelly probably cursed when he saw Bruin football plastered Tuesday on page one of L.A. Times sports, his fears soon assuaged with UCLA's return to D-6 (last page) in Wednesday's paper.
Otherwise, "Operation Pay No Attention" moves quietly into its third year of obfuscation and camouflage.
Just the way Chip wants it.
Kelly's post-NFL career desire to locate the highest-paying, lowest-profile major-college job not located in a cow town may be succeeding beyond his dreams.
The "escape clause" in Chip's contract, we hear, is literally a secret "back-door" at every venue with a visible "EXIT" sign.
He works for sheepish athletic director, Dan Guerrero, who is about to retire and a university Chancellor, Gene Block, who reportedly doesn't like sports.
Not so bad, really, for someone looking to go unnoticed.
A lot of people scratched their heads when Kelly turned down marque-jobs like Florida and Tennessee to take over at UCLA, which is only a great "looking" job.
But Chip knew what he was doing. Could you imagine going 7-17 at those schools your first two seasons and then quietly opening spring camp for your third?
Yet, Kelly forges forward, relatively immune, with very little to show for his first two years on the job.
And few people outside a tight, powder-blue circle really seriously, honestly, care.
To a guy like Kelly, who seems to hate media relations, promotions, booster interaction and public appearances, UCLA football must feel like heaven.
In all my years on the college beat I am hard-pressed to recall a coach less engaged with, well, engagement.
He conducts press conferences with a stop watch and a look that suggests he has a train to catch.
If Kelly has a coach's show on Sunday during the season I've never seen it; if he's been on local talk radio I've never heard it.
I've never seen him on television, in fact, other than for mandated contractual appearances. He doesn't do commercials for "Golden Flakes" or hock cars for "My friends down at Simi Valley Chevrolet."
If he hands out turkeys to the homeless, on Thanksgiving, he does it quietly.
I mostly know the sound of his voice from his days as coach at Oregon.
And this can all be perfectly fine for everyone involved with UCLA.
Some hard-core coaches might low-level seethe with success of the basketball team taking attention away from football.
It was one reason Mack Brown left North Carolina, for Texas, back in 1997.
My guess, though, is that Chip Kelly is absolutely and genuinely thrilled for the late-season run UCLA basketball is making under first-year coach Mick Cronin.
More publicity for basketball means less Kelly has to talk about defensive coordinator Jerry Azzinaro.
The L.A. Times reminded everyone this week that Kelly is coming off the worst two-year start for ANY coach at the school since James J. Cline went 2-10-3 in 1923-24.
In the land of earthquakes, though, it has barely registered.
Kelly has chased dozens of players off campus and into the transfer portal and his recruiting classes are so quirky they are difficult to evaluate.
Truth is no one knows what any of it means but check back next December?
Clay Helton had a winning record at USC last year yet was forced to gaslight his coaching staff.
Kelly finished 4-8 yet got no real pushback in bringing best-buddy Azzinaro, at a salary of $700,000, for coordinating a UCLA defense that finished 110th in 2019.
THIS, people, is why Kelly took the UCLA job.
No one is saying he can keep this up forever and Kelly is facing an important third season in 2020.
But he got to Season Three on his terms, in the cover of darkness, without ever having to take a follow-up question or kiss a baby.
Mississippi State fired Joe Moorhead after going 14-12 in two seasons—but that's the SEC.
Let Tommy Tuberville run for the Senate.
Kelly, no sir, is not THAT, but he's also no dummy.
UCLA could be his dream job—if only for the lack of scrutiny plus the weather. Firing him after another bad season might not even put a ding on his hood if you think of him as someone incapable of putting down lasting ties to any one or any community.
There's also a decent chance UCLA will be good this season. Some things are breaking in Chip's direction: Oklahoma is finally off the schedule and Karl Dorrell is coaching at Colorado. Utah figures to be down and if you think the road to the South goes through Clay Helton, well, that doesn't sound impossible.
He took less money, yeah, but for a lot less grief. Pressure? If you cut Chip Kelly open my guess is you'd find all of his stomach lining.
Don't be surprise if Chip ends up being the genius we all thought he was at Oregon…and he knew he was all along.