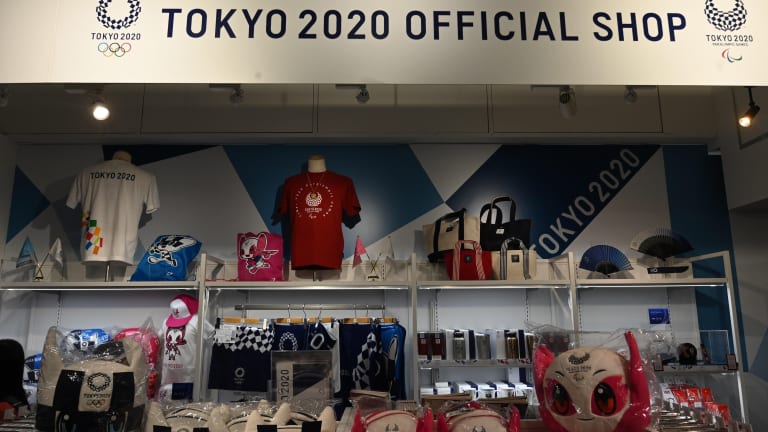 Talk of the 2020 Tokyo Olympics Is Already Making Me Sick
Take it from someone who has gotten sick at seven Olympic Games: coronavirus should have everyone worried
A member of the IOC told the Associated Press on Tuesday there was probably a three-month window to cancel this summer's Olympic Games in Tokyo.
Dick Pound tried not to sound alarmist in wake of the coronavirus outbreak and seemed to think preparation for the Games was "business as usual."
My calm, reasoned response: "RUN!"
As someone who covered seven Olympic Games for the Los Angeles Times, I thank the Greek gods I am not going to Japan and I worry sick for everyone who is going.
Yours truly is certainly no expert on the history of the Olympics. I leave that to the poets and wordsmiths and journalists who can ask Olympic questions in French and English.
I humbly yield to the Lords of Rings but mostly to the work of David Wallechinsky, whose historical book on the Olympics I clutched to my side every four years tighter than my U.S. passport.
What I am an expert on is getting ill at the Olympics.
It was Pierre de Coubertin who coined the term "faster, higher, stronger" for the modern games: citius, altius, fortius.
My motto was sneezius, feverius, bronchius.
There is no better formula for getting people sick, in my mind, than flying them in from all over the world and then incubating them under a giant circus tent for 25 days.
The Alpine Skiing holding center for the last Games I attended, Sochi in 2014, sounded like the annual convention of Whooping Coughers.
The bronchitis (or whatever it was) that invaded my insides was insidious and unforgiving.
I awoke one night from a sweat-drenched nightmare in which I dreamed I was deadly ill, in Russia, in a mountain-top town surrounded by stray dogs.
Except it was no dream.
We covered skiing during the day, yes, but we also played our own little game of Agatha Christie.
One by one we wondered which of us would be hit next by the inevitable virus infestation.
Of course, we didn't have a fancy name for it like "coronavirus."
And we all got hit. One of my ski-writer colleagues swore he was going to be the exception. He drank green tea and turned his head every time we coughed. With only a few days left on top of old Sochi, he thought he slipped the noose and was in the clear.
Just as we were feeling better and packing up to go home, my friend got slammed so hard he was confined to quarters in his mountain-top hotel room. His trip home had to be delayed for days.
It wasn't only writers.
U.S. skiing superstar Ted Ligety once told me he was dog-sick while winning the gold medal in giant slalom at the 2006 Turin Games.
"Not just a little bit of a cold," Ligety said.
In a weird way, Ligety said having the flu during his run helped him laser focus on the task at hand.
"You just deal with it," he said.
Ligety said he owed about half his 2006 gold medal to the makers of "DayQuil."
You really don't need the Centers for Disease Control to figure this out.
The Olympics are an invite-only festival for illness. The chemistry is like throwing Mentos into a bottle of Diet Coke.
I could anticipate my misery in Russia a few minutes after I boarded my Aeroflot flight from LAX to Moscow.
I had a window seat next to a heavyset Russian who may have been the grandson of power-lifter Vasily Alekseyev.
Let's call my guy "Vlad the Exhaler," a burly man who gurgled and coughed during the entire 10-hour flight.
Ok, so what did we all think was going to happen?
I promptly carried his germs on to the connecting flight to Sochi, sprinkled them around the Main Press Center for a couple days before carrying them up to the Alpine Media tent in the mountains.
How many other chain-reactions like this started in airports bound for Sochi?
No sir, the Olympics are no place to go to get well. Long work hours combined with confined quarters almost always lead to compromised immune systems.
I can tell you from visits to Lillehammer (1994), Atlanta (1996), Nagano (1998), Salt Lake City (2002), Turin (2006), Vancouver (2010) and Sochi (2014).
I was so sick with strep-throat in Japan (1998) I had to breach protocol and beg antibiotics off a U.S. ski team doctor.
Know this with Japan approaching in July.
The people who run the Olympics want the Olympics to go on. These things are not canceled easily.
IOC man Dick Pound told us Tuesday that, for now, it's "business as usual."
The more people in power say something is under control, the more I worry.
The Olympic race against outbreak is on and, frankly, I've got coronavirus penciled in for gold, silver and bronze.
I've never been more worried for my Olympic colleagues.
Or happier to be retired.