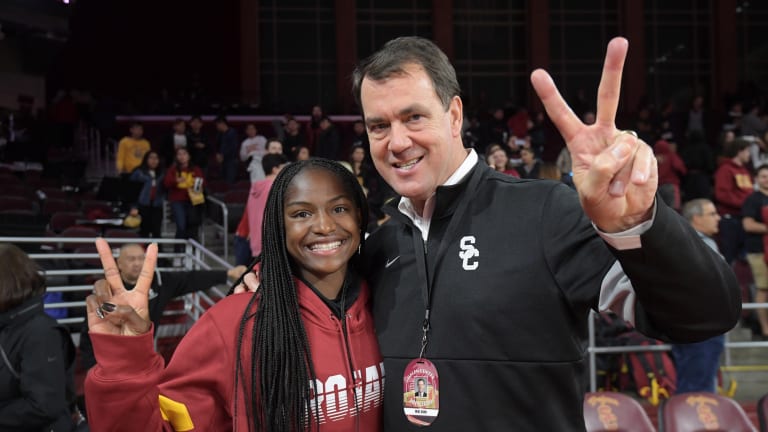 Trojans To Leave Pac 12 And Fold Into Conference USC? Nah, Let's "Table" That
Athletic Director Mike Bohn was probably not serious when he suggested USC could leave the Pac 12. But his words matter.
USC Athletic Director Mike Bohn, the man brought in from Cincinnati to fire Clay Helton, but then didn't, finally put some big words together with his tongue and his teeth.
Bohn let drop this week that USC might, just might, consider leaving the Pac 12 if the overall financial picture does not get rosier in the very near future.
"Everything's on the table," Bohn told USCFootball.com's Ryan Abraham.
The Pac 12 table of which Bohn speaks is the wobbly-legged kind you find at your favorite Italian restaurant that requires leveling with folded napkins or salt packets.
USC is NOT going to leave the Pac 12, let's be clear. Bohn's comments were veiled but about as truth-revealing as NCAA President Mark Emmert threatening to banish California schools from NCAA championships if the state followed through with a licensing and imaging bill for athletes.
Pssst: the state followed through.
Bohn's words were important, though, in the sense that he wasn't afraid to say them. They were certainly not the words Pac 12 Commissioner Larry Scott wanted to hear.
Bohn said them anyway. It may be no accident Pac 12 presidents and athletics are becoming more looser lipped each time a financial disparity report is released.
Conference directors were never happy about being cut out of the original loop and Commissioner Scott now finds himself surrounded by only three presidents who were in office when he was hired in 2008.
The latest financial numbers are not good as Pac 12 schools are reportedly on track to make $17 million dollars less, per school, per year, than the Big Ten.
That's certainly no way to keep up with Ann Arbor.
And no matter what Oregon says, USC remains the Pac 12's flagship program in football.
Scott is still selling the long game to the league, putting the league's future on the 2024 broadcast negotiation.
The Pac 12 may be so far behind, though, that whatever Scott negotiates might not matter.
Bohn's words rang hollow but, in some ways, he hit the bell.
The take-away here is that Pac 12 administrators don't fear Larry Scott, and "respect" may be next.
That $3 billion dollar broadcast deal that looked so great a few years ago is now running fifth in the Power 5 conference potato-sack race.
His Pac 12 Network venture, to date, has been a failure of vision and execution.
The most important basketball game of the season—Arizona State at UCLA on Thursday night—was lost to history because it was relegated to the seldom-seen Pac Network.
That's almost like the Big Ten transmitting Ohio State vs. Michigan out of Wayne's house in Aurora, Ill.
Too bad, too, because UCLA won a thriller on a last-second basket. I can't wait for the studio recreation of that game to arrive in my Pac 12 Western Union inbox.
USC's new AD had me going, only for a minute, about the Trojans possibly leaving the Pac 12.
What about the Trojans joining up with other Independents and forming the Big 7?
In that setup USC would still play Notre Dame every year and also add Army, BYU, Liberty, New Mexico State and Massachusetts.
Or what about moving east to reconfigure and rocket-boost an already existing league into Conference USC?
Or, my genius thought, the Trojans go big or go home by joining the Southeastern Conference.
That would give the league two USCs (possibly sparking further legal action) and three schools nicknamed "Tigers": LSU, Auburn, Missouri.
This much seems clear. What Mike Bohn wasn't afraid to say this week does not bode well for Larry Scott.
One has to wonder whether the commissioner will get, or want, the chance to build his broadcast bridge to 2024.
Jon Wilner of the San Jose Mercury News reported this week that Pac 12 officials are already contemplating the future of Scott, who has two more years on his contract.
"Everything is on the table."
It may go for Larry too...?