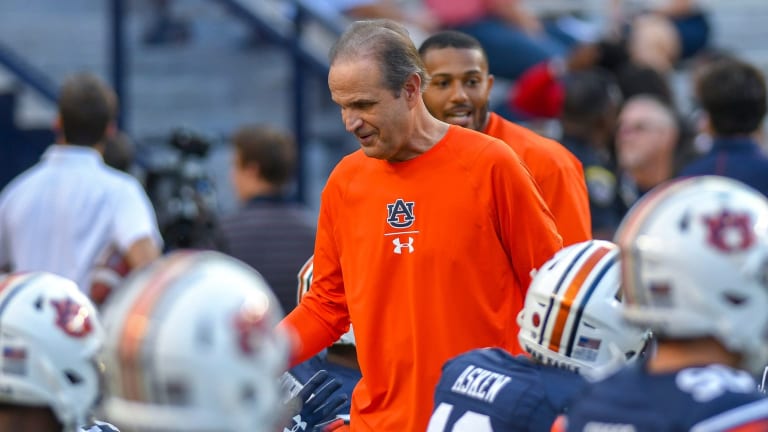 Could Kevin Steele Ultimately Be The Right Option At Tennessee?
With UT facing a most uncertain coaching search, the long-time assistant deserves a serious look
If you're a Tennessee football fan, Monday is what rock bottom looks like.
For those of you who missed the drama, Tennessee head coach Jeremy Pruitt, two assistant coaches and six football administrators were fired for what UT Chancellor Donde Plowman called a "stunning" number of rules violations found by the school's internal investigation.
Chancellor Plowman didn't just fire Pruitt. She threw him under the bus to a degree that I have never seen in my 45 years of covering the sport.
At the same press conference it was also revealed that UT athletics director Phillip Fulmer would be retiring. The reason given was so that the new AD could hire the next coach and there is some logic behind that. But Fulmer came to Knoxville as a player in 1968 and was on the UT campus in some capacity for all but six of the next 52 years.
This is not the way he wanted to go out.
There is plenty of blame to go around and we won't rehash it here because it serves no purpose. It has been speculated that Monday's events, where Pruitt was fired for cause, were part of a plan to avoid paying him a $12 million buyout. There is sure to be litigation on the matter.
What we do know is that since Fulmer was fired at the end of the 2008 season, Tennessee has wandered in the football wilderness. Lane Kiffin stayed for one year. Derek Dooley was 15-21 in three years. Butch Jones was 34-27 in five years. Jeremy Pruitt was 16-19 in three years.
It's all history. Very bad history. And nothing can change it. It is time to start over at Tennessee.
So what happens now?
Let's be clear on this: Tennessee is a very good job because it has most of the elements you need to compete for championships: Great facilities, strong financial support, an enthusiastic alumni base, and great tradition.
What Tennessee does not have is a strong in-state recruiting base. When Tennessee has been good, the Volunteers have dipped into surrounding states for elite talent. Tennessee's 1998 national championship offense included three stars from Georgia: Running back Jamal Lewis (Atlanta), defensive back Deon Grant (Augusta), and offensive lineman Cosey Coleman (Decatur). Starting quarterback (Tee Martin) was from Mobile. Wide receiver Peerless Price was from Dayton, Ohio.
But today it is tougher for Tennessee to get very good players from its bordering states. Specifically:
Kirby Smart has built a recruiting juggernaut at Georgia. Nick Saban just finished his 14th season at Alabama, where he is set to sign yet another No. 1 recruiting class. Clemson's Dabo Swinney dominates South Carolina right now and recruiting the Palmetto state will get even tougher with Shane Beamer setting up camp in Columbia.
North Carolina? Mack Brown is back in Chapel Hill and is set to sign the nation's No. 11 recruiting class according to ESPN.com.
Tennessee is a significantly harder job than it used to be and, based on the red flags that the chancellor raised on Monday, it is about to get even harder.
Uncertainty and instability are program killers. So may I offer this suggestion?
Kevin Steele, formerly the defensive coordinator at Auburn, was recently asked to return to Tennessee, his alma mater, to help fix a football program that has clearly lost its way. He said yes. Multiple media reports said that Steele got on a plane to California with other Tennessee staffers to talk to standout linebacker Henry To'oto'o, who appears headed for the transfer portal.
In addition to being the highest-paid defensive coordinator in college football ($2.5 million per season), Steele has long been considered one of the nation's best recruiters.
When Steele learned the news of Pruett's departure and the rest of the carnage to come, he was asked to serve as Tennessee's acting head coach. He said yes again. When Gus Malzahn was fired as Auburn's coach in December, Steele was named interim head coach. That has to be a first.
Yes, there are critics of Steele as a head coach. He was 9-36 in four seasons at Baylor but you have to understand in 1999 Baylor was nothing like it is today. One booster alone, Drayton McLane, donated $200 million to build Baylor's new stadium, which is a showplace.
He has worked for four national championship coaches: Tom Osborne, Bobby Bowden, Nick Saban, and Les Miles. He spent some time in the NFL.
The question at this point in the calendar, with all the uncertainty that surrounds the Tennessee program, what will the pool of candidates actually be?
Auburn went through a difficult coaching search before it finally hired Boise State's Bryan Harsin. One of those candidates was Steele, who had strong support from key boosters. But with the support of President Jay Gouge, AD Allen Greene resisted and conducted a national search. Harsin is a proven head coach with a 76-24 in eight seasons. 
The point is this: Under these conditions, the coaching search at Tennessee will not be easy.
In an exclusive interview with the Knoxville News-Sentinel, UT System Chairman Randy Boyd said that when it comes to the hiring of a new AD and football coach only "proven winners" need apply.
"This isn't a place to try out," Boyd told the News-Sentinel. "This time we're going to find proven winners."
Does that position eliminate a resume like Steele's?
Perhaps. But Steele deserves a serious look. He'll get it.