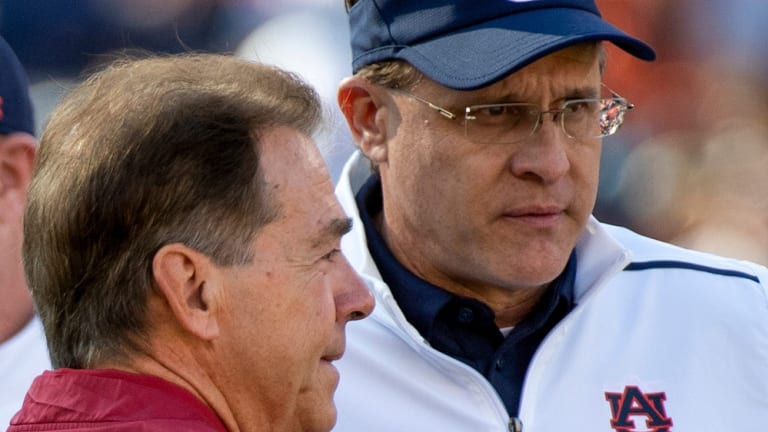 AAC Commish: Strong Roster of Coaches Just Got Stronger By Adding Malzahn
Former Auburn coach believes UCF football program is "a gold mine" that can reach the CFP.
Mike Aresco, the commissioner of the American Athletic Conference, was trying to stay warm in Dallas Monday afternoon when the phone call came. It was Greg Sankey, his counterpart from the Southeastern Conference.
"Greg called to congratulate us on a very good hire," said Aresco. "It was very nice of him to call."
Aresco, the former Big East Commissioner and television executive for ESPN and CBS, said Monday he was thrilled that a strong roster of AAC head football coaches just got stronger with the addition of Gus Malzahn at UCF. Malzahn, 55, replaces Josh Heupel, who left in January to become the head coach at Tennessee.
"This is great for UCF and great for our conference," said Aresco when we talked by phone.
Malzahn's track record is out there for everybody to see:
**--He beat Alabama's Nick Saban three times in eight meetings. No other SEC coach has done that or even come close.
**--He won a national championship as an assistant at Auburn in 2010 and came within 13 seconds of winning another national title in 2013, his first season as Auburn's head coach.
**--In 2017 Malzahn beat both Georgia and Alabama in the span of 14 days when both were ranked No. 1. Auburn lost a rematch with Georgia, 28-7, in the SEC championship game. Without running back Kerryon Johnson, who was injured in the Alabama game the week before, the Tigers could not hang with the Bulldogs.
**--Georgia and Alabama, the two teams Auburn had beaten, played for the 2017 national championship. Alabama won.
**--After that loss, Malzahn's program struggled, particularly on offense, going 14-12 against SEC opponents in the next three seasons.
Malzahn, who was given a $21 million parting gift last December when Auburn fired him after a 6-4 season, told reporters on Monday that he didn't have any plans to coach during the 2021 season.
But then came the call from new UCF athletics director Terry Mohajir, who had just replaced the Tennessee-bound Danny White. Mohajir and Malzahn had worked together briefly at Arkansas State, Malzahn's first head coaching job in 2012. He spent one season there, going 9-3, before returning to Auburn as a head coach in 2013.
"I had a feeling that he (Malzahn) would be high on Terry's list," Aresco said. "Gus is a proven coach in the Power Five and, in my opinion, has never gotten the recognition he deserves for what he did at Auburn."
It is unusual for a proven Power Five coach to move into the Group of Five.
"Normally we hire really good assistants like Justin Fuente (Memphis, now at Virginia Tech) and Matt Rhule (Temple, now with Carolina Panthers)," said Aresco. "We just don't get that many Power Five coaches coming to us."
But it happens. And with the success of the AAC it may start happening even more.
 Dana Holgorsen left West Virginia after eight seasons to take over at Houston. Sonny Dykes of SMU was the head coach at California for four seasons.
Luke Fickell of Cincinnati was the interim head coach at Ohio State in 2011 and has turned down more than one Power Five offer to remain at Cincinnati. Last season the Bearcats went 9-0 in the regular season and lost to Georgia in the Peach Bowl 24-21 on a 53-yard field goal with only seven seconds left.
And there are more proven coaches in the AAC including Navy's Ken Niumatalolo, Tulsa's Phillip Montgomery, Tulane's Willie Fritz, and Ryan Silverfield from Memphis.
Aresco said that the thing that most excites him about Malzahn is the enthusiasm he showed in his introductory news conference on Monday.
"The key to bringing in Power Five coaches is to make sure they still have the energy and Gus does," said Aresco. "He's clearly excited and energized. "
Mojajir told ESPN.com that when he called Malzahn to see if he was interested in the job "I could feel the fire through the phone," he said
"When this opportunity came I was ready," Malzahn said.
In a text message, Malzahn called UCF "a gold mine."
And he's right.
UCF is located in some of the most prime recruiting territory in the country. And thanks to the work of former coach Coach George O'Leary (2004-2014), former athletics director Steve Orsini and others, UCF has some of the very best facilities at any level. In 2007 the school built an on-campus stadium that seats just under 50,000. They call it "The Bounce House."
UCF has the largest student body in the state of Florida with 61,456 undergraduates.
UCF jumped into the public consciousness in 2017 when the Knights, coached by Scott Frost, went 13-0, which included a 34-27 win over Auburn in the Chick-fil-A Peach Bowl. UCF declared itself as sharing the national championship. Alabama, which had lost to Auburn in November, beat Georgia in Atlanta for the true national championship.
Heupel took over when Frost went to Nebraska and went 12-1 (Fiesta Bowl) and 10-3 (Gasparilla Bowl) over the next two seasons.
In the COVID-challenged 2020 season, the Knights went 6-4. As many 10 players opted out before the season.
This much we know about the team Malzahn is inheriting: He has a quarterback in junior Dillon Gabriel, who threw for 3,353 yards and 30 touchdowns last season.
For years now Aresco has been touting that his conference deserves consideration for a berth in the College Football Playoffs. The AAC missed out again last season when Cincinnati went undefeated during the regular season but could climb no higher than No. 7 in the CFP rankings.
Aresco believes that with the addition of another strong coach in Malzahn, it won't be long before an AAC team finally cracks the top four.
"Anyone who has watched our teams play know that the gap between us and the Power Five is getting smaller," he said. "Gus is going to have some great rivalries with the other coaches in this conference.
"If it goes well he could be there a long time."