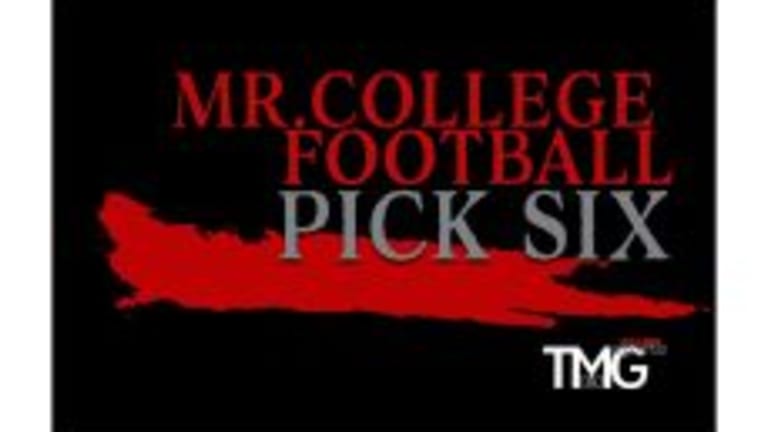 Mr. CFB's Pick Six: Week 12
Should Ole Miss be on upset alert at Arkansas?
Oh my goodness, we were SO close to perfection last week, going 5-1 against the spread for the second straight Saturday:
**--I took Ole Miss and 13 points against Alabama. The Crimson Tide won but only by six, 30-24.
**--I took Georgia and gave 16 points on the road against Mississippi State. The No. 1 team in the land looked like it, winning 45-19.
**--I took Tennessee and gave 21 points to Missouri because I knew Josh Heupel and the Vols were going to get all the style points they could to impress  the CFP selection committee. Tennessee was not bashful, tacking on a late touchdown for a 66-24 win.
**--I took Florida and gave eight against South Carolina because the Gators looked like they were figuring some things out. Florida won 38-6.
**--The pick I was most proud of was taking Auburn at home and giving Texas A&M 2 points. Auburn won 13-10.
The only loss was LSU's 13-10 win at Arkansas in frigid weather. I picked LSU but gave Arkansas 3 ½.
Ouch!
That puts us at 34-26 against the spread with three Saturdays left.
Here we go:
Georgia giving 22 ½ at KENTUCKY
Kentucky (6-4) had a very difficult loss to Vanderbilt last Saturady and you expect them to bounce back. Georgia has already clinched a spot in the SEC championship game against LSU. The Bulldog defense is the best in the SEC and will make UK quarterback Will Levis most uncomfortable. Georgia wins and covers the 22 ½
Tennessee giving 21 ½ at SOUTH CAROLINA
Tennessee (9-1), whose only loss is to No. 1 Georgia, is trying to make the case that it is the best one-loss team in college football because, among other things it has two Top 10 wins against LSU and Alabama. The Vols lead the nation in scoring at 47.4 points per game. I'm taking Tennessee and laying the 21 ½.
ARKANSAS getting 2 ½ vs. Ole Miss
This is the most interesting game on my board. The Hogs suffered a tough home loss to LSU (13-10) last Saturday but they had to play without quarterback K.J. Jefferson. Jefferson is expected to return against an Ole Miss team that will probably have an Alabama hangover after losing to the Crimson Tide 30-24 in Oxford. I like the Hogs at home plus the 2 ½.
Florida giving 14 ½ at VANDERBILT
The Gators have won two straight against Texas A&M (41-24)  and South Carolina (38-6). Vanderbilt will be upbeat as the Commodores beat Kentucky last week to snap a 26-game losing streak in the SEC. In the past Vanderbilt has given Florida a tough time in Nashville. Not this Saturday. Florida wins and covers the 14 ½.
Those are the only SEC games so let's go outside the conference for a couple of interesting picks:
TCU giving 2 1/2 at BAYLOR
No. 4 TCU (10-0) stepped up on the road and beat Texas 17-10 last Saturday to keep its hopes alive for the College Football Playoff. It's been a disappointing season for Baylor (6-4) but the Bears still have the No. 2 defense in the Big 12 at 360 yards per game. It is tempting to take Baylor at home but I'll take TCU and give the 2 ½ points.
Utah getting 3 at OREGON
Oregon (8-2) suffered a brutal 37-34 home loss to Washington last week and the Ducks must win this game to keep their hopes alive of getting to the Pac-12 championship game. But I like Utah and Coach Kyle Whittingham and his quarterback, Cameron Rising. I'm going with the Utes to win straight up on the road.
LAST WEEK ATS: 5-1
SEASON ATS: 34-26
HOME TEAM IN CAPS