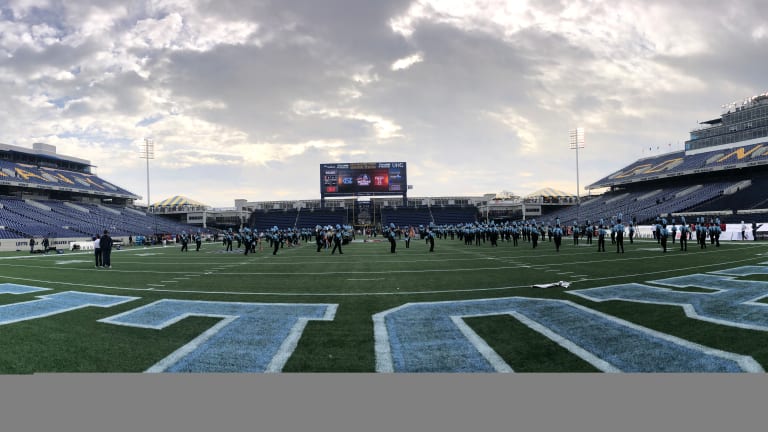 Military Bowl Live Blog/Open Thread: Carolina vs. Temple
The Tar Heels meet the Owls at Noon.
ANNAPOLIS, Md. — Good morning from Navy-Marine Corps Memorial Stadium, where North Carolina will meet Temple in the Military Bowl as both teams wrap up their seasons.
The Owls defensive front vs. the Tar Heel offensive line will likely be the battle that defines the game. That, and a few more points to watch in the game are here.
Given the game's location and connection to the military, this week has included plenty of educational and service opportunities for both teams. Saturday's pregame festivities will be special, too, with eight Medal of Honor recipients on the field for the coin toss along with a flyover.
Here's what Mack Brown had to say on Thursday afternoon as the Tar Heels began their final preparations for the game, along with a look at the philosophy that has resurrected Temple's program.
Check out Twitter for live updates, with deeper analysis and observation posted here throughout the game, and feel free to drop a comment below.
Join the conversation — it's easy — go to the top of the site, click the follow button in the right-hand corner, then log in with either Facebook or Google to discuss the game below.
PREGAME
FIRST QUARTER
13:30 — Tar Heel defense a little shaky out of the gate. Giving the Owls far too much room to run, and once they get there, tackling has been poor.
11:35 — UNC changed the momentum of the possession when it read a trick play, with Temple throwing a lateral to a receiver, who had no options downfield. Then, Storm Duck made a play and the Tar Heels escape with no damage. Offense takes over at the 11.
8:04 — Toe Groves dropped a third-down pass over the middle. UNC's receivers and Sam Howell would have significantly better numbers this season if not for those issues.
6:24 — On consecutive drives, Howell has his two biggest runs of the season, going for 24 yards on both. 

Dyami Brown with a 39-yard TD catch, his 12th of the season. That ties him with Hakeem Nicks and Dwight Jones for the best single-season mark in UNC history.
UNC, 7, Temple 0
5:15 — Dominique Ross caught the penalty flag thrown on Trey Morrison's hold. Put that in the season highlight package.
Also, from the pregame:
END 1Q: UNC 7, Temple 0
SECOND QUARTER
10:17 - UNC gets inside the 10, but settles for a field goal. Familiar story. Now 26 TDs on 49 RZ trips this season. There were a few attempts to move Howell out of the pocket with potential options for running, but Temple had them pretty well covered.
UNC 10, Temple, 0

7:59 —  Jadan Blue's 60-yard catch sets up Temple's first score of the day, but the Heels got a good push up front and Jason Strowbridge is credited with the blocked extra point.
UNC 10, Temple 6
4:14 — Dazz Newsome with an absurd catch in the end zone gives Howell his 37th touchdown pass of the season.
Newsome inching closer to the 1,000-yard mark, and without drops this season, he'd probably be closer to 1,500. That will probably be the case next season. 
UNC 17, Temple 6 
0:28 — A 44-yard kick on a 54-yard field goal attempt gives UNC the ball at the 37, 28 seconds remaining in the half. Can't imagine Longo isn't goign to air it out.
0:00 — After an offside call nullify's Temple's blocked kick and return, Noah Ruggles puts it through to widen Carolina's halftime lead.
HALF: UNC 20, Temple 6
THIRD QUARTER
12:08 — Dyami Brown's 22-yard reception puts him over the 1,000-yard mark for this season. He joins Hakeem Nicks, Dwight Jones and Ryan Switzer as the only Tar Heels to reach the milestone.
11:24 — UNC establishing the run to start the second half with 38 yards on six carries before Howell and Brown make a couple of nice connections. A balanced drive ends with Antonio Williams punching it in, and this one is getting out of hand.
UNC 27, Temple 6
11:12 — Storm Duck, pick-six. UNC's first defensive touchdown of the season. It's a blowout.
UNC 34, Temple 6
6:54 — UNC runs its now-patented double-reverse trick play, resulting in a Toe Groves TD pass to Sam Howell. Howell is 20/28 for 235 yards 2 TD to go with 3 runs for 53 yards and a 2-yard touchdown catch. 41-6, 6:54.
UNC 41, Temple 6
3:21 — Temple finally answers with an excellent screen pass and run. UNC's lead cut to 41-13, 3:21 3Q.
END 3Q: UNC 41, Temple 13
FOURTH QUARTER
12:11 — An absolutely absurd performance by Dazz Newsome today. His second touchdown was somehow better than his first. Expect to see him in the SportsCenter top 10 tonight.
Not only did it get him in the end zone for the second time, it put him in the 1,000-yard receiving club, which nearly doubled today as Newsome and Brown joined Dwight Jones, Hakeem Nicks and Ryan Switzer.
From here, it's about getting the running backs to the 1,000-yard mark.
UNC 48, Temple 13
9:00 — Tomon Fox ends up with an interception after Chazz Surratt disrupts a pass at the line. The Turnover Belt rides again, much to the delight of the Carolina side of the stadium. 

Across the field, it's getting thin as Temple fans return to tailgate.