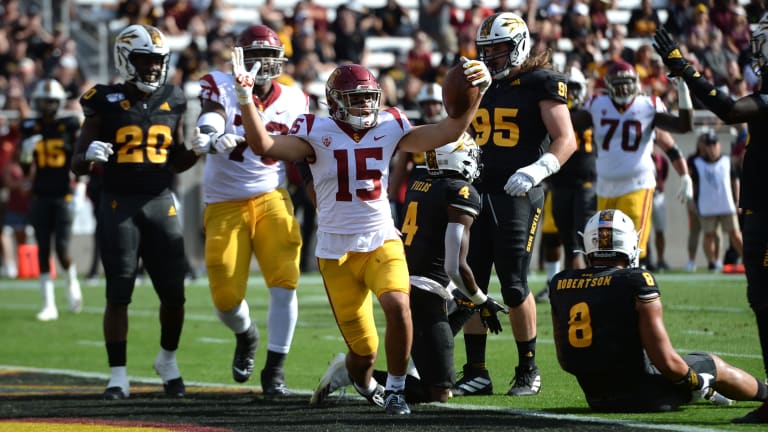 How USC's Drake London Rebounded To A Big Rookie Year
As the USC basketball team awaits his arrival, wide receiver Drake London has unexpectedly played his way into a prominent role on the football team.
As the ball hung in the air, freshman wide receiver Drake London said his only thought was to get his team in field goal range. USC had been shut out its previous four possessions, and its starting quarterback and center just went down on the same play a moment earlier. The Trojans' 21-point blowout had devolved into a one-possession game.
Matt Fink's desperate heave on third-and-18 was well short of the sticks. But catching it was the difference between a sure punt and a makeable kick for Chase McGrath.
Arizona State safety Aashari Crosswell initially jumped in front of London and got both his hands on the ball. But as he's coming down, the 6-foot-5 London, who stands about half a foot taller, reached over Crosswell and through his arms to pull away what ABC announcer Jason Benetti deemed a "50-50 ball."
Sure, in that there was about a 50 percent chance it would be intercepted and 50 percent chance it would be incomplete. London's odds were off the board.
McGrath made the ensuing 41-yard field, giving USC a two-possession lead. Without that extra cushion, the Sun Devils would have been able to play for a game-winning field goal on their final drive, which ended in an interception just outside the red zone.
"Just like going for a rebound," London said of his catch afterward. "I thought I was on the basketball court at that moment."
USC's two-sport talent will be soon. But with football and basketball now concurrently in session, he's not splitting his time. He said he won't join the basketball team until the day after the bowl game, which could be the end of December. His only hoops activity these days are light workouts with his trainer on Sundays, which is the football team's off day.
"I'm not bouncing from team to team," London said. "I'm just strictly here. My legs are more fresh."
As is his focus. London said his expectations after arriving in the summer amid a crowded receiving corps were modest, noting he figured he'd see the field "here and there." Instead, he parlayed an impressive training camp into a prominent backup role to begin the season.
He usurped veteran Velus Jones as a slot receiver, where he either spells Amon-Ra St. Brown or is a mainstay when USC goes four-wide. His combination of size, agility and physicality made him an attractive option inside, where USC uses him like a flex tight end. That versatility also catapulted him past comparably talented underclassmen Munir McClain and Devon Williams, who transferred two games into the season.
"I just thought I was going to be on the team, learn a little bit, but here I am," London said. "… I was given the opportunity, the same as other dudes, and I took advantage of it."
But as he was just trying to get his bearings early in the season, he found himself targeted on multiple interceptions, including Kedon Slovis' game-ending one at BYU, and Matt Fink's fourth-and-goal incompletion in the fourth quarter at Washington. Just as he didn't celebrate his rise on the depth chart, he wasn't discouraged by failures on the field.
In turn, the staff stuck with him through the growing pains and it's paid off considerably. London hauled in a career-best seven balls for 85 yards last month at Colorado, including a 19-yard completion on second-and-20 during USC's go-ahead drive in the final minutes. He scored his first touchdown the following week versus Oregon and added another one last week against the Sun Devils.
His improbable catch later in the ASU game earned him a spot on the popular ESPN segment, "You Got Mossed." London shrugged that off, casually stating he found out about it on Twitter.
"It's nothing much," he said. "Just got to go and keep on doing what I'm doing. I'm sure other stuff will pop up."
He's proven as much through the first 10 games of his football career. London's 13.3 yards per catch leads the team. He said it was only in the past month that he felt adjusted to the speed and contact at the college level, and his production reflects that. He's averaging 4.5 receptions over the past four games.
There's a chance his role increases this Saturday at Cal as Tyler Vaughns has been sidelined by an ankle injury all week. Offensive coordinator Graham Harrell said London would be the beneficiary if Vaughns is unavailable. To his credit, the rookie isn't tracking his time or production in Year 1 so much as his growth.
"I can get better," he said. "It's not over, so I can get better."
-- Adam Maya is a USC graduate and has been covering the Trojans since 2003. Follow him on Twitter @AdamJMaya.