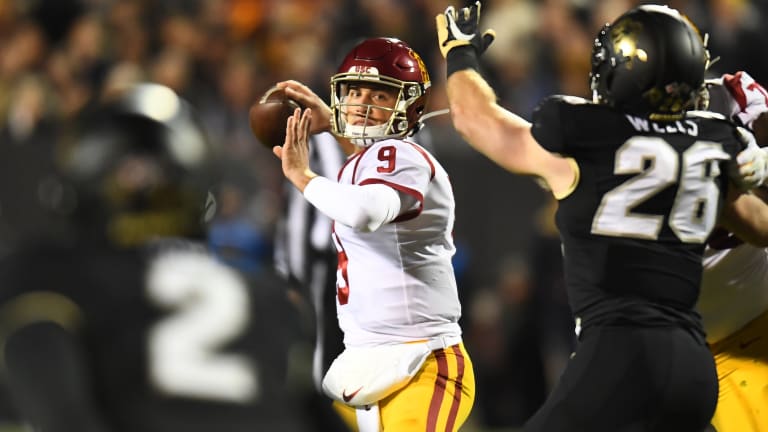 Pittman: Kedon Slovis 'Has That X Factor' That Sam Darnold Had
Quarterback Kedon Slovis is only a freshman, but he's already proving he plays his best ball in crunch time. It's one reason he reminds some of his teammates of Sam Darnold.
Does Kedon Slovis have some Sam Darnold in him?
The mere question might be blasphemous to certain people. In two short years, Darnold established himself as one of the greatest quarterbacks in USC history. You can make the case he was the most gifted. Slovis, meanwhile, has started six games.
But before denouncing the premise, consider again his heroics at Colorado: two fourth-quarter touchdown drives, including the game-winner, two fumbles, an interception, and several critical completions en route to 406 yards and four TDs.
There was a bit of everything. Darnold and Slovis might do it differently, but a lot of what USC's new QB is producing is ultimately reminiscent of its old one.
Here's where a few players who know both QBs best stand on the subject.
Wide receiver Tyler Vaughns: "I wouldn't say he has some Sam in him. Kedon Slovis is a different quarterback. I'm not going to compare him to any other quarterback but himself. How he plays is totally different. He shows little sparks here and there of what he can do. I can't wait until he comes out and does it all."
Offensive tackle Austin Jackson: "I would say Sam's ability to take over an offense, stand in the pressure and be really in the moment, I'd say Kedon shares some of those traits as well. That third down pass and there's countless other times, I think he embraces pressure. I think that's something they both have in common."
Wide receiver Michael Pittman: "I would say that Kedon has the clutch factor. But I think that him and Sam are different players. Sam is more mobile, Kedon is more of a pocket passer. Kedon will stay in the pocket as long as possible. Sam will get out and run sideways and run vertical. But, yeah, I would say Kedon has that X factor that Sam had."
The final minutes of Friday's win at Colorado looked awfully familiar. Neither of Slovis' two most impressive plays were the go-ahead touchdown, and both immediately followed an instance where he nearly gave the Buffaloes the ball. Darnold, as you might remember, lost 14 fumbles and threw 22 interceptions in just 27 games. He also made so many more good plays than bad that it led the Trojans to their best two seasons of the decade.
Similarly, Slovis, thanks to the good fortune of USC preserving possession, rallied from his own recklessness at Colorado and completed every pass on the game-winning drive. Just two months into his college career, his teammates have come to expect Slovis to deliver.
"He came to the sideline and told us he's got us, like he always does, and really just backed it up," Vaughns said. "He's a man of his word."
Wide receiver Amon-Ra St. Brown added: "He was confident, rallied us all together, and he performed like he's been there many times before."
You almost forget that Slovis is still 18. He's not only one of just five true freshman QBs to ever start for the Trojans, he was the youngest upon making his debut start.
"It just shows his preparation," Jackson said. "If we're sitting here saying, wow, I can't believe he's 18, that means he's working from Sunday to Friday to make sure he's able to perform the way he is. It's a credit to him and the type of guy he is."
His work off the field helped swing the winning drive against Colorado. Offensive coordinator Graham Harrell had been encouraging Slovis to throw Drake London open up the seam when an outside linebacker picks him up.
It's a look Harrell surmised Slovis probably hadn't seen much of in high school, and probably wouldn't be a good decision anyway given its complexity. But they'd discussed the scenario at length, with Harrell reminding his QB that London's size coupled with the defender not being able to track the ball make it a high-percentage throw. Slovis just has to fit it in. He opted not to throw it in a similar spot against Notre Dame. A week later, in a low leverage situation, he completed it against Arizona.
Harrell called the same number in the fourth quarter at Colorado, on second-and-20, just a moment after the rookie QB had nearly fumbled the game away, and Slovis threaded a low missile where only London could come up with it for a 19-yard completion to midfield. Add it to the growing list of moments where, as Coach Clay Helton put it, "he's just so decisive."
"That was a special play," Harrell said. "… When the game's on the line, in a big situation, to see him make that throw and trust Drake and to see Drake come up with it, I think that's going to give them both a ton of confidence."
Slovis still has his faults, of course. Sometimes he holds the ball too long in the pocket, leaving him vulnerable to big hits. He's still not sliding when he runs, and he doesn't always secure the ball when being sacked. Harrell absolved him for the improvised flip pass to Kenan Christon because "he was trying to make a play," though you wonder what the reaction would be had it been picked off. On Slovis' actual interception, he made the right decision but a bad throw, which he's prone to do on occasion.
But USC can live with his warts because he brings much more to the table than he takes off. He's perhaps the biggest reason why, despite a streaky defense and their three leading rushers out with injuries, the Trojans can still win the Pac-12 South title.
Helton noted how Slovis is learning to force less throws and buy time so that receivers can get open. And like Darnold, he saves a lot of his best for last. The fourth quarter is his most productive in terms of passer rating, completion percentage, yards and touchdowns, and he's yet to throw an interception. His yards per attempt is 9.9, about a tenth of a yard less than his third-quarter output.
"You see the defense for three quarters, so by that time you should be pretty familiar with what they do," Slovis rationalized. "If I were to play my defense, I'd hope I play my best football because I see them every day in practice."
Practice was all there was for Darnold as a true freshman, which makes it tougher to compare him to Slovis at this stage. But the more we see of Slovis the more his intangibles seem to be in common.
"He doesn't panic," Pittman said. "He's confident enough to step up and make those throws and help us win tough games that I think are going to help him out as he gets older."
Sounds a lot like You Know Who. 
-- Adam Maya is a USC graduate and has been covering the Trojans since 2003. Follow him on Twitter @AdamJMaya.