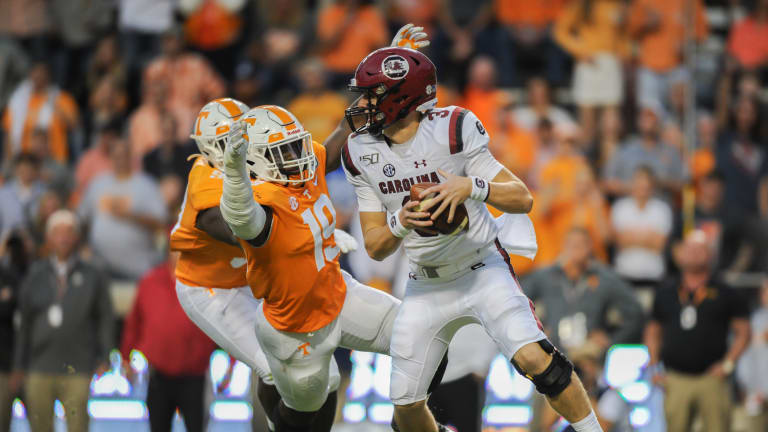 Dr. Jeckyl To Meet Mr. Hyde In Columbia Next Saturday
Which version of the Commodores and Gamecocks will show up on Saturday at Williams-Brice Stadium.
The Vanderbilt Commodores travel to Columbia, South Carolina this Saturday to face the Gamecocks of South Carolina in a mist win contest for both team, and it's anyone's guess as to which version of each team will show up.
Just three weeks ago the "Fighting Muschamps" went into Athens and walked away with part of Georgia's playoff hopes in their back pocket, defeating then then #3 Bulldogs 20-17 in overtime. 
Shortly after the conclusion of that game, and just 307 miles north Vanderbilt would be blown out by the visiting UNLV Rebels 34-10 in a game that saw the Commodores dominated from start to finish. 
The loss was so bad thatn fans and media alike began speculating that head coach Derek Mason could be fired before the end of the week. 
Fast forward one week as the Commdores hosted the then #22 ranked Missouri Tigers. 
The Commodores looked and played like a totally different team, dominating the Tigers from start to finish in a 21-7 win that prompted Mason to issue the comment that he was the "right" man for the job as Vanderbilt head coach.
That same day, Carolina was defeated in a close, and controversial game by the Florida Gators where head coach Will Muschamp exploded over calls made by the officials that many believe cost the Gamecocks the game. 
Fast forward another week with the Commodores enjoying a bye week and Carolina visiting Knoxville to face the Tennessee Volunteers in a game that Carolina was expected to win over a bad UT squad.
Inexplicably the Gamecocks combusted and were blown out of Neyland Stadium 41-21 Saturday night, after leading 17-14 a half.
Which team will show up for Vanderbilt, the UNLV or Missouri version of the Commodres?
Likewise, which Gamecock team will step onto the field, the one who beat Georgia or the one clobbered by a 2-5 Tennessee squad who lost to Georgia State earlier in the season?
It's anyone's guess on that one, but with both teams in desperate need of a win and each with five losses on the season, both teams will likely feel the pressure to win if they are too keep their bowl hopes alive. 
The Commodores should hope that Dr. Jeckyl make this trip to Columbia:. Another Mr. Hyde performance would all but doom their season and end any hopes of making even the most mediocre of bowl games.