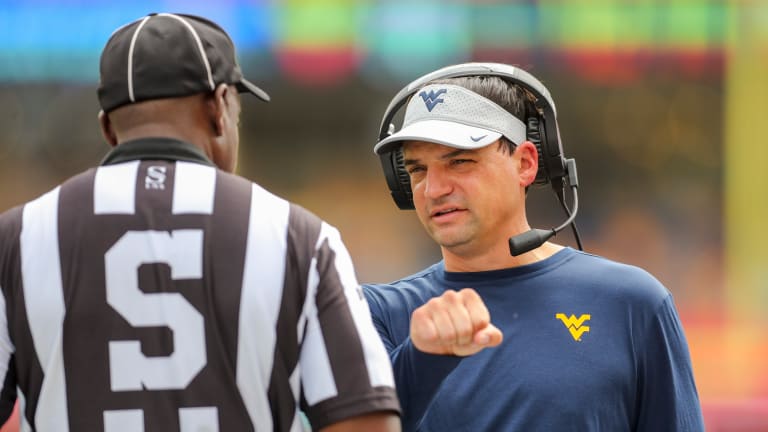 Brown Calls On A Pair of True Freshman to Contribute in the Coming Weeks
Tony Mathis and Jared Bartlett will look to make an impression in the last five games.
It does not appear that the trend of West Virginia's youngest players getting a chance to take the field will end any time soon. 
During his press conference this afternoon, head coach Neal Brown gave praise to a pair of true freshmen who have yet to take snaps in running back Tony Mathis and linebacker Jared Bartlett.
Seen as an afterthought due to the current depth at running back, Mathis was expected to redshirt and was unlikely to even take the field in his first season on campus. However, the struggles of the Mountaineer run game and Mathis' own performance in practice has opened the door for the former Georgia 5A Offensive Player of the Year.
"If I had to pick out one guy that stood out last week, it was him," Brown said about Mathis, "You will see him as we go. He will play and get some carries at some point this year."
A graduate of the same Cedartown High School that produced Nick Chubb, Mathis dealt with a knee injury earlier in season that kept the freshman off the practice field and held him back from seeing meaningful reps. With West Virginia struggling to get things going on the ground, Mathis is going to get his chance. That may come as soon as Thursday night as he will travel to Waco with the team to take on Baylor.
On the defensive side, Brown confirmed that linebacker Jared Bartlett will play for the first time in his young career on Thursday. While the Bandit position is supposed to be crucial to defensive coordinator Vic Koenning's scheme, consistency has been an issue all year. First with the suspension of Vandarius Cowan, followed by injuries to Cowan and Quondarius Qualls, Koenning has had to shuffle plans around throughout the season.
Bartlett, the brother of Pittsburgh Steelers defensive lineman Stephon Tuitt, impressed with his pass rushing ability in high school and appeared to be perfectly suited for the Bandit position. Now, with Cowan sidelined for the season and Qualls looking less likely to play against Baylor, the freshman will travel with the team and take the field in gold and blue for the first time.
The youth of the West Virginia football team has been tested constantly as Neal Brown's first season in Morgantown has gone on. With numerous freshman already seeing considerable snaps, Tony Mathis and Jared Bartlett will add to that total in the coming weeks. With five straight Big 12 games left to play, these two will look to add considerable experience while the Mountaineers strive to attain bowl eligibility.