Cycling Champ Bradley Wiggins is Back in High Gear
He is an unlikely knight, is Sir Bradley Wiggins, the same bloke who, upon being handed the microphone after becoming the first-ever Briton to win the Tour de France, in 2012, looked out over the throngs of humanity on the Champs Elysees and deadpanned, "We're just going to draw the raffle numbers now …"
It was cycling's summer of Colonel Wiggo, as the French took to calling him, this spindly refugee from the velodrome who'd dropped 10 percent of his body weight from an already angular frame, the better to get over the Alps and Pyrenees. Ten days after winning the Tour, Wiggins took the gold in the Olympic time trial. When the subject of his possible knighthood arose, Wiggins, a pint-hoisting man of the people, allowed as how he would probably just end up stashing that decree "in a drawer."
Following this once-in-a-lifetime season, it seemed inevitable that a hangover awaited Wiggins, and so it came to pass. Illness and injury prevented him from taking the start of last year's Tour de France, won by his Team Sky teammate Chris Froome. But Wiggins has started the 2014 season in much sharper form. Not known as a particularly good rider of the punishing, early-season one-day classics, he nonetheless worked his way into the lead group in the final kilometers at Paris-Roubaix, with Tom Boonen and Fabian Cancellara. After another strong performance in the four-day Giro del Trentino, Wiggins decamped to Los Angeles for a block of training heading into the eight-day Tour of California, which starts on Sunday in Sacramento. With defending champ Tejay van Garderen skipping the race this year to focus on the Tour de France, Wiggins has emerged as perhaps the primary threat to win the Tour of Cali. We caught up with him during his Golden State visit:
RELATED: It was a Hell of a Race: Surviving the Paris-Roubaix Cycle Classic
EDGE:Are you Wiggo, or Twiggo these days? Are you where you want to be, as far as your power-to-weight ratio?
Bradley Wiggins: Yeah, I'm right down to where I need to be, I think, perhaps one percent off, or so, which is about as good as it gets. I've been working pretty hard toward Cali as a big goal. I'm in a good place for this race.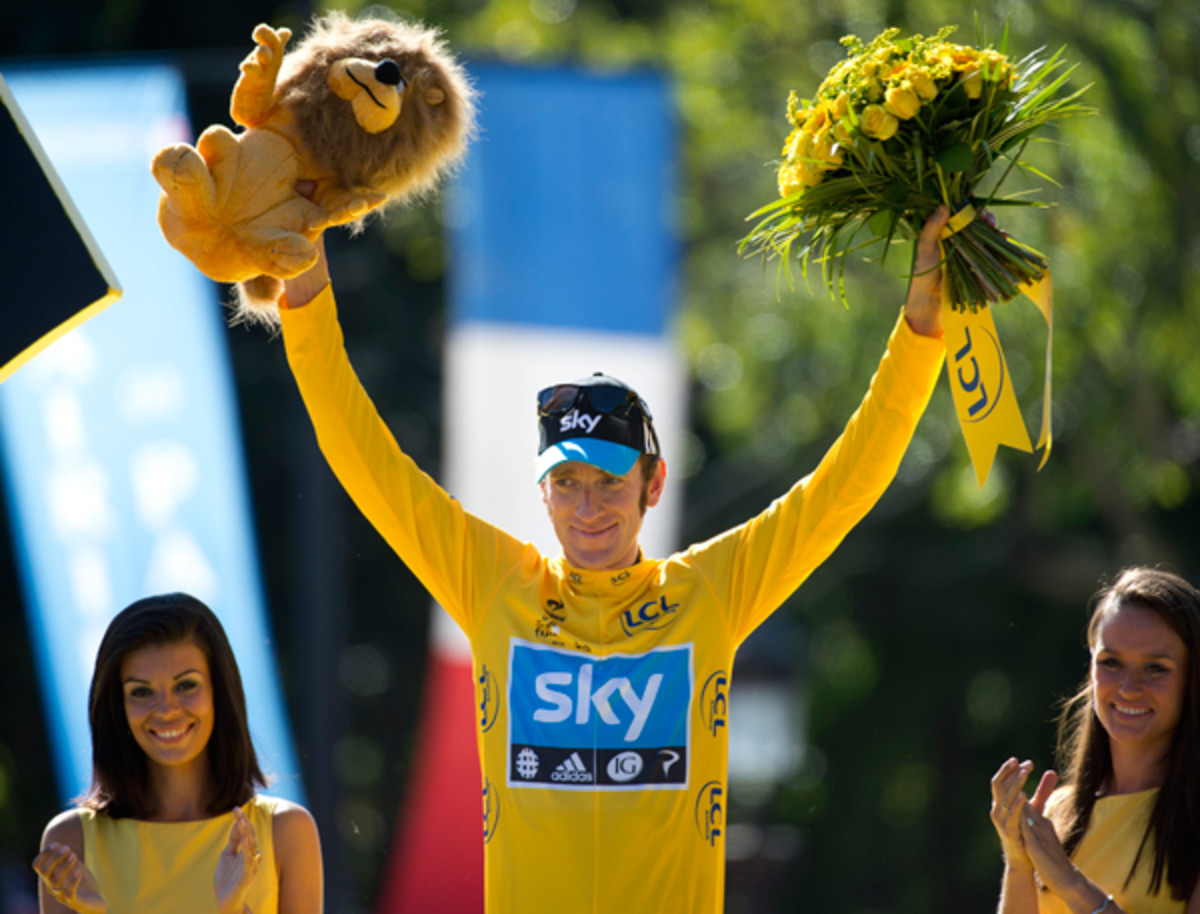 ​​​EDGE:You've done the Tour of California once before, correct?
BW: Yes, in 2008. It was quite a different race because it was in February, and the weather could be quite unpredictable. [Sir Bradley is wrong here: it could be quite safely predicted, when the TOC was staged in February, that it would be lashed throughout with Old Testament rains.] But with the race having been moved to mid-May [in 2010], that changes things. Now, you've got quite a few races under your belt from Europe. It's become a bigger race, certainly a better standard now than it used to be. It tended to favor certain riders, guys that trained well through the winter. [The American Levi Leipheimer won three of the first four editions of this race.]
EDGE:Speaking of foul weather, you surprised a lot of people by finishing with that elite group of strongmen at Paris-Roubaix. You've got amazing range: you've won the two-thousand-mile Tour de France, you've won Olympic gold in four-kilometer pursuit races. But you've never been known as a Classics rider. Did you surprise yourself on the cobbles?
BW: I've always known I was capable of a good ride in Roubaix. I mean, I was ninth, it doesn't sound great on paper but … to come into the velodrome with that lead group, with Cancellara, Boonen and [Peter] Sagan [20 seconds behind winner Niki Terpstra]—that was an incredible feeling, really. It's still one of my most satisfying, most favorite moments on a bike, really, being quite a fan of the history of the sport.
RELATED: Welcome to the Hotel Hincapie: A Cyclist's Dream Destination
EDGE:Yes, the history. On the eve of that race you talked about being 13 years old and riding a "cobbled mews"near your home in London, imagining it was Paris-Roubaix. One of Team Sky's goals, with an assist from sponsor 21st Century Fox, is to inspire people to get on their bikes. I sense that you'd spend a lot of time on a bike whether it was your livelihood or not.
BW: It's true, I've always been on a bike. There's something about the freedom it gives you, being able to just get on it and go wherever you want, in whatever clothes you've got on, on whatever type of bicycle, whether it's a road or mountain or a shopping bike. You just get on and go somewhere. And aside from that, yes, I've been a fan of the sport since I was a child.
EDGE:A child who grew up to win its biggest race.
BW: I still somehow don't think I won the Tour, nor think of myself in that light. Even with all the problems cycling has had, there's still the romance side of it. Riding in Paris-Roubaix, I got goose pimples thinking of the people who had gone over those roads before me. I get that a lot with racing. It's those things that impact on you most when you're a kid, when you're most impressionable. I include Lance Armstrong in that. When I was 13 I watched him win the world championships in Oslo, in the rain. And it was one of the most inspiring things I'd ever seen. Obviously, 21 years on, now, it's easy to look back and say, 'Oh yes, but….' But when you're 13, it's just about what you're seeing on the TV in front of you. The romance of this sport still has a massive place in my heart, to this day.
EDGE:You're 34 and riding well. Guys like Chris Horner and Jens Voigt are still out there, riding off the front on the wrong side of 40. Do you want to be like them? How much longer are you going to do this?
BW: No, I don't. I've got other things I want to do, and other things I need to give more time to. [Wiggins and his wife, Catherine, have two children, Ben and Isabella]. The prospect of still travelling the world and doing all this, for a long period of time, it's not appealing to me. I've been very fortunate to do it as long as I have, and it's always easy to want more. But there'll come a point where you just gotta think, 'Well, I've had a really good innings, and that'll be enough for me.'
RELATED: Bo Knows Biking: Riding with Bo Jackson for Charity
EDGE:That said, you're on record as hoping to be selected for this year's Tour de France. You've said you know you'll be working for Chris Froome, with whom you've had a sometimes-tenuous relationship. Is that what you have to say? What's the chemistry between you two?
BW: Well, I missed the Tour last year to injury, so it'd be nice to just be back at that race. [In Froome,] you've got a guy who is, on his day, one of the best climbers in the world, if not the best. He's the defending champion, and that's the decision, and I'm happy to play the team role and do what's required to help him. We've got such strength and depth on this team—a guy like Richie Porte could also probably win the Tour—that there has to be some hierarchy. At least you have to start off with a hierarchy. Chris, as the defending champion, has earned the right [to be Sky's leader]. So it's about putting the best team around him to do that, really.
[Pause.]
Things might change in the race, you never know what could happen. I crashed out three years ago. So, as it stands today, that's the job, and it's all hands on deck [for Froome], if you want.
EDGE:I know you're a keen musician with an impressive collection of Gibson and Fender guitars. Did you see any live music between your training rides in the hills around Los Angeles?
BW: No. It's quite difficult to be a professional athlete, and be in L.A., and not be distracted, because everything's happening there. So I'd love to spend a bit more time there when I'm not a professional athlete. I'd be able to explore it a little more, and have the odd gin and tonic, without worrying about riding bikes. So I have all that to look forward to.