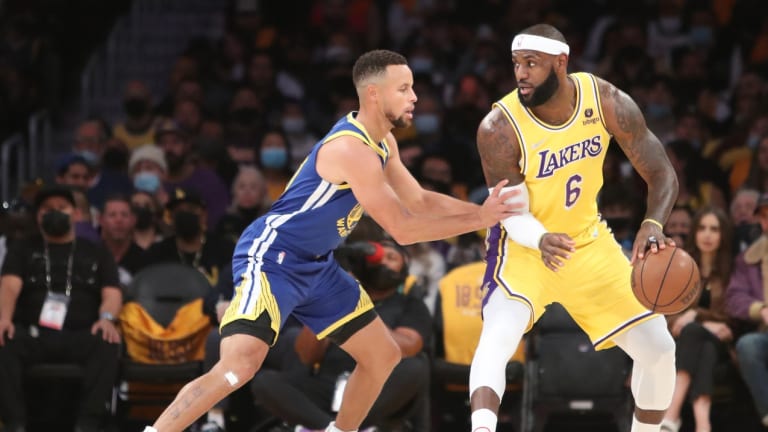 Check Out The Video Steph Curry Tweeted Before The Warriors Played The Lakers
Steph Curry Tweeted out a video before the Golden State Warriors played the Los Angeles Lakers.
Steph Curry sent out a Tweet with a video Tuesday afternoon before the Golden State Warriors played the Los Angeles Lakers. 
The Tweet from the three-time NBA Champion Curry can be seen in a post that is embedded below from his Twitter account. 
Curry's Tweet said: "Best time of year. #dubnation back under the bright lights. Let's goooo!" 
In the clip was a mix of highlights of the Warriors. 
Tuesday marked the first day of the NBA's 2021-22 regular season, and after the Milwaukee Bucks beat the Brooklyn Nets 127-104, the Warriors and Lakers battled it out at Staples Center in Los Angeles. 
Curry is coming off of an incredible season where he averaged 32.0 points per game. 
That led the entire NBA, and if the Warriors had been an elite team, he probably would have won MVP. 
After making the NBA Finals for five straight seasons, Curry and the Warriors have failed to make the playoffs the last two years. 
This year they have a good chance to get back on track if health is on their side.  
Related stories on NBA basketball
HARDEN DOESN'T GET FOUL CALL: The NBA changed their rules on drawing fouls this season, and the preseason showed how it would influence superstars and the calls they got in past seasons. CLICK HERE
GRIZZLIES LOSE BROOKS FOR A FEW WEEKS: Dillon Brooks averaged over 17 points per game for the Memphis Grizzlies, who made the Western Conference Playoffs last season. He will miss at least the next few weeks of action. CLICK HERE.