After committing to Arizona, Aaron Gordon eyes the future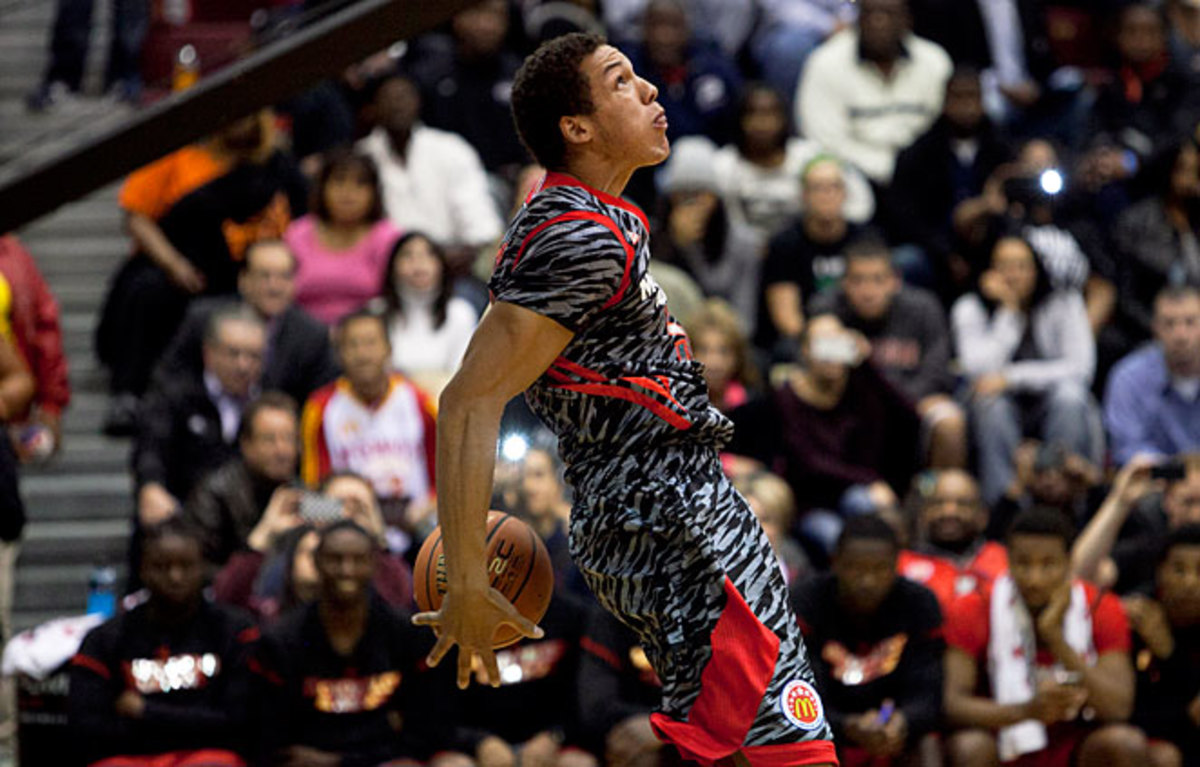 CHICAGO -- Shelly Davis smiled and clapped. Ed Gordon did the same. Rondae Hollis-Jefferson could barely contain his excitement.
On Tuesday, the Arizona-bound Hollis-Jefferson gained a teammate in five-star small forward Aaron Gordon, who announced his commitment to the Wildcats at media day for the 2013 McDonald's All-American Game. "I hope Tucson is celebrating because I'm about to be a West Coast Wildcat," said Gordon, flanked by his parents, Ed Gordon and Davis, as he placed a black and red Arizona hat on his head.
Gordon's pledge gives fourth-year head coach Sean Miller two McDonald's All-Americans (Gordon and Hollis-Jefferson) set to take the court in the exhibition on Wednesday night. Miller has now steered seven five-star recruits to the Wildcats in the past three years.
"I was really excited," said Hollis-Jefferson, who let out a roar of approval when Gordon announced his decision. "He's a great guy. He's a great player."
A long 6-foot-8 small forward, Gordon is the sixth-ranked prospect in the nation, according to Rivals.com. The Archbishop Mitty (San Jose) High star chose Arizona over Washington, Oregon and Kentucky.
Gordon said he made his choice four weeks ago but only told the coaches of the four schools and his family before officially announcing his decision on Tuesday. Despite settling on Arizona, he still watched the other schools finish out their respective seasons in case he wanted to change his mind. Ultimately, nothing swayed him.
"Arizona has a young, athletic front court and a very experienced, talented backcourt," Gordon said. "It's just a really great fit."
Part of that fit, Gordon said, comes from the departures of Kevin Parrom, Solomon Hill and Mark Lyons, opening up new opportunities for playing time -- and points. All three exiting players averaged at least eight points and 23 minutes per game for the Wildcats in the 2012-13 campaign.
Arizona possesses plenty of depth to fill its vacancies in the post, as Kaleb Tarczewski, Grant Jerrett, Angelo Chol and Matt Korcheck are set to come back. Gordon will likely compete with current freshman Brandon Ashley and Hollis-Jefferson for time at small forward to replace Hill and Parrom.
"I hope to be the X-factor," Gordon said. "I can pretty much do anything they need me to do."
Arizona reached the Sweet 16 this season before falling to Ohio State in a heartbreaking 73-70 loss, a game in which the Buckeyes' LaQuinton Ross drilled a three-pointer at the buzzer. Gordon said he expects the Wildcats to win a national championship with him in the mix.
That remark sat well with Hollis-Jefferson, but not so well with Andrew Harrison, the top-ranked point guard in the nation and one of a record six McDonald's All-Americans headed to Kentucky next season. Harrison simply smirked at Gordon's championship prediction.
Gordon is now the second player in his family to tease Washington before ultimately heading to a Pac-12 rival. Washington finished as the runner-up in older brother Drew Gordon's recruitment; the four-star power forward in the class of 2008 opted for UCLA instead. The older Gordon later transferred to New Mexico after having conflicts with former Bruins coach Ben Howland.
Aaron Gordon showed his respect for the Huskies' program despite eventually committing to the Wildcats. "I love coach Romar so much," he said of Washington coach Lorenzo Romar. "All four of these schools are absolutely great schools with great coaches. There was no bad decision here."
Now, Gordon can look toward the future. He'll play in the McDonald's All-America Game and then turn his attention toward helping Arizona build off this season's success. Perhaps best of all: He can finally leave the uncertainty regarding his college destination in the past.
"I never have to be asked the question, 'Hey, where are you going to school?'" Gordon said. "That's kind of a burden off my back."
BOSSI: McDonald's All-American Game East team breakdown I West team analysis
Photo gallery: Classic shots from the McDonald's All-American Game