Donegal Racing heads to the Breeders' Cup with homegrown talent
When he was reached on the phone on Oct. 29, Jerry Crawford asked politely if he could call back in a few minutes.
"One of my horses is just getting on the track," said Crawford, the president of Donegal Racing, the Des Moines-based syndicate he founded in 2008. "This won't take too long."
Sure enough, less than 10 minutes later, Crawford was back on the phone, gushing about the way Danny Boy, his 2-year-old colt, had looked during a workout at Santa Anita for Friday's Breeders' Cup Juvenile Turf.
"I don't think he could have looked any better," Crawford said, catching his breath, before laughing just a little. "But if you ask most any Breeders' Cup owner about any of their horses—and we have three running—they'll tell you the same thing. We're all pretty excited right now."
Breeders' Cup colt has Manchester United, Downton Abbey ties
It was this type of exuberance that got Crawford, an attorney by trade, to start Donegal Racing in the first place. As a handicapper, Crawford had developed an algorithm that narrowed down the field of legitimate contenders in the Kentucky Derby. The success of his algorithm led him to head to Kentucky to buy a horse in 2008, only to come home to Iowa with eight.
"I went there to spend maybe $250,000 on one horse, but ended up spending $400,000 on eight yearlings," Crawford says. "On the way home, I was mostly thinking about the alimony I'd be facing when [my wife] Linda got the news. Fortunately, my accountants had been paying attention to what I'd been doing [with] the algorithm, and they wanted to go in on a horse. I thought, here's their chance. And that's how this whole thing got started."
Crawford states that unlike most syndicates, Donegal buys only one group of horses each year—usually at the September yearling sale at Keeneland—and his partners buy a percentage of the entire group. So, if one horse strikes gold, every partner has a piece of the action.
West Point Thoroughbreds testing Ring Knocker in Frizette
This weekend's Breeders' Cup marks the culmination of one of his syndicate's best years. Donegal has three horses running at Santa Anita on Friday and Saturday, and two could figure prominently. Danny Boy is listed at 20–1 on the morning line for Friday's one-mile Juvenile Turf. On Saturday, Puca is a 6–1 shot in the mile-and-a-16th Juvenile Fillies, and Finnegan's Wake, a 5-year-old stallion, is a 30–1 long shot in the mile-and-a-half Turf.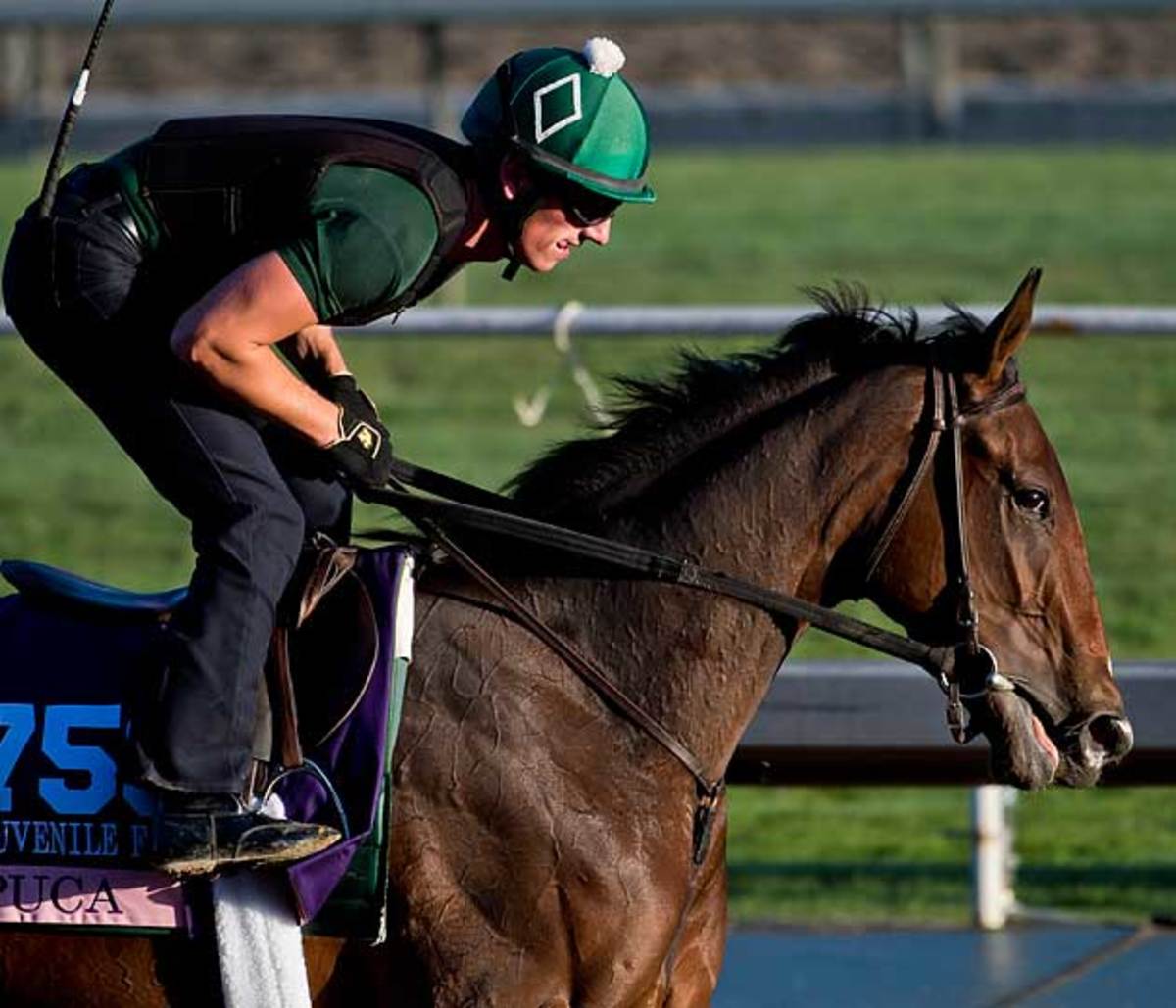 "This makes it harder and better at the same time," says Crawford. "Harder because the level of expectations keeps you from sleeping, thinking of what could happen, that your horse could become recognized worldwide as best-in-class. So the anxiety is terrible, but you wouldn't have it any other way. If you didn't feel that way it would mean that you weren't in the hunt."
Zivo is stepping up in class in the Woodward at Saratoga
Both Puca and Finnegan's Wake are out of Boat's Ghost, a broodmare owned by Crawford, which is a great source of pride for him this weekend."This championship is called the Breeders' Cup for a reason," Crawford says. "It's a true celebration of the breeders of horses. And we happen to own the only broodmare in the world who has produced two horses that are competing this weekend in this championship. So from a breeding excellence standpoint, that's humbling and very rewarding. Any owner will tell you there's something very special about homebreds, You made the decision about who you should take the broodmare to, stallion-wise, and you think about who'd give you the best chance to have a horse good enough to run at this level, and it validates the decisions you've made."
Crawford, who says the goal of Donegal Racing is to identify and buy horses who can make it to the Kentucky Derby (and he has had three third-place finishers in the Derby, most recently Dullahan in 2012), has never won a Breeders' Cup race. He believes this could be the year.
After horse racing 180, Jim Rome eyes more success with Shared Belief
"I wish Danny Boy hadn't drawn the 14 post, which is the outside post, but he wasn't going to be on the lead anyway," Crawford says. "But the horse looks spectacular on the track. Puca, I shouldn't say this, but I think Puca is going to win. She won her last race by 16¼ lengths at Belmont. She looks like a picture on this race track. Her trainer, Bill Mott, is usually pretty reserved and stoic, but Puca has him smiling a lot lately, so we are optimistic. Finnegan's Wake is a clear-cut long shot, even though he's running the best he's run in his whole life."
Like all the owners who have descended upon Santa Anita this week, Crawford believes that the Breeders' Cup is one of the great events in his sport.
"I'm a baseball fan," Crawford says, "and with the Breeders' Cup being this time every year, I always think, These horses have made it through the season and the playoffs and now they get to play in the World Series. It's a great weekend for our sport in every way imaginable."