Future looks bright for Mariners, but it's still a year away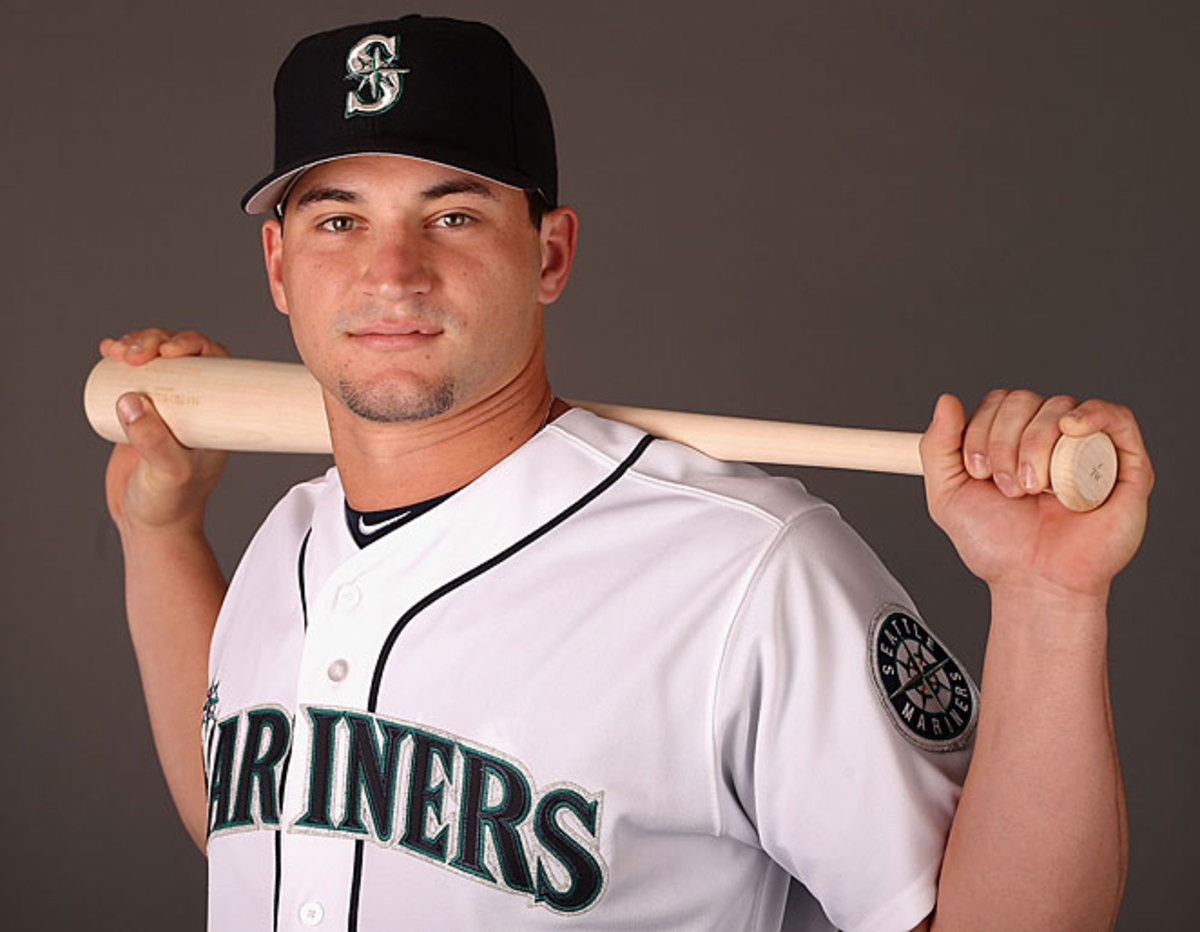 For more of SI.com's 2013 Major League Baseball season preview coverage, click here.
Seattle Mariners
2012 Record: 75-87, fourth in AL West
2013 Projection: 78-84, fourth in AL West
As March went on, Mike Zunino, the third pick in last June's draft, was still getting used to life in a major league spring training clubhouse. There was the eclectic music: Johnny Cash, followed by a weird, extremely slow version of Heart's "Alone," followed by Metallica. There was the chef stationed in the corner of the room, making omelets to the players' specifications. "This time last year, I'm probably sitting in the classroom, trying to learn some stuff," said Zunino, 21, who attended the University of Florida.
Zunino, with just a few months of pro baseball on his resume, will begin 2013 in Triple-A. This time next year, though, he will almost certainly be back in the majors, to stay.
"The fast track? He's on it," says Mariners' manager Eric Wedge, of the young catcher who hit .360, with 14 home runs, 43 RBIs and an OPS of 1.137 in 44 games last year in Single- and Double-A.
Mariners general manager Jack Zduriencik added a number of veteran power bats over the winter, and no one would be overly surprised if the club turned into this year's version of the A's or the Orioles and snuck into a wild card spot. But take a closer look at the contractual situations of the players Seattle brought in. Each expires after this season, as Jason Bay and Raul Ibañez signed one-year deals, and Mike Morse and Kendrys Morales are due to explore the free agent market for the first time this winter. In other words, the Mariners are trying -- they legitimately are -- in 2013. But they are really built for 2014, and beyond.
Their long-term plan will feature young, controllable players who have already reached the majors, like Dustin Ackley, Kyle Seager and Justin Smoak. But it is focused upon current minor leaguers, like a quartet of highly-rated starters that includes Danny Hultzen, Brandon Maurer, James Paxton and, perhaps most of all, Taijuan Walker, who was a shortstop until he was a high school senior -- that is, until about three years ago.
"I'm still learning how to be a pitcher," says Walker, who showed up to spring training with his hair dyed blonde and was quickly nicknamed Rodman by ace Felix Hernandez.
Zduriencik knows what he has, and though he was willing to sacrifice Walker to land Justin Upton in a proposed trade with the Diamondbacks, when that deal fell through, he quickly shifted back to the original plan. Which is to look forward to the arrivals of his prospects, but not to rush them.
"To try to speed this thing up would be foolish," says Zduriencik. "Their performances and their maturation process will dictate when they come to the big leagues."
For most of them, that promotion will come -- in a lasting way, at least -- in 2014. That is likely when Zunino will arrive to stay, as well, and he should immediately supplant Jesus Montero behind the plate, pushing Montero back to a DH role. The Mariners insist that the 23-year-old Montero will catch for them this year, even though his performance there was inconsistent in 56 games in 2012. Montero, the former top Yankees prospect, says that he far prefers catching to playing designated hitter, where he appeared 78 times last year -- and, in fact, that catching more might increase his offensive production (he had a disappointing 35 extra base hits as a rookie, in 515 at-bats).
"I love to catch," Montero says. "It will help me a lot because I'm not sitting there thinking about hitting, going into the cage between at-bats, working with the medicine ball to try to stay warm. I'm thinking about catching and winning the game and trying to help my pitchers."
No matter how he does, if he stays a Mariner, Montero will probably be back to designated hitting next season, when Morales likely vacates the role.
This is not at all to suggest that Zduriencik brought in Morse, Morales and friends simply for the sake of appearances. The idea is that they can help Seattle win now -- but also that they can serve as role models and inspirations for their younger teammates, who will carry on after they have left.
"We hope the veteran guys come in and have nice years, and that the young kids take the next step," says Zduriencik.
Perhaps the imported veterans can give their prospects, who play in an organization that has not won the AL West since 2001, a inkling of what the Mariners can be, so that the prospects, when they are ready, can make it a sustained reality.
Biggest Addition: Michael Morse, outfielder
The 6-foot-5, 245-pound Morse came up with Seattle as an oversized shortstop; was stolen by the Nationals in a one-on-one trade for Ryan Langerhans in 2009; averaged 21 home runs over the past three seasons in Washington; and then, last January, was reacquired by the Mariners to be the centerpiece of an effort to rise from last in the American League in scoring, where the club has finished four years running.
"He cut his teeth in this organization," says Zduriencik, who, after failing to sign free agent Josh Hamilton and trade for Upton, seized the rare opportunity to undo an old mistake. "Now he's grown into being a big man. He's a different player from when we traded him -- physically, certainly, and also due to some of the things he's accomplished."
No park can contain Morse's prodigious power, but the fact that Safeco Field's walls have been moved in by as many as 17 feet (in left-centerfield) will help his numbers, as well as those of other newly acquired veteran sluggers like Morales, Bay and Ibañez.
Biggest Loss: Ichiro Suzuki, outfielder
He has been a Yankee since last July, but only now is the club truly moving on from Ichiro's era, and attempting to embrace a new style of offense. Is there anything symbolic in the fact that Morse was given Ichiro's old locker both at the Mariners' spring training facility in Peoria, Ariz., and at Safeco?
"I wouldn't read anything into that," says Zduriencik. "Limited space, 61 guys, gotta fill the lockers as necessary."
It means something to Morse, though, who spent parts of four years playing alongside Ichiro. "I texted him right away and said, 'Guess who's in your locker?'" Morse recalls. "He's like, 'That's cool, turn that club around.' He loved it here, man, and I know he was happy for me to come back here. For me, it's almost like a privilege. Me and Ichiro, we're not close, but we were friends when we were here."
What They Do Best: Hold onto their assets
For Upton, Zduriencik was willing to deal away some of the jewels of a fecund farm system -- among them Walker, Baseball America's 20th-rated prospect -- but the former Diamondback's invocation of his no-trade clause meant that the GM managed to improve his team without parting with any of his young prizes, on the minor- or major league level.
Zduriencik also put to rest further trade spculation surrounding Felix Hernandez by signing Seattle's 26-year-old ace to a seven-year, $175 million deal, the richest ever for a pitcher, in February.
What They Do Worst: Get runners on
The Mariners' additional home runs might largely be of the solo variety, as this is a club that has recently had significant trouble reaching base. Last year's team on-base percentage was .296, the second-worst in the major leagues since 1976. The worst since then? The 2011 Mariners, at .292.
Their new arrivals likely won't help them improve much in the category, either. Among Morse, Moralez, Bay and Ibañez, Morse -- who ended just 16 of his 430 plate appearances last season with a walk -- had the highest OBP in 2012 at .321, which would have ranked him 100th in the majors had he accumulated enough at-bats to qualify.
Bottom Line
The Mariners are a sleeping giant who might begin to stir in 2013 -- and perhaps surpass .500 -- but who should be fully awake, and angry, starting next year.