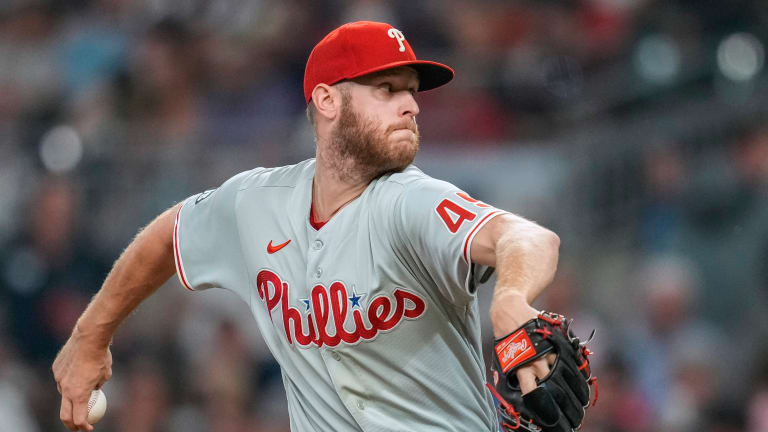 After Dropping First Game to Braves, Phillies Need Some Magic Moving Forward
The Philadelphia Phillies will need a little magic to make the postseason after dropping their first of three to the Atlanta Braves.
The Philadelphia Phillies dropped their first game of three against the Atlanta Braves on Tuesday night, placing them 3.5 games behind the Braves for the NL East lead. The Phillies needed to sweep Atlanta if they hoped to control their own destiny, and now that is not possible.
Despite another incredible start by Cy Young candidate Zack Wheeler, who pitched seven innings and only allowed two runs on four hits, he was unable to receive support from an anemic offense.
Until Philadelphia plated one in the ninth inning, they had gone 20 innings without scoring a single run. In a playoff race. It was not ideal. It did look as if the Phillies would pull out some ninth inning magic after they loaded the bases, but they fell just short as Freddy Galvis struck out against Braves closer Will Smith.
The lone bright spot in the offense was Odúbel Herrera who notched two hits on the evening. Otherwise, Philadelphia's offense was downright baffled by Atlanta starter Charlie Morton who threw seven shutout innings with 10 strikeouts. Even Bryce Harper, who is the presumptive NL MVP, struggled with two K's of his own.
So, the question now is: What's next? With just five games to play and 3.5 games back of the Braves, the odds of making the postseason are slim. Essentially, every game moving forward is an elimination game starting with Wednesday's game. 
Philadelphia will need to win out their remaining games and then hope that the New York Mets can help out by winning their final series of the season against the Braves.
It's much easier said than done as a struggling Aaron Nola will take the mound in perhaps the biggest start of his career. If successful, then Kyle Gibson will have to dazzle on Thursday. 
If, and that is a big if, that all goes to plan, then the Phillies will have to hope for some magic in Miami, a place they have not played well in this season.
It's not impossible, but it sure seems improbable that all the pieces will fall into place. If the offense decides not to show up, then the exercise above is pointless. This team wins when they hit the ball. It seems obvious, but apparently it needs to be said again.
---
 Make sure to follow Inside the Phillies on Facebook and Twitter!